Autumn is just a few short weeks away, but many people are already decorating for this remarkable season. There are so many cool new trends to check out this season too that you might find yourself spending some time choosing what you're going to use to decorate. Unfortunately, this might mean spending quite a bit of money on your autumn décor. If you're trying to stick to a budget, then you might consider a few of the cheaper options that are trending this season. These ten ideas will help you enjoy decorating for the season while keeping your budget in mind.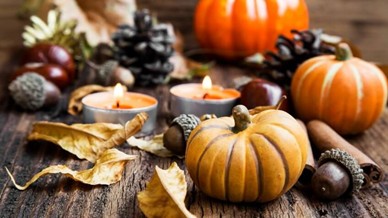 1. Bring out the tree
Your Christmas tree doesn't have to be just for one holiday. In fact, you can use it from autumn until New Year's if you really want to. This might make decorating a whole lot easier for you too, especially if you find it hard to initially get the tree out of storage. For autumn, decorate your tree in colorful leaves, acorns, and other autumn-inspired themes. When Halloween arrives, add some fun ghosts, cats and monsters to keep the tree festive. Then, transform it into a thankful tree with turkeys, cornucopias and so on. If you don't like adding your décor to your green tree, then you might consider looking for a black faux tree or one that had an autumn-inspired color scheme. Since you'll use the tree year after year, the purchase will be worth the money in the long run.
2. Wheat
This season, wheat is the star of the show when it comes to autumn décor. This amazing crop tends to pay a huge role in most people's lives, so it only makes sense that it would be a part of this season's trends. You can find faux wheat at just about any craft store for next to nothing, which is great because you can use wheat for so much. For instance, you place wheat in a flowerpot for a simple look that will highlight any room. You can also make it into a wreath, which will make your home look fantastic throughout the holiday months. Apart from that, it can be laid on tables as a centerpiece or spread out on the mantle for an autumn theme you won't be able to resist.
3. Pops of Pink and Purple
You might be surprised to find that this season there will be a few colors that aren't actually traditional. Purple and pink are going to be a huge trend during the fall months, which will add lots of charm to your home. Of course, the purples and pinks shouldn't take over all of your autumn foliage. Instead, you might add bits and pieces of the color to your home. You might start by bringing out the autumn décor you already have. Then, from there, add in some pops of pink with roses and maybe some purple lilacs. These colors will add an exceptional amount to the classic colors that you'll already have out. This will allow you to shop for just a couple of items too, so you won't spend a lot on décor.
4. Pumpkin Décor
Autumn and pumpkins seem to go hand in hand, which is pretty good news when it comes to your décor. It doesn't matter if you plan on using real pumpkins or the fake ones as you're bound to make your home look amazing. Real pumpkins can only be used for a short while, but if you want to decorate them then you might consider adding paint or appliques to give the pumpkin some style. If you are planning on doing jack-o-lanterns then make sure you hold out until Halloween is closer, unless you plan on making several throughout the season. Faux pumpkins offer a wide assortment of different options though. For starters, the pumpkins can be placed around the house to add warmth and charm. You can also cut into faux pumpkins to make jack-o-lanterns that can be used year after year. Small pumpkins can also be used as centerpieces for the table or can line the mantle or other tabletops to add the perfect look for your autumn months.
5. Tartan
This season, plaid is going to be just about everywhere. So, if you want to make a bold statement in your home then you're definitely going to want to add some tartan items to the home. If you already have some plaids, then you're already in great shape. If not, then there are going to be a huge selection of beautiful items to choose from. One option for decorating is to simply drape a blanket over the sofa or a chair. This will add charm with little effort. You can also invest in pillows that are great to use throughout the winter season too. Apart from that, you might consider tartan placemats or fabric napkins, this will make holiday meals feel warmer while keeping your home in fashion. As far as color is concerned, any tartan will work, but there will be some amazing autumn options to choose from if you're hoping to keep things festive.
6. Tin Planters
If you love the country look, then the tin planter's style is definitely going to be right up your alley. This exciting trend is designed to show off of a rustic vibe, but it won't cost you a fortune either. If you already have tin planters at home then pull them out and put them to good use. If not, you might be able to find them for cheaper at a gardening store or agriculture store opposed to a craft and hobby shop. These planters can be left out on their own for a fun style, but they look even better when you pair them with autumn flowers. For instance, you can plant mums, sunflowers, dandelions and more in the great planters. If you're not one for keeping up with plants, then use faux flowers for a look you can use over and over again.
7. Bring in the Leaves
Leaves are an undeniable part of autumn. So, why not use them to add to your décor. There are so many things you can do with leaves, which will definitely make you autumn décor stand out. If you're trying to stay on a budget, then you might consider a few crafts. For starters, you can make a leaf bowl that can be used year after year. Leaf rubbings are also a fun craft that the kids can get into. You might even consider finding some amazing leaves to put in a frame during the autumn season. Apart from that, you can purchase faux leaves to add to the fun. These leaves can be strung throughout the home or used on a mantle. You can also make a wonderful wreath out of them. There are so many options to choose from that you're bound to feel excited as you begin to plan out your décor options.
8. Candles
If you're ready to really amp up the warmth in your home, then candles are the perfect way to do it. Candles can be purchased in many different ways too. For instance, you can buy them in bulk or you can make your own. If you're making your own then you can always add the special autumn details to the mix, which will definitely make your candles look even more festive. Apart from buying or making candles, you might consider getting a wax burner. This tends to make the scent you choose last longer, which will help you get more out of your money. Plus, the wax pellets are much cheaper than purchasing a whole candle. Candles allow you to base your scent on your home's desires too, so you can enjoy pumpkin pie and coffee or more natural scents like apple orchard or fresh rain. This can truly amp up the comfort of your home.
9. Go Floral
Even though leaves are falling, and most plants won't be in bloom, you'll find that floral décor will still make a huge difference in your home. However, you might aim to use flowers that tend to be in season during the autumn months. Your best option is to go with faux flowers if you're looking to save some money. These flowers can be used year after year too, so you will always have something pretty to show off when the weather begins to change. One of the best ways to incorporate flowers into your home is to connect them together and drape them on your porch and entryways. This adds a touch of elegance, while still making the exterior of your home festive. You can also make a wreath out of your floral options to add to the charm of your home. You can bring these decorations inside the home too and place them on your mantle, table and so on. Of course, if you want to put in some work then plant your own autumn flowers and watch them come to life every time autumn arrives.
10. Embrace Halloween
If you're itching to pull out your Halloween décor then do it! Scientists recently published a study stating that decorating early only shows that you're a happier person and doing so can lead to even more happiness. So, let your spooky flag fly and share your community all of the cool decorations you've gathered. Plus, Halloween items hit stores in July now, so if you can purchase them that early, then why not put them up that early too. You'll only get to enjoy the holiday a little longer, which can truly help you get through the madness of the upcoming holidays that tend to weigh heavy on the budget.
Decorating for autumn can be more fun than you would expect. These ten tips will help you enjoy the trends that the season brings, while also allowing you to save some money. After trying out a few of these ideas, your home should be more than ready to take in the crisp days of fall.