It isn't often that Friday the 13th lands on a day in October, but when it does many fans of horror and Halloween love to take it by storm. If you're ready to have a blast this Friday the 13th, you might be wondering how you can do so without spending a fortune. This can be especially important with Halloween just around the corner, as costumes, candy and decor can really eat up a budget. Luckily, there's lots of great things you can do to celebrate the rare occurrence. So, don't fret your budget too much because you can really get a lot out of the holiday by spending very little.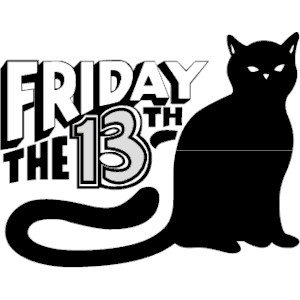 1. Movie Marathon
One of the best ways to enjoy the holiday is to stay in for the night and enjoy a movie marathon. There's a ton of movies to pick from too, which should meet your spooky criteria. Of course, you can always go for the movie series named after the date itself. If you don't have a lot of movies that suit the category then you can always tune in to cable if you have it. A lot of channels love to follow the theme and play a marathon of movies to help people enjoy the occasion. If you don't have cable there there's still many rental ideas to choose from. Since the 13th happens to be on a Friday, you will probably only have the chance to binge watch three or four movies if you are working or in school. So renting shouldn't cost you a fortune and can create an enjoyable experience you can share with friends and family or keep to yourself, if you're feeling brave.
2. Listen to Music
Believe it or not, but there's actually a lot of songs that are written about Friday the 13th or at least follow the theme of the day. If you find yourself particularly busy on the day or you don't care for movies, then you might want to have a jam session. If you love to check out new music, then there's a lot of Friday the 13th playlists to choose from. You might also consider doing a little research for yourself to see if you can find a few hidden gems on your own. This is a great way to enjoy a commute or have some fun while completing work or household chores.
3. Try Your Luck
Friday the 13th is considered to be an unlucky day. The fact that it is happening in October makes it even less desirable for some people. This means that a lot of people will back out of luck based games like gambling or even raffles. This might be your chance to win big though. So, instead of buying into the superstition of the date, you might want to try out a game or two. For instance, you can take a chance and buy a lotto ticket. If you go to a party hosting a raffle then you might want to indulge too. You never know, with less people willing to spend money on such a thing you may find yourself winning big. If you're planning on gambling, now might be the time to do it too. Casinos won't be as packed which will give you a good selection of slot machines and tables to work with. Even if you don't win, you will still have a bit of fun and will take a stand against superstitions.
4. DIY Halloween Costume
Friday the 13th is just a little over two weeks away from Halloween. So, if you want to enjoy something spooky and fun for the day, it might be the perfect time to get started on your Halloween costume. There are a lot of great ideas out there that are really simple to complete and will allow you to have costumes for the whole family under budget. There have already been many ideas posted online, so you might start thinking about your favorite ideas now. If you don't get around to making the costume on the 13th, you might still discuss what you would like to do and perhaps even collect the materials to make the costume. Once you have all of this planned out, everything else should fall into place, so you'll be ready to Trick or Treating when the time comes.
5. Put Out Spooky Decor
If you've been putting off decorating for Halloween, now is the perfect time to do it. Since Halloween is only two weeks away, you won't be so early that your neighbors will get bored of seeing your ghosts and goblins on display in the front yard. It also gives you the perfect excuse to embrace all things spooky. You might start by working with the items you already have, so you won't feel tempted to go out and buy new things. Of course, if you are shy on a few things you might try to make them yourself before you go shopping. This will help save money and will even add some fun to your Friday the 13th celebration. For instance, if you're lacking spider webs then look no further than some white yarn. This can be stretched across doors and windows to create life sized webs. Your kids might even love arranging spooky items in the web each day to keep the look fresh and exciting.
6. Check Out a Haunted House
There should be a few haunted houses popping up around your community. If not, you might want to check out other communities to see what options you have. Going to a haunted house can really get you in the spirit for the upcoming holidays, but also for the mood that Friday the 13th often brings. If you don't have any haunted houses just yet, then look around for festivals. More often than not they will host a fun house that can serve as a similar experience. These are also a bit more family friendly if you have small children. Some farms will even turn their corn mazes into a scary experience for Friday the 13th, in order to bring in more crowds. So, if you can't find anything in your region, think out of the box because there may be more things to check out than you think.
7. Scary Videogames
One of the best ways to scare yourself senseless is to pop in a scary videogame to help make the occasion seem real. There are lot of top names available that can leave you shaking in your boots this Friday the 13th. You might start by playing a game you already own so you won't spend money. However, if you're looking for something new you might try to rent instead of buying a game. This is especially convenient if you're not a huge fan of the horror genre. One option you might consider is the games based off of the Friday the 13th movies. If you won't want an entirely in-depth game then you can always check out some of the freebies online. This method of celebrating might fit your busy schedule the best and will give you a pretty good scare too.
8. Host a Campout
If you love to get the creeps then hosting a campout is one of the best options for you. You don't even have to go far if you don't want to. If you want to save money then the backyard can work wonders for you. However, if you're looking for a real experience then you might check out creepy areas in your area and find out what the camping laws are. Make sure to pack snacks for your trip and items to build yourself a campfire. Of course, one of the most important aspects is to bring your best scary story game. There's still time to look up stories to share if you aren't ready to make up your own on the spot. You might find camping out on the 13th is your new favorite way to get creeped out and enjoy the occasion.
9. Calculate Dates
If you're looking to kill a little time on the 13th, or you want to help your kids work on their math, then working to calculate the number of Friday the 13ths you'll experience can be a lot of fun. If you aren't ready to come up with an equation to do this, there are lots of websites that can help you out. Some will even explore the number of Friday the 13ths that happen in October. This can help everyone appreciate the special date even more. Plus, anything that makes math fun is always a plus when you're trying to convince your children to learn the subject.
10. Throw a Party
Of course, one of the most popular things to do to celebrate the fun of Friday the 13th is to throw a party. You don't have to go all out in order to do this though. For instance, you might want to invite guests over and have them bring a potluck dish and their own beverages. You might also ask people to bring specific items to make the party go smoother. A theme is always a great idea, so follow your gut. An early costume party can be fun and will allow people to wear old costumes or try their new ones on for size. You can also create an unlucky party theme. There are lots of ideas online to help guide you through the planning. Games and movies are always as easy options for these parties, so you don't have to add any extra expenditures to your list.
It isn't often that we get to enjoy a Friday the 13th in October. So, don't let your budget hold you back when it comes to having fun. These ten ideas can help you have a good time without forcing you to spend money that is already dedicated to upcoming holiday activities.