If you're in the mood to hit some sales, then Columbus Day is the last holiday to do so before we move into the exciting days just before Black Friday. Whether you celebrate Columbus Day or not, you won't be able to turn down some of the deals this year. However, there are some things you may want to skip out on during this holiday too, as you're certain to find better deals in just a few weeks. So, in order to guide you through the last big shopping day, here's ten categories you should shop in if you want to maximize your holiday sale savings.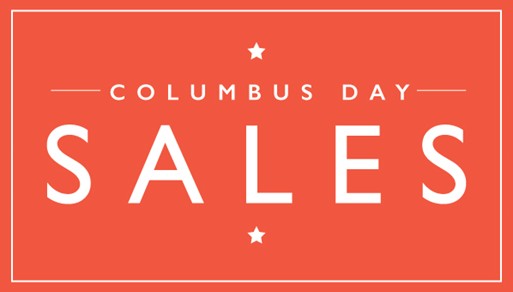 1. Jeans
Back to school sales are certainly long gone by now, but there's still going to be a lot of jeans leftover for people to pick through. Since stores have so much leftover stock, Columbus Day is the perfect time to unload it before the holiday months begin. You will be able to find deals as high as 60% off jeans, especially when it comes to children's sizes. These deals should help you prep your wardrobe for autumn and winter. There will also be big sales on some of the hottest denim on the market, so if you're still rocking last year's jeans, Columbus Day will be the perfect time to add a couple new pairs to your wardrobe.
2. Travel
Most people don't plan vacations in October, but now might be the perfect time to do so. In fact, Columbus Day brings a lot of great deals on travel. You might be able to grab a quick weekend getaway trip or a longer trip at a fraction of the price that you would pay for a summer vacation. Now is also the perfect time to get in your holiday travel plans. Secure your plane tickets, book your hotels and even reserve a rental car if need be. Soon, the holiday season will make all of these elements of travel incredibly expensive. If you really want to enjoy some travel, then book a cruise during this month. You will enjoy huge savings and can look forward to a vacation that is out of this world. There are many new cruise lines departing early next year, so grab a spot now at a price that won't harm our budget.
3. Accessories
If you love to look good then you're sure to find something right up your alley during the Columbus Day sales. During this special day, you should be able to find a whole lot of deals on accessories. Hats might be one of the best things you can grab during this time. There should be a lot of summer hats available at a low price, but you also might want to look for winter hats too to help prepare your wardrobe for the upcoming months. Handbags, clutches and other clothing accessories will also be at a great price, which might even inspire you to stock up on accessories for holiday gifts. Jewelry and other accessories will also find a price cut, don't forget to look for a few pieces to make your collection look great. Finally, shoes will also be a great price during this time. Everything from fashion pieces to running shoes should be the perfect buy during the holiday.
4. Mattresses
When it comes to holiday sales, mattresses are usually up front and center when it comes to a good deal. Columbus Day won't be any different as you should see sales in stores and online for a wide variety of mattresses. Even some of the more modern memory foam mattresses should offer a big sale on top of online discounts, so make sure you don't miss out. This is actually the last holiday of the year for incredible mattress deals, so if you're in the market for something new, you might not hold your breath in hopes of finding something on Black Friday. The next major sale for mattresses won't show up until Memorial Day, so don't hold out if you don't have to.
5. Outdoor supplies
With the weather cooling down, it makes perfect sense that stores will want to ditch all of their outdoor gear during the Columbus Day sale. If you are in the market for patio furniture, then start shopping now because you probably won't be able to find these items in stores and marked at a decent price until spring returns. This is also the best time to buy a pool and pool supplies, so you'll be all set for summer. Of course, you can also stock up on gear for sports like football, soccer and even sports that aren't in season. Finally, you might want to grab any lawn equipment you need, as you won't see many sales on it until the snow stops
6. Furniture
Furniture is another must when it comes to shopping on Columbus Day. This comes at the perfect time to give your home a little boost before you have company for the holidays. When it comes to furniture, it is hard to tell which store will concentrate on which area. Many stores might push beds around this time of the year to create a cozier appearance in the bedroom or guestroom. Whereas, other stores might have great sales on recliners, so you can stock up for the holidays. Other stores may push signature items like TV stands that dual as faux fire places to inspire shoppers to make their homes cozier for the holidays. The best thing you can do is pay attention to local ads or surf your favorite websites to see what your options will be.
7. Appliances
New appliances just dropped in many stores, which means there's going to be a lot of sales around this time of the year. This is especially true when it comes to Columbus Day. You should see items up to 30 or 40% off, which can save you a lot of money. Another big thing around this holiday is bundle deals. This is perfect if you're remodeling the whole kitchen or you want a washer and dryer bundle. Of course, you should shop around before you decide to make a purchase this holiday. Black Friday deals could still beat out these. So, if you're not in a hurry you might want to take your chances and see what you can get after Thanksgiving.
8. Autumn Clothes
If you've been holding out on autumn fashions then you can finally rejoice. Columbus Day will see many sales on clothing, so make sure to shop around to see what you can find. These sales don't specifically target autumn clothes so you can shop older fashions too. However, if you want to save on new things for this season then shopping now is a good plan. Black Friday typically isn't the best for clothes shopping, so if you get this expenditure out of the way you'll be set to purchase other items when Black Friday arrives. Many of the sales you will see will be online too. So, make sure you check out your favorite lines to see what the sales can afford you.
9. Photography Supplies
Since vacation season is pretty much over, many camera shops are willing to offer some pretty amazing sales on their supplies. Cannon is one of the most popular brands to slice prices on Columbus Day, so you might want to begin your search there. During the sales, you should be able to find a great deal on a camera, lenses and other accessories that you might need or want to suit your hobby or profession. Other brands will also be offering competitive prices, so shop around before the sale to get an idea of what you need and want. This sale comes at a great time as you will be able to preserve all of those holiday memories with your new camera. It will also prep you for next summer when you can't find a good deal to save your life.
10. Home Improvement
Home improvement season is pretty much over. With the weather already becoming cold with high levels of moisture, you can pretty much bargain that most people aren't going to want to work on a project. This makes it the perfect time to host a sale on home improvement items. One of the biggest sales will be on items like wallpaper and paint, because updating these aspects of the home won't be popular. You will also be able to find deals on things like light fixtures and other small details that will make your home complete. You might also want to look for tools and others items you will need to complete home improvement projects as some stores may even include these items in their sales.
Columbus Day Sales will certainly bring you a lot of savings this year. As the last big sale of the season before the big sales begin, you're sure to have fun while browsing for items to shop for. With a little pre-shopping and knowledge of what to look for, you should be able to find some amazing things on your shopping list at a fraction of the price.