As the New Year begins, the school year will resume in no time at all. For most families, it is incredibly hard for children to get back in groove of things. This can make everyone's lives a whole lot harder, which no one really wants. If your kids are dreading the school year, then you can easily get them back in the groove without forcing them to feel pressure. These ten ideas will help make the school year easier for everyone while inspiring kids to enjoy school all the more.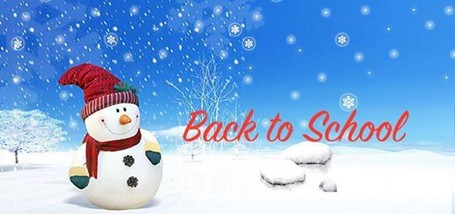 1. Help Set Goals
For a lot of kids, school is an aimless process. They do what is required of them and not much more, which can cause things to get a little boring for them. This makes kids less likely to feel like they aren't accomplishing anything or are just going through the motions that you tell them to. If you sit down with your child, then you can easily help them to set their own goals. This will even work for children as young as kindergarten. The goals might not be what older children might come up with, but you'd be surprised as to how much even younger kids will enjoy their goals. For instance, a younger child might make it a goal to run faster in gym, or color in the lines. Older children might make it a point to learn more about things they're interested in or improve a grade in a challenging subject. Once you have goals in mind, write them down, talk about ways to achieve them, and then add some incentive in the form of a reward. You'd be surprised how much this can inspire a kid to get up in the morning for school.
2. Pre-School Project
Days upon days without educational stimulation can make it harder for a child to jump back into action with school. However, just having your child work on homework can also be very taxing. Instead of just leaving things be for a couple of weeks, you might consider coming up with a project to help ease kids back into the school days. You might look through your child's schoolwork to see if there is something you can expand on during the winter holiday. If nothing comes to mind, then you can look at their syllabus or look online for a curriculum based on their grade. You should find a few ideas this way, which can definitely make planning a lot easier. Some simple ideas are building a volcano, building and launching a rocket, working on a STEM toy, nature hikes, historical projects, or bringing a book to life with art, a play, or even fan writing. No matter what you choose, make sure it is fun, educational, and something that will help your child stay focused and ready to learn.
3. Engage in Reading
Reading is one of the key elements when it comes to your child's education. However, it is easy for kids to put reading on the back burner when they're having fun with toys and their friends. If you want to keep your child engaged in school, then reading is one of the best ways to do this. You might have your child go to the library once or twice a week during break. This will allow them to easily find a good book that will spark their imagination when school is on hold. Many libraries will also know which books work for school reward programs, so your child can get a jump start on their reading goals during the break. If you want to add to the fun, then look into the books that are being studied or that will be studied in school. Then, add fun art projects or games that complement the book. You can even download worksheets to make learning even more exciting. This should help children succeed in English class, while also making reading fun, which will boost other areas of study.
4. Upgrade School Supplies
Sometimes, all a child needs to feel great about school is some new items. So, if you have a little extra money in your budget, you might consider getting some cool new items to make school feel fresh and new again. For instance, a new backpack can do a lot for a child's self esteem and will ensure your student is ready to lug around all of their homework and books. You will also find that a backpack can show how they've grown since the last semester, with interest, style and more. Of course, upgrading pens, pencils, art supplies, and so on can also help bring confidence to the new semester. Even some fresh clothes can change the way your child feels about school.
5. Design Homework Center
There's no doubt about it, getting homework done is an imperative part of the school year. That is why it is crucial to have a great place for your child to kick back and do their homework. A homework center is one of the best places to do this. You might design the center based on how your child works. If your child needs complete silence, then a study or a bedroom is probably the best place for the center. Of course, you might also consider putting it in a more public place if your child needs supervision or has trouble with concentrating in quiet places. While building the homework center, consider comfort and efficiency. You might also add bins for homework supplies and snacks. With a nice place to work, your child will be inspired to take their education further.
6. Reinforce Lessons
Believe it or not, but kids can forget things very quickly when their minds are left on idle. That is why it is important to reinforce lessons while school is on break. You might look at their homework from before break and base a few lessons on what they were already learning. Of course, you can also find curriculum for their age group online. There are many worksheets to help keep the lessons active, especially when it comes to math. You can also have your child spend some of their screen time on apps based to help keep their knowledge strong. This will make returning to school less anxiety driven. It might also improve their grades, especially if they didn't have enough practice with some of their lessons.
7. Talk About Summer
Some kids can't see getting through another semester of school because they don't care for it or are already burned out. One way to try to provide incentive for them to go back and enjoy school is to talk about all of the amazing things they will get to do when summer arrives. You might all sit down together and discuss the things you would like to do during summer. One good thing to bring up is summer camps or activities that your child might enjoy participating in. You can also talk about potential vacation. In fact, it might be wise to do this as it will allow you to make all of the necessary plans and put back money anyway. Apart from that, you might also discuss ways you plan on relaxing during the holiday, as this can help students feel a little more at ease because they will then know the reward that awaits them.
8. Reconnect with Classmates
Playdates are an important part of growing up, even if you're dealing with a teen. So, you might want to ask your child to have some friends over or send your child to a friend's house for a little while during their break. Socializing with friends during a break can make your child feel much better about their relationships at school. This can allow your child to actually want to return to school to be around the people they have befriended. Reconnecting before school begins again takes away from the awkwardness, which is important for kids.
9. Decide on Semester's Activities
Extracurricular activities can actually be a saving grace when it comes to your child's education. So, if you're looking to add a little spark to the new semester than you might sit down and discuss what new things your child might like to do. Of course, you should probably do this before school begins anyway. This will allow you to embrace your child's interests and take in your schedule, before you actually have to sign any paperwork for the activities. This will also allow you to budget. Of course, one of the best things about talking about upcoming activities is the fact that it will get your child up and moving when it comes to taking on school and transitioning into a whole new semester of fun.
10. Show Your Excitement
You might not believe it but showing your own excitement for school can be a big help to your children. Although you might be excited for some peace and quiet, you should work to show your excitement about your kids improving their education. You can always share some of your favorite things about school with them and ask them questions about the things they are looking forward to. Sending out positive vibes can change your child's whole perspective on school, which will make getting them in the mood to go to school even easier.
It can be tough to inspire kids to get up and go when they have been sleeping in and playing for weeks on end. These ten tips should help make it much easier to get your kids back in the swing of things, so they can truly embrace school. Plus, some of these back to school tips might even help your child do even better in their studies, which will help them go further in life.