Going out on a date this Valentine's Day might not be the wisest option. On top of that, you may find that the kids are missing out on giving Valentines to their friends at school. There are many ways that you can enjoy Valentine's Day from the comfort of your home though. These ten tips will help you to find a touch of fun for your household, so you won't feel like you've missed out on any love during this special occasion. These tips may even help you to save a little money, which is a Valentine's Day gift in itself.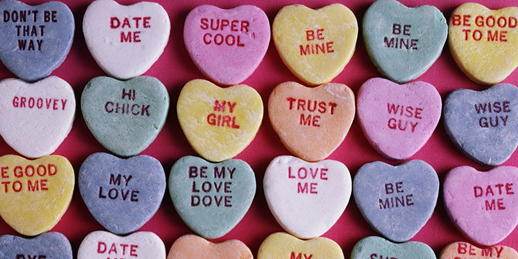 1. Make Crafts
Crafts are one of the best ways to share a little love with the people in your life. There are numerous Valentine's Day crafts that you can make with your children based on their age levels. For little ones, you can take a toilet roll and place it in the shape of a heart. Then have children dip it in the paint for an easy print that shows off some love. Older children can easily make traditional Valentine's or larger crafts using recyclables and craft supplies already found in the house. If you want to make gifts for adults, then there are also fun ideas online that will help you create office supplies, artwork, and so much more to help make the holiday memorable for everyone you gift to.
2. Cook Dinner Together
Another great way to share in the love is to cook dinner together. If you're aiming for romance, then consider a meal that you might order on Valentine's Day at a restaurant. This can be a great bonding experience, even if the meal is a little on the challenging side. If you need a little help with the meal, then consider purchasing a meal kit to help you out. Of course, having kids come into the kitchen to help can also be a fun way to make the occasion suitable for everyone while allowing the family to feel closer. You can even add special touches, like making strawberries look like roses for a little garnish that aims to please. There are lots of ideas online if you're not sure where to go with a family friendly Valentine's Day meal.
3. Themed Desserts
Dinner isn't the only aspect of Valentine's Day and for some, it certainly isn't the best part. Themed desserts are one of the best ways to get the ball rolling on your holiday. You don't even have to wait for dessert to enjoy these little treats. One of the most traditional items to make is chocolate-covered strawberries. This is as easy as purchasing dipping chocolate and heating it up before dipping your dessert inside. Of course, there are lots of other options too. If you're looking for a more kid-friendly option, then you can make simple sugar cookies in a heart shape. Then, you can keep the kids entertained by letting them in decorating. There are also more decadent desserts you can try your hand at if you're looking for a romantic dish that will impress.
4. Digital Dates
If you're single and hoping to do a little dating on Valentine's Day then all hope isn't lost. Rather, you can enjoy one of many new services that have popped up due to Covid-19. That service is, of course, digital dating. Many of the major dating websites have come up with a new way to match people. Then, after the text-based conversation, you can video call the person if you're feeling comfortable with it. This can definitely make dating interesting as you are based on a conversation almost entirely. You also don't have to worry about the cost of going out or anything like that. This form of dating can be a great way to break the ice while allowing you to enjoy getting to know someone on a totally different playing field.
5. DIY gifts
If you'd like to give gifts this year, but you are low on budget or you don't want to go out shopping, then one of the best things you can do is make something. There are so many cool things you can craft for Valentine's Day that it might be hard for you to make a decision. If you're crafty, then you can make a traditional Valentine's Day card. However, you can go to the next level by crafting a whole gift basket. If words are your thing, then write a poem or take it up a notch with a book of poems. Great at drawing? Create a masterpiece that the recipient will adore. You can even keep it simple by making a playlist online or going old school and burning it to a CD. It's all up to you, but there are so many ideas floating around online that you're certain to find something incredible.
6. Romantic Walk
If you're low on date ideas and you don't want to go out then a romantic walk might be the best way to go. A walk can be the perfect time for you to connect as a couple. Take your time, enjoy the scenery, and chat. If you're just beginning to date then this is the perfect time to get to know the other person. However, if you're in an established relationship then this is a great time to catch up with your partner or talk about future goals. A walk is a great way to enjoy some fresh air and get a little exercise too, which will definitely make you and your partner feel happier, especially if you're primarily social distancing at home.
7. Movie Marathon
When it comes to dates, one of the classic options is going to the movie theater. However, this isn't currently safe and social distancing might make the experience frustrating anyway. You can still enjoy the comfort of movies in the safety of your own home. If you don't mind spending money, there are many movies that are currently playing in the theater that can easily be rented at home. If you're not into spending money, then do a movie marathon on your favorite streaming service. There are many options to choose from, so make sure you pick something you will both like or try something new. It will definitely make it more fun for you to bond and enjoy your time together.
8. Recreate the First Date
Established relationships might find it hard to find fresh and exciting ideas for Valentine's Day. This doesn't mean things can't be fun though. Instead of trying to find something new to do, you might consider recreating your first date. This might not be easy, but there are lots of great hacks you can do to help you pull off the date. If you went to a prominent restaurant, you might be able to find copycat recipes that will help you get the same feel. As far as décor goes, you might try to decorate based on memory, but try to use items you already have sitting around to help you save money.
9. Memory Book
A memory book can actually play a few roles for Valentine's Day. If you're looking for an easy gift to make for someone, then a memory book is one of the best routes to go. You can actually order them online, but if you print out pictures yourself then you can decorate and enjoy the process of making the book. However, a memory book can actually be a great date as well. You and your Valentine can pick out the photos you want to use, share in the stories, and even add fun decorations to the book. This can become a great keepsake when you look back on the tough times that the past year has brought.
10. At-Home Spa
Times are tough, which makes an at-home spa one of the best things that you can make for your special someone. It can also be a great gift to offer for the two of you to bond together. You're obviously not going to be able to get the professional massage or some of the other options you would get at a regular spa. However, you can give each other a massage. You can also play relaxing music, use spa-inspired products, and spend your day completely relaxing. If you can, enjoy spa products you already have at home and you'll be on the right track to saving, but there are also many options you can make at home too.
These tips will help to create a Valentine's Day that is rewarding and enjoyable around your needs. You might even be able to forget all about the long lines in restaurants due to the lack of space or the fact that you can't enjoy typical date night activities. This should help you find even more to enjoy about the holiday without forcing you to spend a fortune.