The Chinese New Year is arriving a bit sooner this year, which means it's time to start preparing for this amazing holiday. This holiday does last a bit longer than most, which will give you plenty of time to embrace the holiday and try a few new things. If you're new to celebrating the Chinese New Year, then you're bound to find some of the traditions to be fun and heartwarming. There are a few things you should try this year if you haven't already given them a chance. These ten ideas will help keep the whole family entertained while you celebrate, while also teaching more about Chinese culture. Plus, they will allow you to have quite a bit of fun while on a budget.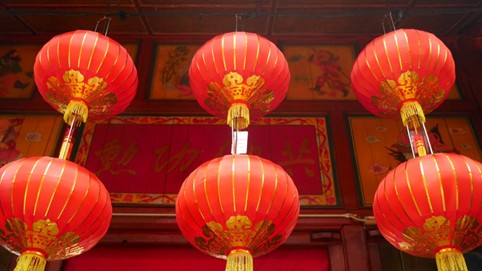 1. Dumplings
Dumplings are pretty much classic comfort food in China. So, it's no surprise that this Chinese staple is a part of the Chinese New Year celebration. Luckily, dumplings aren't expensive if you purchase them in stores. You can buy them fresh from some restaurants or grocery stores to bring home and enjoy. However, there are even cheaper frozen options that can help you out too. If you're feeling ambitious, you can choose to make your own dumplings too. The ingredients are cheap, and the process can be fun to learn. Once you get the hang of it, you'll feel at ease working on the dumplings. Dumplings come in a wide variety of flavors too. Thus, you can have dumplings that will suit every member of the family. There are also dessert dumplings to help add even more fun to the dish.
2. CCTV New Year Gala
Just like with other New Year celebrations, the Chinese New Year has its own special production that most people watch in order to celebrate the upcoming year. The New Year Gala is a very special production that is filled with exciting shows and more. It typically broadcasts on CCTV in China, but you can watch it around the world. A simple search should direct you to the CCTV website, but if you can't watch it there, then you can rest assured that it will pop up on many other streaming websites. Watching the gala will truly give you a great idea of what the celebration is all about while allowing you to see a mesmerizing show that you won't soon forget.
3. Shopping
Shopping is a popular aspect of the holiday. Generally, people do their shopping just before the holiday though, so you might want to embrace this fun activity before you even began planning your celebration. This doesn't mean you have to go out of your way to blow your budget though. Don't shop for pricey items or items you don't really need. Instead, make a budget and stick to it. Once you have your budget, then consider working around it to purchase items like red clothing. This will help you prepare to celebrate the fun while bringing you lots of luck. If you want to add a fun element to the event, then you can also make a scavenger hunt out of the shopping trip. Try to find red and gold items to purchase or look for items suitable for the holiday. You might also keep an eye out for rats, which is 2020's zodiac. This can help children get excited about the holiday while also allowing them to learn how to use money wisely.
4. DIY Couplets
Couplets tend to play a role in most families' celebration of the Chinese New Year. The couplets are placed outside of the home's gate in order to ward off bad spirits. Couples can be purchased in stores, especially around the holiday, but it will save you money and add meaning to the experience to make your own at home. This project doesn't have to be intimidating either and can be made with a number of materials. There are many tutorials online to help you out too, which will come in handy. While the family works on making their own couplets, you can learn about them too, which will add to the experience.
5. Clean the House
One of the biggest traditions when it comes to the Spring Festival is to clean. Most people end up cleaning their homes during this period to get rid of the bad and welcome in the new. Although it might not sound like an exciting aspect to celebrate, you might find that cleaning during this time frame is a great way to help feel renewed as you enter a new year. If you like to spring clean, then simply bump up your cleaning session to the holiday. This will give you more of a chance to enjoy the nicer weather, too. While cleaning, you should concentrate on areas you might normally miss, like cobwebs or behind the refrigerator. You might actually find this element of the holiday to be enjoyable before it is all said and done. Plus, it will set you up for happiness when you don't have to worry about doing a deep clean when there are fun spring activities to take on.
6. Chinese Brush Painting
Another fun way to celebrate the holiday is to learn more about Chinese tradition. One fun way to embrace the culture is to try out brush painting. This is a unique way to paint, which can be a lot of fun for the entire family. There are many tutorials online that can help you learn the basics of this craft. You might also be able to find a list of materials that will help save you some money. When you're ready to start your brush drawing, you might look around for images of China to begin with. However, it can be a lot of fun for the family to choose the items they would like to paint while trying out this craft.
7. Get a Haircut
The Chinese New Year is about fresh beginnings and cutting the old out of your life. So, getting a haircut during the holiday can help to bring you a lot of good luck during the year. Luckily, the Chinese New Year is also happening around the beginning of the new school's semester too, so you can knock out your kids' haircuts around the holiday instead. This can be very convenient and will help kids celebrate without having to go the extra mile. You don't have to go all out on your haircut either. Instead, you can just trim it. You can even do this yourself if you don't want to spend the extra money.
8. Try a Chinese Restaurant
If you haven't exposed yourself to Chinese culture, then you might try out a new Chinese restaurant for the holiday. Your best option is to try to choose a place that offers more authentic foods, as this will give you a better introduction to the culture than chain restaurants. If you choose to go during the Chinese New Year then you might even be able to enjoy traditional favorites, like uncut noodles. You can even talk with your waiter to see if there are any options for the holiday. Usually, people will be more than happy to make recommendations from the menu so you can learn more about their culture.
9. Make Time for Family
Typically, we spend a lot of time with family during the holidays at the end of the year. The Chinese New Year will provide you with another excuse to spend some more time with your family, which is important. During this period of time, it is tradition to treat the elders of the family with respect and love. So, visiting them and reconnecting with your other relatives is a great way to make the Chinese Festival special. You might even get your family to embrace some of the new traditions you're trying out.
10. Learn About the Year
Of course, it wouldn't be a new year without celebrating the new Chinese zodiac. 2020 is the year of the rat, so it might be a lot of fun to learn about everything that this zodiac brings to the table. The rat is quite interesting too, so you're bound to have some fun with it. You might consider looking at crafts to celebrate the rat. You can also find lots of merchandise to celebrate the rat, which might be great for people who are actually born under the zodiac. Of course, you can learn about the other Chinese zodiacs too, which can add more interest to the holiday.
Celebrating the Chinese New Year can be a lot of fun, especially if you've never joined in on the celebration. These ten ideas will give you something fun to try so you can make the most out of the holiday on a budget. With any luck, you will certainly find that this holiday is a great way to add a fresh take to the spring months.