With kids being pulled back out of school and more shutdowns happening around the nation, and the world, it might be hard to think of ways to bring the magic of Christmas to your child. Even visiting Santa Claus is out of the question in most areas because it might be too dangerous for both Santa and the children. Luckily, there are still ways to bring some magic to your children, which will allow them to enjoy the holiday spirit even if they are stuck in the house. So, don't exclude all of the Santa fun this year, because it might be one of the most normal aspects of the holiday for your children.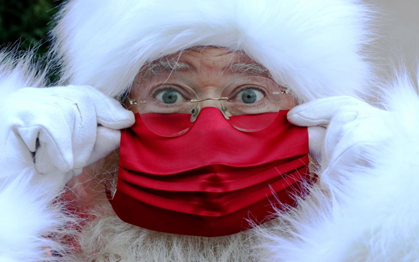 1. Video Chat
Visiting Santa Claus isn't safe often this year, but there are many Santas that are willing to come to you virtually. So, instead of going to see the big man, bring him to a screen in your home. This actually might be one of the more comfortable ways for your children to see Santa, as well. You might not get the picture you wanted, but kids can still enjoy telling Santa what they want. Some of these virtual chat programs will even send an edited picture of your child with Santa, so you still have the keepsake to add to your holiday treasures.
2. Santa Letter
The Santa Letter is one of the most reassuring things for kids. Every year, kids can sit down and make out a letter to let Santa know what they want. So, don't take this element away from them. You should still have your child create a letter and go to great efforts to mail it out. You can even send it to a special address if you truly want to add to the magic. You might also consider mailing your child a letter in response. There are lots of great templates online that will help make the letter look and feel authentic. This simple work of magic might even help give your child a little more reassurance about the holiday season.
3. Elf on a Shelf
If you don't already have an elf on a shelf, then this year might be the best time to try it out. This fun aspect of the holidays can make up for your child not getting the chance to visit Santa. Rather, kids can let the elf know what they want while the elf can report to Santa. Elf on the Shelf can be a lot of fun because it allows you to set up fun scenes that will help your child truly feel the holiday spirit. You can keep it simple or go wild when you set up the elf. There are even fun ideas online to truly help you take your Elf on the Shelf to a whole new level. Now, there are also books and movies to help make the elf seem even more fun for your child.
4. Story Time with Santa
Stories with Santa are also a great way to bring some joy to your kids. One Santa has already come up with this idea and began streaming stories when quarantine began back in March. You can easily tune into these storytimes for free each Wednesday at 7 PM EST. This Santa also offers other deals too, which might pique your interest. Of course, there is more than one option here as you might also have local Santas that are doing the same thing. If you're not sure, you might call your local library as this facility should be able to steer you in the right direction. The library itself might also stream some of these activities for kids.
5. Window Visits
If you know someone that looks good in a Santa suit then you might be want to go this route. Basically, have someone dress up and show up at your home at a specific time. From there, the kids can greet Santa and talk through the window to share what they want with Santa. Children can even pose for a picture in this way. This will help kids to see that Santa is going the extra mile this season to make magic happen. It will also make some of the changes feel a little less weird, as children will see Santa and know he is being cautious but is still working hard to make Christmas happen.
6. Make Snacks
One of the best aspects of the holiday is making lots of amazing treats. This is a wonderful family bonding moment that can allow everyone to feel the warmth of the season and one another's love. Of course, nothing beats making cookies for Santa. Your family can go with premade options, or you can make them entirely from scratch. Once your cookies have baked and cooled, kids can even decorate them to add that extra holiday flare. Of course, you might let each child pick out which cookie they want Santa to have. Don't stop at just people's snacks though. You can also add in some treats for reindeers, may it be vegetables or fun treats like puppy chow that have been repurposed with a holiday-inspired name.
7. Utilize Apps
When it comes to Santa magic, apps are here to help make things even more spectacular. You can find so many amazing things to bring fun to the kids. For instance, there is a Santa tracker that will reassure kids where Santa is when it comes to packing his sleigh, managing his list, and so on. On Christmas Eve, the tracker will let you know where Santa is in the world, which will inspire kids to get into bed faster. Apart from that, there is a North Pole app that will send your child personalized videos from Santa. If you want the kids to think you caught Santa delivering gifts you can even use an app to put him in a picture in your living room.
8. Fulfil the Belief Meter
If your kids have watched the movie Elf or other Christmas movies with the concept, they will know all about the belief meter. If not, then the belief meter is what powers Santa's sleigh. This amazing invention can be recreated at home with a poster board or a white chalkboard. If you're tech-savvy then you can utilize your mobile phone to do the trick too. With everything grim going on in the world, you might concoct a plan to ask the children to help restore some of the beliefs by starting in your household. Kids can do acts of kindness, read holiday stories, or behave nicely to receive points towards their meter. If kids can fulfill their meter, then Santa can leave a special certificate of gratitude to help make them feel proud of what they have accomplished.
9. Improve on the Details
This year is going to take a lot more work to bring some magic to the kids. So, you might step up your game when it comes to the small details. For instance, on Christmas Eve night, you might work at getting a little crafty. To begin with, add some Santa boots covered in snow. Even if there isn't snow outside, it will just reiterate the fact that Santa travels fast and goes all over the world. Another small step might be to leave a bell on the ground as if it fell from Santa's hat. Of course, you should take a bit out of the cookies and drink some milk too to make sure you show that Santa enjoyed his treat. Apart from that, you can recreate a clatter or use the sound of sleigh bells as kids get into bed. Any little detail that proves Santa was here will allow you to enjoy the fun as much as your children.
10. Chat About Covid-19
With the coronavirus here, a lot of children just aren't sure if they are safe. Some will have concerns that Santa might bring coronavirus into their homes while others might worry that Santa will catch it while he is delivering gifts. These concerns are only natural. Luckily, Dr. Fauci, who will probably be familiar to your family from news broadcasts, has already come forward to let children know that Santa's magic allows him to be immune to the virus. So, he can deliver gifts to boys and girls around the world without catching or spreading Covid-19. This news should take many of your children's worries away, which will allow you to focus on the joy of the season.
This Christmas can still be magical even with the world in such turmoil. These ten tips are only the beginning to help your family get even more out of the holiday season. So, don't forget it is the small details and family time that truly make the holiday amazing.