A New Year means trying out new things to make your life more efficient. If you find yourself doing a whole lot of nothing when you get home at the end of the day then you might want to try out a few new hobbies. Unfortunately, for many, hobbies can be a pricey part of the day. There are a few hobbies that can actually save you from spending a small fortune though. These ten ideas will only cost you a small amount to begin with, so you can enjoy smooth sailing as you explore the hobby without worrying about sinking any extra money into it. So, get ready to enhance your life in 2020, because these hobbies are here to make life amazing.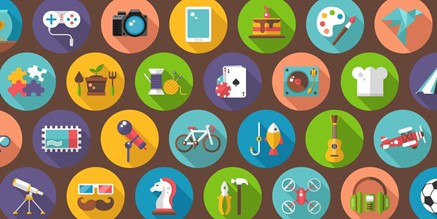 1. Yoga
Yoga can be one of the most transformative activities available. Not only is this activity great for your body, but it is also a real asset for your mind. You might even find that it has helped with your spirituality too. All you really need to begin this hobby is a yoga mat; however, you can easily improvise until you can spend money on a mat you want. There are lots of clearance mats available too, so make sure you look around any store that offers sporting goods. Once you have your mat, you can find free classes online that will help you get started. There is everything from maternity and child yoga available to limited mobility and advanced yogi classes. You can even find some lessons on public access. If you really want to expand your knowledge, you might consider joining a group. There are groups that require fees, but if you just find a group of hobbyists you should be able to enjoy everything for free. As you improve your skills, there are things you can buy to enhance the hobby, but they tend to not be expensive and aren't required.
2. Rock Painting
Rock painting is a fun activity for all ages. The best thing about this activity is you can find rocks almost anywhere, which will help you get started for next to nothing. You can easily find paints to begin your journey at dollar stores or on sale at department stores. You don't need to purchase expensive items just to get started on this craft. Once you have everything you need, all you have to do is paint. You can stick with solid colors, add messages, paint scenery, or turn them into pet rocks. Then your rock is ready to be put on display. Of course, you could also participate in rock hiding, which allows you to place your rocks in hidden places in your community. Usually, someone will find the rock, post it on a local forum, and then hide it somewhere else. Some rocks can even cross borders and wind up in exciting new places. You might also consider adding your rocks to a rock garden, which can be fun for the whole family. If you do wish to place your rock outdoors, you will have to seal it first, which is fairly inexpensive.
3. Phone Photography
Photography can be a delightful way to get more out of your free time. However, investing in photography gear can cost you a lot more than you might want to pay. In fact, if you truly get into the hobby then you might find yourself stuck paying a few thousand dollars for equipment and accessories. One way to enjoy photography while combating the cost is to just use your phone. A lot of professionals aren't crazy about this idea, but the quality of phone cameras has improved immensely over the past couple of years. There are lots of online tutorials that will help you turn your photos into works of art too. You can also use free editing software to get the effects you're dreaming of. If you really get a kick out photography on your phone, then there are even lens accessories and apps that can help step things up to the next level.
4. Mentoring
January is National Mentoring Month, which makes it a great time to start up a hobby as a mentor. You can mentor in just about anything too, which is what makes the hobby exciting. For instance, if you have a career that many people aspire to join, then consider mentoring high school or college students. If you know how to play an instrument, or you're good at art then consider mentoring people in that facet. You can even find work as a tutor to help people out. If you're not sure where you should mentor, then you might try out a big brother or big sister program. These help at-risk youth find positive role models that can truly change the direction of their lives.
5. Dog Walking
If one of your resolutions was to get a move on, then dog walking might be the perfect option for you. There are a few ways to go about dog walking too. For starters, you might visit an elderly community and ask if anyone would like their dog walked. Sometimes, people become homebound, so they can't take their dogs out for prolonged periods of time. Another option is to offer your services online. There are many online programs that will connect people to dog walkers. This will allow you to earn some extra money while allowing you to have some fun with dogs.
6. Drawing
When it comes down to it, drawing can be a very fun and relaxing activity to try out. When you start out withdrawing, you don't have to go all out when it comes to purchasing supplies. In fact, in the early stages, you can start out with simple pencils and paper. As you progress, you might want to upgrade later on, which can cost money if you don't use coupons. You can easily find lessons to help improve your drawing skills though, so you won't have to spend money on other lessons. You might be surprised how far these lessons can take you, too. Of course, you don't have to stick with just paper and pencil. You can easily use the items you have at home, which will add to the style of your drawings.
7. Reading
Believe it or not but reading can be one of the healthiest and cheapest activities that you can get into. Of course, that is, if you utilize the free books that are available to you. Your local library is one of the best ways to start your reading adventure. With a simple library card, you can easily check out just about any book that strikes your fancy. This will allow you to read anything from science fiction to autobiographies. If you don't have time to go to your library for a book, most libraries also have an eBook program so you can access whatever book you choose from the comfort of your home. You should also receive access to databases that will provide even more reading material for you. Apart from that, there are many free eBooks online too. You can also purchase them for remarkably cheap online if you want to invest a little money in your hobby.
8. Become a Reviewer
If you like free stuff and writing, then becoming a reviewer might be a great hobby for you. You might not earn enough income from this to live off of, but it can help you find some awesome products that you may not have otherwise received. There are many ways to become a reviewer though. You might start by applying to programs that call for reviewers. If picked, you can receive their perks. Apart from that, there is the Amazon Vine program. This program is an invitation only, but it can be a great asset for anyone that loves to review. All you have to do to get invited is to write quality reviews for the products you purchase, then wait for Amazon to get back to you about joining. You can also apply to win free books on services like Goodreads. If you review, you will be more likely to win more. This is only scratching the service though, so look around and find review programs that will work for you. Of course, it is imperative to do research before you accept items, as scams are common these days.
9. Pick Up a Language
If you really want to make good use of your spare time, then picking up a new language can be a lot of fun. Simply choose what you want to learn and then take to the internet to explore your options. You can find an app for almost any language that you might want to learn, which will help you on your path to success. You will also find that there are lots of free resources online and in your local library. Some libraries will even have classes for languages if you are really dedicated to picking up the language. You might also volunteer as an English tutor so you can speak English with someone learning and speak their native tongue, so you can learn that too. Spoken language isn't the only option. You might consider learning sign language, as this can be a real asset. There are also tutorials for learning sign online too, so pick something that will work with your learning needs.
10. Start a Blog
Writing is one of the best ways to blow off steam, but not everyone enjoys sitting down with a pencil and paper. If this is the case with you, then you might consider starting your own blog. You can write about anything that strikes your fancy, including your life. This will allow you to explore your interests and share them with others. If you know how to optimize a blog then you might even receive enough traffic to earn some money. If writing isn't your thing then you can also just keep a vlog. This will allow you to post videos of yourself talking, offering demonstrations and so much more.
Coming up with a hobby to improve your year isn't easy to do. However, these ten options can really change your life for the better. Best of all, they will provide you with a great way to keep your spending down, whenever you have free time to spend on the hobby.