Halloween is practically tapping at our door, but we're still stuck in this strange world of covid-19. You don't have to give up on Halloween though, as many people are bound and determined not to let another holiday pass them by. Luckily, Halloween doesn't have to be a huge social gathering in order to be fun. As a matter of fact, you can plan activities that are totally safe and fun for the entire family. You might have to spend a little more time preparing this year, but you'll be ready to enjoy Halloween before you know it. Plus, you might even save some money by following these fun tips.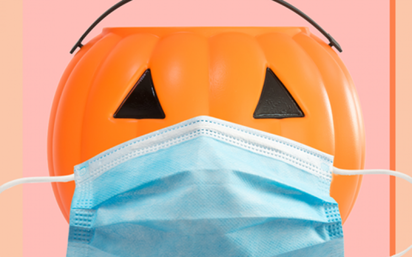 1. Decoration Drive-By
If you've ever gone around driving to look at Christmas lights, then you basically follow the same principle here. Chances are, many people will want to decorate this year, given what the first half of the year looked like. So, you'll probably be in for a treat or two. Before you go out, you might join some local community groups or pages so you can see if anyone is going all out. To make your travels around town even better, have the kids dress up and pack autumn or Halloween inspired treats to make the trip all the more exciting for the kids. If you want to make it a group activity then create a train of cars, so everyone can experience the magic together.
2. Hold a Competition
If you know your neighbors or you are part of a community group, then set up a competition that everyone can take part in. You can make it simple by asking people to decorate their doors or window. If you want to keep it cheap then consider making it a rule to only use paper or recycled items to do this. Of course, you can go all out and have everyone turn the neighborhood into a spectacular scene that kids will never forget. When Halloween is over, have everyone vote on their favorite home. The winner doesn't have to win a prize, but if you really want to go this route have the neighborhood pitch in.
3. Make crafts
One of the best things about Halloween is you can find a huge selection of crafts to enjoy. There are things for kids of all ages to do too, so you can keep the whole family rolling in the fun. From tissue paper ghosts to toilet paper roll skeletons, there is a lot of enjoyable crafts that can be made from supplies that you have lying around the house. You can find tutorials and print outs online, which will make it a lot of fun to enjoy a huge selection of items. You can even alter the tutorial to make the craft your own. Once you have some crafts up and going, then you can hang them up as décor in the house. Before you know it, you'll have enough items to make the entire home look amazing.
4. Enjoy Spooky Foods
Trick or treating might not be an option for some this holiday, but that doesn't mean that you can't satisfy your sweet tooth. One way to do this is to make cupcakes, you can add all sorts of toppings that will make them look spooky. You might also consider making pull-apart cupcakes that show off your favorite monster. Apart from that, you might consider making eyeballs out of grapes, monsters out of rice crispy treats, and fake fingers out of hot dogs. There is also the infamous spaghetti worms. Not everything has to be spooky though. Rather you can make the classic candied apple or some of the candy you bought from a store.
5. Hide Candy
So knocking on random strangers' doors to ask for candy isn't an option this year. That's okay! You can take getting candy to a whole new level when you hide it in your house instead. Have kids seek out their candy just like they would an Easter egg hunt. Of course, you can really spice this up. For starters, you can make it a riddle with clues that lead to each child's bundle of candles. Or, you can add little pranks along the train to give the trick in trick or treating a little more meaning.
6. DIY Costume Contest
Sure, purchasing costumes is a lot of fun, but if you're not going out this year then you might consider adding a new twist to Halloween costumes. Instead of buying your kids' costumes, consider putting out materials for them to make their own. You can put out old clothes, recyclables, crafting supplies, and more to entice their interest. However, you can also look up tutorials online to help build certain costumes for your child. As the kids work on the costume, prepare a fun contest. You can keep it in the household or create a ZOOM call where everyone can show off their homemade costumes.
7. Scary Movie Marathon
When you're stuck at home, nothing says fun quite like a movie marathon. A lot of people actually do this anyway, so it might be the one tradition that you can keep up with during the holiday. Luckily, most cable and streaming services will have you covered this year. If you have Disney+ then most of your iconic kid shows will be ready for viewing. Of course, most streaming services will have all of your favorite scary movies on offer too. So, there should be a little something for everyone to enjoy, even before the holiday begins.
8. Spooky Face Covering
Masks are going to be hanging around for quite some time, that's for sure. So this Halloween, you might get into the spirit of the holiday by adding something spooky to your face covering. There are lots of ways to do this too, so you can have a whole lot of fun with the project without spending a lot of money. Using fabric paint or decals, you might consider creating a monster mouth and applying it to your mask. This will give you a monster vibe that will definitely make you feel happy to be out and about. You could also just add full monsters to the mask, scary scenes from your favorite movies, or even fun quotes. Your spooky mask is entirely up to your desires.
9. Drive Thru Trick or Treating
This year, a lot of places are trying to change the way they handle trick or treating. So, you might want to consider looking around to see what your community has going on. For a lot of communities, people are offering drive-thru programs. This allows a family to drive thru a decorated area then children in the vehicle will receive a free, sealed bag of goodies. This is one of the safest ways to still get the Halloween vibe while helping your kids to get some free candy. Make sure to check out your local schools and libraries as these facilities tend to be the most common areas for such things to happen.
10. Online Party
Without a doubt, you don't have to ditch the entire social aspect of the holiday. Instead, consider having a virtual party. Start a ZOOM conversation and have everyone enjoy each other's company. You can wear your costume and decorate your ZOOM background to look a little spooky. You might also consider adding in some spooky music, stories for the kids, and games like Halloween Bingo. This will help everyone spend some time together without risking getting sick.
Halloween and social distancing can go together without limiting all of the fun. These ten ideas will add a good time to the holiday, so Halloween doesn't have to be another thing that kids have to miss out on. You never know, you might add some of these activities to your every year experience even when things go back to normal.