March 22nd marks the very first day of Ramadan, which means there's still plenty of time to plan for the holiday. If you tend to be a little frivolous with your budget during this time, there are ways to cut back on spending so you can enjoy the holiday without feeling the burden of money. These ten tips will help you to cut back on spending and allow you to spend more consciously, so you'll feel amazing when the holiday comes to an end. These ten tips may even help you to make sounder decisions outside of the holiday, which can help improve your finances all the more.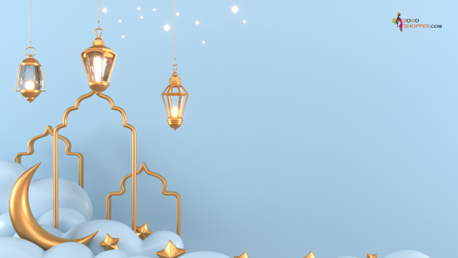 1. Wake Up Early
Since fasting only occurs during the daylight hours, it is important to get in a good breakfast before you begin your day. Waking up early will allow you to take in plenty of fluids and get in enough calories to make sure you won't feel incredibly miserable throughout the day. When you wake up, take the time to ensure you have a couple of hours to take in food and drink. If you tend to feel nauseous when you eat first thing in the morning, then you might account for this when you choose what time you want to wake up. When choosing foods, you should primarily stick with water when it comes to liquid. You should also choose foods with plenty of whole grains, as well as fruits and vegetables.
2. Stick to Your Grocery Budget
With fasting occurring all day long, a lot of people tend to go a bit overboard when it comes to meals for the nighttime hours. This can stretch a budget a bit too far, especially if you're going after expensive meats and other dishes you wouldn't normally get. For this period, you might consider sticking with foods that you would eat outside of the holiday. You shouldn't need to purchase extra, as this will encourage excess eating during the holiday. If you stick to your normal budget and list, you'll be well on your way to saving money.
3. Stay Busy
When hunger strikes, it can be hard to take your mind off it. This is especially true if you know you're not going to be eating until nightfall. One of the best ways to combat hunger is to keep yourself busy. If you can plan a busy day, then this is the best way to go. You might consider spending time cleaning the home, going to the park, and participating in activities that keep you moving and enjoying life. There are so many low-cost activities to choose from, so make sure you look around your area to see what it has to offer. However, you should consider activities that aren't around restaurants or food courts to avoid cravings and increased hunger.
4. Craft
Another great way to keep yourself busy is to craft. You can create a wide variety of crafts that have a Ramadan theme. If you're at a loss for ideas, you can find a lot online. Most of which can be made with items that you have on hand. Crafting is a great teaching moment for children too, as you can share the meaning behind the holiday or the specific item that you're crafting. You can also give some of your crafts away as gifts. This will not only share a little love with the person you gift to, but it can also save you some money on gifts, which can be very helpful.
5. Shop Sales
Gifting shouldn't leave you feeling depleted during the holiday. If you're worried about gifts, then one of the best things you can do during this time is shop for sales. During the spring months, you should find sales on items that are incredibly useful. Since spring is a common time to get married, most stories jump on the opportunity to offer deals on household goods, which also make great Ramadan gifts. You'll even find sales on religious items, toys, and anything else you might consider gifting. Before you purchase, you should always shop around to make sure you're getting the best possible price.
6. Create Envelopes
A lot of people like to give small amounts of money to children during Ramadan. If this is a tradition you practice, then making your own envelopes might be a great thing to add to your gifting. A homemade envelope not only allows for creative freedom, but it makes the gift all the more special. When you create an envelope, you can add your own special designs and you can fold it to suit the size that you desire. This is a great craft for kids too and can help them learn how to use their hands to make special things for the people they love.
7. Eat with Others
When it is time to break your fast, you don't have to head home to eat. Instead, ask to spend time with friends and family. Not only will this help you keep your budget in check, but it will also allow you to get even more value from the holiday. Spending time with those you care about as you pray and embrace such an important holiday can help make the meaning stand out even more. You will feel a sense of community, which is so important.
8. Focus on Water
It is hard not to want all of your comfort foods and drinks when you break a fast or are about to begin one. Instead of going for sugary drinks to help quench your thirst, you stick with water as much as possible. Rehydrating is going to be incredibly important during this time. Water can also give you the sensation of feeling full, which can ease hunger pains as you wait to eat. Drinking water can also help your blood sugar from spiking, especially if you haven't had anything to eat or drink in several hours.
9. Research Charities
Giving is a great part of Ramadan, but it can come with some risks. If you want to give to a charity, you may find that not all of your money goes for the good of the charity. This can leave you feeling like you've given away money that isn't for the greater good. So, before you choose to give money during this time, you should always make it a point to research the charity you're interested in. You can find reviews on charities as well as their terms for donations, which can give you peace of mind when you do choose to give money. There are many great charities out there, so with a little poking around you should be able to find one that suits your needs.
10. Donate Time
If you're not comfortable giving money at this time, then another way to provide to charity is to give your time. There are many great charities in every local area that are looking for volunteers to help them out. You can easily find these by speaking with a community or religious leader. Most of the charities will involve food, construction, or distribution, so you can plan based on your own skills. If you're struggling to find a charity to work with, then you might consider just making some meals for those in need. You can invite neighbors that may be struggling to your meal after your break from fasting. You can also pass out meals to the homeless. However, if this is your plan make sure to research local and state laws, so you don't receive a fine.
Ramadan doesn't have to leave your bank account empty. These ten tips will allow you to make the most of the occasion while ensuring you feel like you're ready to enjoy the holiday. You may even bring in new ways to celebrate to help your budget flourish all the more.