If you have a little girl in your life, then chances are you'll be asked to throw a princess party at some point or another. May it is a birthday party or just for fun, you might find the idea of such a party to be a little stressful on your budget. A princess party doesn't have to cost a fortune though. In fact, it can easily cost next to nothing if you have a few tricks to cut corners, while still making things fun. These ten ideas should cut back on the amount of spending you do while satisfying your child's need to host a princess party.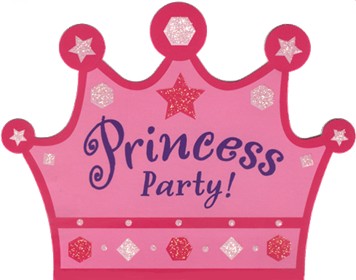 1. Make it a Costume Party
One of the best things you can do to make your party a success from the very beginning is to ask guests to come dressed as a princess. Most kids will probably have old Halloween costumes lying around, so this usually isn't a hard thing to pull off. If not, you might have some crowns, party jewelry, and other accessories available to help make the party more fun for those that skip the dress up portion. Having children come in costume will immediately spark their imagination, so games and simple playtime will be much easier for them to enjoy. Plus, it will allow them to easily participate in a photo booth without forcing you to spend a fortune on props.
2. Finger Foods
There is no need to spend a small fortune on food either. In fact, you can keep it simple with finger foods, as most kids will be in the mood to play anyway. If you really want to switch things up, consider making the princess party a tea party. One of the best options for these types of foods is a multitude of sandwiches. You can even use cookie cutters to cut them into fun party shapes that kids will love. Cutting up fruits and vegetables are also a great option, as they allow for a healthy option that kids can snack on. Apart from that, you might also skip the big cake. Cupcakes are easy to manage, and kids can decorate their own as a source of entertainment.
3. Make Crafts
An easy way to keep most kids happy is to have them sit down and make a craft. There are many things you can make from recyclables that will help cater to the princess theme. For instance, recycled cardboard and paper can easily be transformed into a lovely crown that the kids can wear throughout the party. You can also make fun wands out of cardboard, straws, yarn, and so much more. Another fun craft to try out is flower crowns. You can buy cheap fake flowers or pick your own flowers from the garden. These can be attached to a string, paper or anything else that you have around the house. There are many other crafts you can try out too, so make sure to browse around online to see what is going to work for you.
4. Skip the Disney
Without a doubt, most kids are going to associate princesses with Disney. It's very easy to fall into the Disney theme when it comes to this type of party. However, purchasing Disney themed items can actually cost you a lot more money than you might want to pay. There is no law saying a princess party has to deal with just Disney products. In fact, most of the Disney stories stem from other stories anyway. Thus, it is simple to find other princess decors. You can also use items you already have. You don't have to go with themed items at all. In fact, you can save a whole lot of money if you just stick with colors. The princess element of the party will come together in the games and activities that you enjoy.
5. Create Bouquets
Flowers and princesses tend to go hand in hand, so for the party, you might consider letting the guests create their own bouquets. If you have a garden with an abundance of flowers, then you might let your guests have some fun picking flowers. However, if this isn't an option then you can make paper flowers to add to the fun. The bouquets can be used during playtime, but they also make great additions to the table while everyone enjoys snacks. Some of the flowers can even be used as hair accessories, which will make everyone happy to enjoy this fun craft.
6. Do Makeovers
Nothing says princess fun quite like doing some princess inspired makeovers. In order to do this, you can bring out hair supplies and nail polish that you already have. With the guidance of an adult, help the children plan out a cute makeover. You can even make it princess themed by using the colors of their favorite princesses. If you don't have a lot of supplies to share, then you might be able to find everything you need at the dollar store. Of course, if you want to add more fun to the table then you might also do face painting. This can cheaply be done with party makeup which you can find at party or department stores.
7. Princess Games
Entertainment is crucial when it comes to parties. Luckily, there are lots of free princess games you can play. For instance, you can play kiss the frog. Simply draw a frog on a poster board. Then, make little lips that the kids can pin onto the frog. This is just like pin the tail on the donkey only princess inspired. You can also play match the slipper to the princess. All you have to do is print out pictures of princesses and some slippers. Color the slippers to suit each princess and see which child can match them the fastest. You can also play the princess in the pea. Simply have kids sits on something hidden under a pillow and have them guess what it could be. There are so many princess games to choose from though, so have fun with the ideas you have online.
8. Story Time
One of the best things about princesses is there are lots of great stories to choose from. When it comes to entertaining kids, you might consider checking out a few princess books for a nice storytime. You can also print out stories online and have the kids color pictures as you read them. Of course, you can also put on a princess movie in the background to keep the kids going through some of the activities. This is great fun for everyone and won't cost you anything extra.
9. Utilize Dollar Stores
When it comes to gathering party supplies, you don't have to spend a fortune on items. Instead, check out your dollar store to see what you can find. You might be surprised by how many of the items you will need that can be picked up for just a dollar. For instance, this might be the perfect place to grab bulk plates and napkins. You can also pick up decorations, especially if you're sticking with a solid color. Most dollar stores will also have helium balloons which can save you a lot of money. This is the perfect place to shop for supplies for goodie bags too, especially since there are usually lots of fun items that follow the princess theme.
10. Shorten the Guest List
One of the easiest ways to cut down on spending when it comes to your party is to trim the guest list. You don't need to host a party for 30, as this is going to escalate your budget quite a bit. Of course, if your child is offering invitations at school then it is obligatory to invite everyone, so you might just stick to inviting kids that are in your community, family, or those that you have already established an acquaintance with their family. A smaller party will actually create a more regal vibe too and will allow the kids to interact together with ease.
A princess party can be a lot of fun for everyone. However, if you can keep the budget down then you will enjoy it all the more. These tips should help you make the most of your budget while creating a party that will feel like you went all out.