If you've never celebrated May the Fourth, then you're in for a real treat this year. This holiday was originally designed to celebrate Star Wars and all that it accompanies. However, over the years, this day has also been reserved to celebrate all things geeky, which has made it even more popular. Of course, if you're on a budget then you might be wondering how you're going to fit in another holiday without breaking the bank. There's actually a lot of great things you can do to enjoy May the Fourth that won't cost you much at all. So, let your geeky side show this holiday as you're bound to have some fun.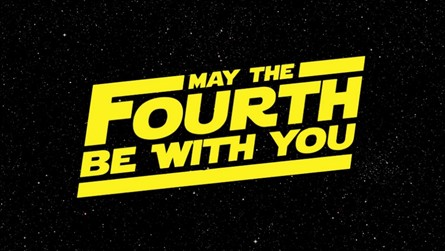 1. Embrace the Sales
One of the most anticipated aspects of May the Fourth is often the sales. You will find sales on just about anything and everything Star Wars, so make sure to check out your favorite stores to see what kind of amazing prices you can find. Don't forget, it won't just be about the actual movies as you will be able to find comics, books, collectibles, clothes and toys at a great price. You may even find custom Star Wars food and drink at a price enticing enough to get you to try it. Of course, Star Wars items aren't the only thing that will be on sale. You might check out your favorite geeky stores to see what you can find. If you luck out, you may be able to find collectibles at a price you'd never thought possible.
2. Dress Up
If you love to dress up, then May the Fourth is one of the best days to do it. Luckily, you don't need to budget a lot of money to afford a Star Wars costume. There are so many tutorials online that you will have a costume or two whipped up using just items you have lying around the house. You may want to indulge in some face paints if you plan on going as a character that may not be human in appearance, but other than that most items can easily be found at home or in thrift stores. Of course, if you're not one for DIY then hold out until next year. After Halloween is over, you should see a huge discount on costumes that will ensure you have a great look for next May the Fourth.
3. Lightsaber Battle
For kids, and some adults, one of the most appealing aspects of Star Wars is the light saber battles. It is hard not to imagine having your own beautiful lightsaber to use. Luckily, there's many ways you can actually reenact the lightsaber, so you can enjoy a lightsaber battle of your own. There's lots of great DIY options here, which include many cheap materials, like pool noodles. You might browse around online for some ideas to help get you started. If you're okay with spending a little money, then you can purchase plastic lightsabers at a fair price in most toy stores. When it comes to the actual battle, make sure there are rules put in place, so no one gets hurt. You might find there are lightsaber battles at nearby parks too, which might make the battle even more fun. So, let your imagination soar.
4. Star Wars Food
Nothing says fun quite like turning your favorite movies into something to snack on. Believe it or not, but there's actually a lot of recipes that will help you turn your favorite foods into Star Wars inspired snacks. For instance, cookies can be easily shaped like wookies and then decorated with icing to make them look even more authentic. Rice crispies can be formed into all of your favorite Star Wars characters too. There are even Star Wars inspired beverages that are kid-friendly and entirely for adults. So, use the force to choose which delicious snacks you'll tackle while celebrating.
5. Build Models
Another fun way to bring the family together for the holiday is to build models of the numerous vehicles featured on the show. These can be purchased in stores, but often aren't priced low enough for a tight budget. However, if you already have some of these models lying around then now might be the time to work on them. Of course, you don't have to use model kits in order to enjoy this hobby. One common way to enjoy building is through LEGO. These kits can be pricey too, but you can actually make your own ships using pieces you already have in your current LEGO collection. If you don't want to use this method, then you can always use recyclables and your imagination to make your favorite ships. There's an abundance of tutorials online, so you should be able to find assistance if you're having trouble.
6. Crafts
Crafts can really help the whole family embrace the holiday, which will allow you to have more fun on the budget. One of the best things about Star Wars is so many people love it, thus there's lots of fun Star Wars craft ideas floating around the internet. For starters, you might try making a BB-8 out of paper plates. Another option is to make fun paper dolls that are perfect for acting out your children's favorite scene. If you have younger children, then printing out coloring pages might be a great option. Recyclables can really come in handy with these crafts too. For instance, you can make Chewbacca, Yoda and other characters out of toilet rolls. Let your imagination run wild with this to add to the fun.
7. Jedi Training
At Disney, the new Star Wars park actually offers Jedi Training for the kids. Obviously, heading to the park for May the Fourth isn't ideal on a tight budget. Nor would it be much fun with all the crowds swarming the Star Wars area. However, you can make your own version of Jedi Training in your community or simply in the home. You might check out the Disney park's training and give it a little twist to suit the children you are working with. With any luck, you will have a group of children who won't soon forget their Jedi training fun. If you can get a few volunteers to help out while dressed up, then you may start a tradition that people will line up for each year.
8. Join a Force for Change
Part of being a Jedi is doing good and helping to make the world a better place. So, on this holiday put your Jedi training forward and join a Force for Change. This charity was set up to help in many different areas. One portion of the site allows Jedis to post images of themselves doing good deeds. You can even donate money to the fund if that is something you would prefer to do. If you're curious, you may want to browse the site to see where you can help out. In fact, after looking around, this may become a yearlong, if not longer, journey that will have you doing your fair share to make the world a great place to live.
9. Catch Up On Reading
There aren't many holidays around that offer you the chance to catch up on your reading. May the Fourth is actually a great holiday for reading. There's countless books written about the Star Wars Universe, which can provide you with years of entertainment. You might also find some of the comic books interesting too. Of course, if you don't have the money to go out and buy a new book then there are countless stories you can find online. From official Star Wars literature to fan-fiction, the internet will provide you with a wide variety of interesting things to read. You may even find something new that will inspire you to spend more time reading even after the holiday is over.
10. Movie Screening
Without a doubt, one of the more obvious options is to hold a movie screening. This can be held for the family or your might invite friends, family and neighbors to join in on the fun. You probably won't get through all of the movies in one day, so you might host a few viewings throughout the week to make the holiday fun last longer. You can even watch the cartoons to add more enjoyment for the children. Of course, you don't have to stay at home to enjoy the movies. Often, communities will host events that showcase the films. Sometimes, these events are free, but they might also cost you a small fee. No matter how you choose to watch your movies, don't forget your snacks to make them even more exciting.
May the Fourth can be a lot of fun if you take the time out to celebrate it. You don't have to spend a lot of money on this holiday to make it enjoyable either. These ten tips should help you find the best way for you and your family to spend the fun occasion. Before you know it, you'll be anticipating this holiday throughout the year.