Wedding season is on its way, but with the current circumstances, you might not want to go the traditional route. A lot of people are putting off weddings until covid-19 is under control, but if you are tired of waiting then there are many options that you can enjoy. These ten ideas will help you to embrace the joy of your wedding while staying safe. Best of all, many of the options will even help you to save some money, so you can easily get even more out of your wedding, even if it isn't what you expected.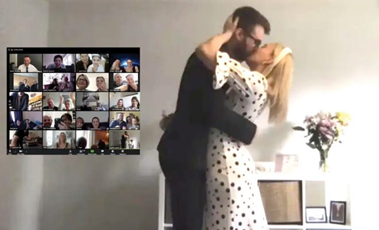 1. Go Digital
We're lucky to be a part of an age when we can do so many things online. Luckily, we have the technology to enjoy live streaming, video calls, and so much more. So, make sure to utilize all of the technology you can when it comes to your wedding. If you really want a wonderful wedding, then decorate your apartment as you would your venue. Find the dress or tux that you want, or dress up any way that you please. If you don't want an audience, then video call with an officiant and enjoy your simple wedding. However, you can still have a video call session that includes close family and friends. If you want to let more people experience your wedding, then you can do a live stream. Online weddings are now totally
legal, so you can utilize this method to still have a little fun and create wonderful memories.
2. Go Tiny
If you would prefer to have an actual wedding, then you might just consider going tiny. Cut down on your guest list to the bare minimum to ensure that everyone is able to stay while there. When you set up your wedding, make sure that seats are six feet or more apart. You will need to set up hand sanitizing stations to ensure everything is ready to go for people to stay safe while there. Apart from that, you will still need to enforce a mask rule, especially if there are going to be elderly guests at the wedding. Limiting food, beverages, activities, and more will allow you to easily keep others safe as well. You may have to search around to find a venue though as well as caterers and entertainment.
3. Use Your Home
Instead of going through the entire ordeal of booking venues and dealing with cleaning restrictions and more, you might consider using your home. This will give you a more controlled experience that will help you to feel more confident about your wedding. The best place for your wedding is the yard, as it will help to keep people safe as they social distance in the fresh air. So, you might want to plan around the weather if you can. Having your wedding at home will allow you to easily get ready for the day in comfort while also ensuring your guests will have the refreshments they need and the ability to maintain hygiene with ease.
4. Skip the Reception
Although you might not like the idea of skipping your reception, for now, it might be the best option. A reception can be a very pricey thing and might increase the chance of your guests being exposed to covid-19. Skipping the reception will still allow everyone to see you get married but won't force people to stay behind for food. It also won't force you to enforce masks, sanitizing, and six feet apart standards, which can be incredibly hard to do in certain situations. If you're really upset about the lack of reception, you can always host a large party when the covid-19 restrictions have been lifted and you can enjoy the company of others.
5. Plan the Honeymoon
Instead of actually going on a honeymoon, you might spend your time planning out the honeymoon you've always dreamed of. Going on a honeymoon now will restrict you quite a bit, which might force you to regret taking the honeymoon. However, if you go later, you'll have a better idea of what you want to do, more freedom to enjoy activities, and you'll have plenty of time to save up to make your honeymoon more of a possibility. It can still be a lot of fun to sit down and plan out your honeymoon. You can look at tour guides, local recommendations, or even tour the area via virtual tours and maps.
6. Couple's Dinner
If you're not feeling a reception or any kind of celebratory event with others, then don't do it. During this day and age, you're probably better off keeping your wedding as intimate as possible. One of the best ways to celebrate together is to splurge on a special meal. You can easily order something from your favorite restaurant or something new and fancy. You can also cook together for an exciting activity that will make the day all the more impressive. Once you have the meal picked out, set up the atmosphere. This will help to add a touch of romantic fun to your life.
7. Digital Dance Off
Giving up the reception doesn't mean that you have to ditch the fun. Instead of hosting your big party at a venue, have everyone get together for a digital dance-off. You can start a video call, live stream, or come up with another option to get the ball rolling. Of course, you will want to let people know about the activity well beforehand so they can plan to dress up and have some fun with you. If you're at a loss of how to do this or even how to decorate, there are a lot of fun videos of prom dance-offs that will make you feel inspired that your big dad will be amazing.
8. Cut Back on Traditional Budget
Let's face it, things aren't normal. So, having a traditional wedding might not seem wise to you. It's okay to cut back on the traditional elements of your wedding, especially if you're trying to reduce your budget. One of the easiest things to cut back on is clothing. If you don't really want to skip the big, expensive dress or pricey tux. Try to pick something simple and comfortable. You might also scale back on the décor you choose. Perhaps, you might stick with just a bouquet, instead of filling the room with flowers. All of this will help significantly reduce your budget while still allowing you to enjoy yourself.
9. Virtual Wedding Shower
One major part of having a wedding is also having a wedding shower. Many people are skipping out on the showers because they don't think that they can safely have them. However, going virtual will allow you to have some fun while allowing you to get the things you need for your household. To begin with, simply sign up for a wedding registry and let friends and family send gifts to your home. Save them up and open them on a group video call or a live stream. Opening gifts isn't the only way to go through. You can also host games and allow people to win prizes. This can help bring a sense of community while allowing you to have fun.
10. Courthouse
A lot of people get married at the courthouse each year. It is easy, cheap, and convenient, which will allow you to easily get what you need. The courthouse probably is going to offer space for a lot of guests right now, but you can probably have a witness. You should call your unique courthouse to check on this first though. Once you schedule your date for the courthouse, make plans to stream your wedding. You can also take the time to write your own vows to come up with a more romantic way to enjoy the wedding.
You don't have to put off getting married even though we're living in a world of self-isolation. These tips will help you make the right choices for your wedding, so you can truly get what you want. All of these ideas will also go easy on your budget, which is definitely going to help you out.