January is national handwriting month, which can be pretty exciting. More often than not, handwriting is simply overlooked, especially since most people prefer to type most of the things they write. Handwriting is such a big part of our culture and our personalities though, so it is important to celebrate it for what it is. Many people feel that handwriting can be very boring though and only see it as simple writing. There are tons of cool things to consider when it comes to handwriting though. These ten ideas will help you celebrate the month while learning new and frugal ways to celebrate handwriting.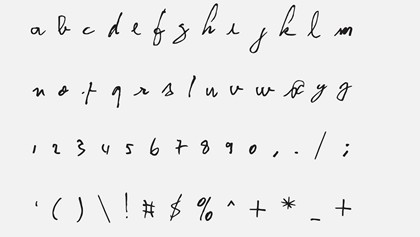 1. Calligraphy
Calligraphy is probably one of the most popular ways to celebrate handwriting. This is an old art form that people still enjoy learning to this day. You won't have to look far to find classes either. Some colleges and libraries will offer calligraphy courses at a very decent price. You can also find classes online. Of course, you won't have an instructor to help you, but you should be able to figure out the basics with just a few streaming videos. There are also lots of cheap tool kits you can check out too, while you introduce yourself to the craft. If you enjoy it as time passes, then you can easily upgrade to suit your craft. As you learn the ropes, you might enjoy making your own artwork based on calligraphy. This can be fun and can even be sold for extra spending money, in some cases.
2. Word Art
Word art is incredibly popular right now, so there are lots of tutorials to help you get started. You might want to work with simple paper at first, as this will help you find your groove. You can write out your favorite quotes, simple sayings, or even names of the people in your family. No matter what you choose to do, working on turning your favorite words into art is certain to give you a sense of joy. Once you've finished up your art, then you can easily add a frame to showcase it to the world. You can also use canvas to create an eye-gabbing look that makes your home décor look amazing.
3. Drawings Made of Words
Words don't have to primarily be the focus when it comes to handwriting. In fact, you can use your handwriting to make images, which can actually be a cool process. In order to pull this off, all you have to do is come up with an image that you'd like to make. Then, sketch is out but make sure that you have enough space to fit your words. You might also think about the appropriate words to suit the image. This can be easier than you think. You can also choose your words first and then pick an image that will work with it. If you aren't confident about your drawing skills, you might consider printing the image and then place it behind the paper that you want to do your art on. This will help you make the appropriate lines with ease. Before you know it, you'll have an exciting work of art that will make you proud of your handwriting.
4. Showcase Family Recipes
Recently, there has been a trend going around handicraft stores that feature everyday items engraved with handwriting. These items can be particularly heartwarming if you have a strong bond with the handwriting that you are asking to be engraved into an item. One of the most popular orders for most stores is customized cutting boards. These boards tend to have recipes from a parent or grandparent engraved in them with the recipe creator's original handwriting. This can be a beautiful gift for loved ones, especially if you've experienced loss in the family. Of course, you can do more than cutting boards. There are options for mugs, wine glasses, and even wallpaper, which will help make your kitchen even more special.
5. Chalk Art
It might seem obvious, but chalk art is another fun way to embrace national handwriting day. Chalk art can be such a simple and fun way to enjoy your handwriting. It is also a great way to get kids in on the action. All you really need for chalk art is some colored chalk and a blackboard or pavement to utilize. From there, you have lots of freedom to express yourself. You can make graffiti inspired letters or you can stick with simple block letters. Apart from showing off fun styles, you can use the art form to write a poem, share quotes, or simply leave your name somewhere special.
6. Create an Art Journal
Another fun way to bring your art to life is to create an art journal. This will allow you to use your handwriting to write out your feelings. Once you've said everything you need to say, you can bring the text to life. This can be done in a number of ways. For instance, you might consider blocking some letters or making them bigger for emphasis. You can also illustrate around some of the words to create a stylish look that will help bring out some of the pivotal messages. You can also make the journal a bulletin style that will truly help your words stand out. You will definitely enjoy looking back on this journal, because of the fun and passion you put into it.
7. Practice Cursive
Cursive used to be a common practice in schools. However, it doesn't seem to be as popular anymore, especially since most students are taught to work on computers at a very early age. Cursive can be a fun way to embrace your handwriting though. On top of that, knowing how to write in cursive can actually help you in formal settings. So, if you haven't written in cursive in some time, you might take a moment to practice it. You can also use the beautiful written text to show off your skills in cards, letters, and even in artwork. Working on your cursive will even give you the chance to teach the art to the younger generation, so the craft won't die out.
8. Create a Font
Fonts can be a lot of fun to work with on the computer. You can use them to create websites, digital art, or simply to send fun emails to your friends. If you really want to celebrate your own handwriting, then you can turn your writing into a font. This can be pretty exciting, especially when you see your handwriting show up on your screen. There are many ways to do this. However, one of the easiest is to look for a template. There are so many websites that will help you with this and won't charge you a penny. Before you know it, you could have a cool font with your own personality to help you celebrate national handwriting month.
9. Experiment with Tools
Without a doubt, there are a lot of ways you can change up your handwriting, which can be pretty exciting to explore. You might consider ordering a few different tools to help you get on the right track. One of the easiest places to begin is with a simple pen. You can order many different forms, which will help you try out different inks, sizes and points. Another fun thing to experiment with is markers. There are so many different types that you're bound to have some fun creating art with all of the colors and more. There are also special ink sets you can purchase. Many are designed for calligraphy, but you might also find an assortment of vintage writing tools that will make you appreciate your handwriting all the more.
10. Analyze Handwriting
Analyzing handwriting is a fun art that is often overlooked. However, it can be used on a psychological level, which is why many professionals learn how to analyze handwriting. It can be a little pricey to have your handwriting analyzed, but it can also teach you a bit about yourself that you might not have otherwise known. However, there are many books on the subject, which will allow you to work on the project on your own. This can truly bring some fun to the task while allowing you to learn even more about yourself and others. Plus, it might become a fun hobby that you can use whenever reading biographies and old letters.
Handwriting might not sound like a lot of fun, but it truly can be. It can help us in so many ways too, which is one of the many reasons it should be celebrated. This national handwriting month, you might want to utilize the fun of these ten ideas, so you can truly embrace the impact handwriting has on our lives.