Autumn tends to be one of the most popular time periods for sports. However, if you are multiple people in the household wanting to play, or you simply want to cut back on the amount of money you spend, then you may want to choose your sports carefully. These ten sports will offer you and your family a lot of fun, while helping you to cut back on the budget you need to keep the sports going. So, get fit this autumn when you choose the appropriate sports for you and your family to enjoy without spending a bundle on them.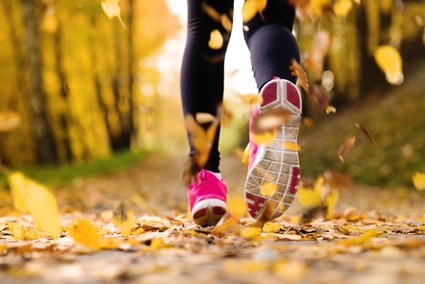 1. Track
If you're looking for a sport that doesn't require equipment or lots of accessories, then your best option is going to be track. There are many different forms of track too, so you can spice up your athletic skills without having to venture to new sports. Generally, the only thing you need to participate in track is fees to run in races or dues for a team. That is, however, unless you have a child in school that wants to participate. This should be no cost to you, unless there is extensive traveling involved. When it comes to track, all you need is a good pair of running shoes and proper running clothes to participate. Of course, you will need these items for most athletic endeavors.
2. Swimming
One of the best sports to participate in for your entire body is swimming. This sport is easy on the joints and helps you to burn calories quickly. The best thing about swimming is all you really need is a bathing suit to participate in the activity. Of course, you will also need access to a pool. You can easily swim at the YMCA for next to nothing. Of course, if you have your own pool then you're all set. Students also have access to their school pool, so they can work on their form and so on more often. Joining a swim team is always a great option though, even if you choose not to compete in the activity. Of course, you can always just visit the pool to enjoy yourselves on the weekend.
3. Soccer
Soccer is probably one of the most popular sports for children and it usually occurs twice a year, in the autumn and in the spring. Soccer is a great way to exercise and will help children with their coordination and team work. There are also many soccer leagues for adults to enjoy too. This sport doesn't cost a lot of money because you will only need a uniform, cleats and shin guards. All other supplies are purely optional. Of course, you will most likely have to pay dues to participate in this sport, which keeps most teams functioning. However, if the sport is offered at your child's school then you shouldn't have to pay for anything apart from the shoes and padding.
4. Basketball
Basketball is a perfect sport for the autumn months because it is largely played indoors. Most middle and high schools have a basketball team, which makes it a great sport for older children to play at no cost to you. Of course, there are options for younger children and adults too, which shouldn't cost you a fortune either. If you don't want to pay to be on a team or in a league, then you can always take to the local park when the weather is nice to enjoy your day. All you will need for this is a pair of good sneakers and your own basketball as most parks won't supply them. You can also enjoy basketball at the YMCA or other gyms and family centers when the weather isn't cooperative. Basketball is a great sport for hand-eye coordination, so it might be one of the best matches for your children during this season.
5. Martial Arts
Martial arts have been a popular option for quite some time now. This sport not only helps to improve coordination and strength but teaches students the practical art of self-defense. You have a lot of different forms of martial arts to choose from too, so you can base your decision on general interest as well as your price range. Generally, martial arts courses are a flat fee, which includes registration, uniform and tuition for classes per month. However, you might occasionally have to purchase a new belt as your skill level improves. This price tag won't set you back either as it usually only costs a few extra dollars. Occasionally, this sport does require travel if you choose to compete, but if you're just starting out then you should be ready to enjoy a frugal sport that will keep you trim and stress free.
6. Volleyball
Many people think of volleyball as a summer sport, but there are many teams that play indoors in the autumn months. In fact, most middle and high schools have volleyball teams that pick up when the first semester of school begins. This sport doesn't cost a lot of money to participate in either, especially if you're working with a school team. However, if you are on a team outside of school then you will only need to worry about team fees, knee and elbow pads, as well as a uniform. Padding is important for this sport as you will be playing on a hard floor opposed to in the sand. You can still enjoy volleyball outdoors though or at a gym that has the equipment set up for you.
7. Wrestling
Wrestling can be one of the most unrepresented sports for anyone outside of a high school. However, it can be a great way to work on strength training and endurance. There are many gyms that offer wrestling classes and matches, so ask around to see what is available in your area. Of course, if you have a student in the household then signing up for the sport at school is the easiest option for the age group. Wrestling won't force you to go out shopping for a lot of items either. In fact, most schools will provide students with most of the items they need. You might have to purchase a mouth guard and cup for the sport, but other than that you should be good to go. If you're playing outside of a school team then you will probably need to purchase protective gear including a helmet, as well as a unitard. These items shouldn't set you back much though and will last you for quite some time.
8. Weightlifting
If you'd like to bulk up during the autumn months, then weightlifting is a great choice for you. This sport can be pricey if you let it be, but there are many ways around the high price. For instance, if you attend a high school or college then chances are your gym is open to you at all times for free. Many offices now offer a small gym for employees too, so take advantage if this is open to you. If you live in an apartment then you might also have access to a workout room. Gym memberships aren't incredibly pricey either, but if you're having trouble affording one then look into joining your YMCA. You can also create a functioning gym in your own home with just a few pieces of equipment, which should improve your ability to keep up with the sport. Of course, you might have to alter your diet while working on this sport. Also, if you plan on competing then there is also registration fees and more to consider.
9. Non-Competitive Gymnastics
For young children, gymnastics is a great option to keep their flexibility while encouraging them to move their bodies and have fun with athletics. This sport can also be quite affordable. All you really need to participate in the sport is proper workout attire, which usually consists of a leotard and in some cases shorts. Gymnastics classes can be very affordable, especially if your child does not plan on competing. Usually, the classes take place once a week and cost you less than a hundred dollars a month. Of course, you will have to shop around to find the lowest price. Even adults can take part in gymnastics as there are special classes to teach moves to those that may not be as flexible.
10. Badminton
Badminton is often overlooked because it isn't as fast paced or as popularized as sports like tennis. However, it can be a good way to get your heart pumping faster while having some fun. Badminton is a social sport too, so you can play with the whole family. Generally, you can set up a badminton area in your backyard for around $10, which will provide you with hours of enjoyment. Badminton is a lot like tennis, so it can help athletes enjoy the game when tennis season is no longer around. Of course, you can play badminton inside or outside, which makes it versatile all year long. You might have to look harder to find a team for this sport, but you should be able to find a group of players in your community or a nearby community.
Keeping active in the autumn months can be tough but joining a sport can certainly help keep you motivated. These ten sports should suit your budget, so you won't have to worry about money due to your hobby. This should help you love working out even more.