Like most people, the holidays bring a sudden increase in kitchen products. From cute little gadgets to appliances, there is one problem with getting these gifts around the holidays. That is, more often than not, we just don't have enough space for them. Luckily, there are quite a few ways to organize these items, so that you don't have to stress over your lack of space. These ten ideas will not only help you store all of the new items that you received this holiday season, but it can also help you transform your kitchen for efficiency. So, don't let everything overwhelm you, because you're bound to have a new kitchen before you know it.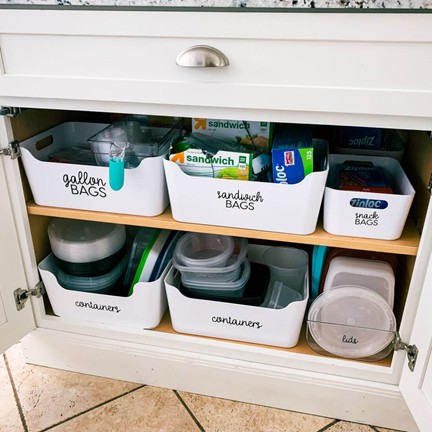 1. Store Water Bottles
Water bottles are an incredibly popular gift right now, especially with everyone trying to live an eco-friendlier life. However, if the whole family has their own water bottle, or you have multiple bottles, then you might feel a bit overrun by these wonderful contraptions. The great thing about water bottles is there are numerous ways to make them work in your kitchen. One of the easiest ways is to grab a magazine/file holder that is a bit on the wider side. You can typically find these at the dollar store or any department store in your area. Once you get the holders, simply place them in the cabinet and stack your bottles in them. This will make it simple to grab and go, too. You might also consider buying a bottle holder, which can be found in the baby section. This can be hidden in the cabinet or left out on the counter with ease. If you have a large drawer that isn't occupied, then you might place them in there with a tension rod to keep them from moving around everywhere.
2. Take to the Walls
Your counters and cabinets aren't the only places you can utilize storage. As a matter of fact, if you have any wall space then it makes the perfect place to put some of your items. One of the easiest ways to do this is to install shelves. You can use these to display your herb garden, spice collection, cooking utensils, lighter appliances, and so much more. Apart from shelving, you might consider using a pegboard or special hooks to hang up your pots and pans. This will free up a lot of cabinet space while adding a special vibe to your kitchen. It can also come in handy while cooking. You might also consider hanging up your oven mitts and more, as this can be a space saver too. If you're in an apartment, consider using 3M strips or other alternatives to hang up your items.
3. Evaluate Appliances
Appliances can add up quickly. Whether you're getting them as a gift or you find items you like frequently, you might discover that your kitchen has run out of the room a lot faster than you might have thought possible. The main problem with appliances is they can be a bit harder to store than other kitchen items. So, one of the best things to do is rank your appliances. If you use them frequently then they deserve a place on the countertop or somewhere that is easy for you to get to them. Other appliances that get only moderate use can be stored beneath the counter or in cabinets. If you have other items to go through, then you might consider their use before you find a place for them. Items that you know you're going to use for holiday meals and so on can easily be stored in the attic or garage until you need them. However, if you have items you know are never going to be used then you might just get rid of them. You can sell or donate them to ensure someone else will get to enjoy them.
4. Tension Rods
When it comes to the kitchen, tension rods can truly be your best friend. You can use them for so many different things, which will help make your life easier and so much more convenient. One of the first things you should consider when storing these items is your cooking sheets. Long gone are the days of them falling over as you try to look for the one you need to use. Another thing to use these rods for is stacking all of your Tupperware lids, as well as your pots' and pans' lids. These can truly take away the mess while making it a cinch to grab what you need in a hurry. Finally, you can stretch a tension rod under a cabinet to store all of your cleaning supplies. This makes them simple to grab while creating a neater appearance.
5. Storage Bins
Storage bins are going to be your best friend when it comes to your kitchen. You can use them for just about everything, too. For starters, instead of having bulky boxes of snacks, granola bars, prepacked oatmeal, and more, then you can place it all in a bin for easy access. Apart from organizing the pantry, you can add these bins to storage for lids, straws, appliance accessories, and so much more. You might also consider purchasing airtight containers to help the life span of your food. These containers can even be utilized inside of the refrigerator to ensure everything is organized there too. Luckily, you can find bins for remarkably cheap, especially if you shop dollar stores, so you won't have to spend a pretty penny to utilize this system in your kitchen.
6. Go Stackable
Another way to get more out of your kitchen is to start upgrading your items to things that can be stacked. Cups, plates, bowls, and other eatery items typically come in this type of design. However, if you really want to keep things simple then look for mixing bowls, strainers, and other items that can be stacked in one area. You might also consider items that will allow you to stack other things. You can purchase special racks that will actually allow you to stack items that you typically wouldn't be able to stack.
7. Repurpose Items
If you want to get your kitchen organized but you don't want to put a lot of money into it, then you can always repurpose the storage items that you already have around the home. For instance, if you have a shoe organizer that hangs on the wall then you can put it on your pantry wall for your kitchen utensils, oven mitts, and so much more. You can also use storage containers with smaller areas to hang up your spices for easy access. Shoe racks that rest on the floor can be placed in the pantry to store all of your cans. You can also use magazines or folder holders to store lids, cups and so much more.
8. Customize Drawers
One of the best things that you can do for your kitchen is to let your drawers work for you. Although your drawers are probably filled with things, with a little alteration, you can get a lot more out of them than you might otherwise expect. For instance, you can add a small board into one of your deeper drawers, with holes cut into it. This is great for larger tumblers or water bottles that are hard to store in cabinets. Apart from that, you can even add slats into one of these drawers. You can do this cheaply with wooden dowels and wood glue. The dowels will help you store items like lids and so on. You might also make your own cutting board that fits inside of a drawer without taking up all of the space.
9. Under Cabinet Space
If you have a lot of cabinets, then don't forget to utilize all of the space they provide for you. Sure, it is easy to stack things on top of them, but you can also use the underneath of the cabinet too. For instance, you can add hooks to hang up your mugs or even some of your herbs. If you want to add more efficiency, then add a stylish shower curtain beneath them. You can add cups to it to store your utensils, cutlery, plants, and so much more. You might also consider adding lights beneath the cabinets to add even more convenience to your kitchen.
10. Purge
Of course, at the end of the day, there is only so much you can do. If you have so much stuff that your kitchen is a nightmare, then it might be time to purge some of the items. You can do this in several ways, too, so it is easy to find a style that works most efficiently for you. For instance, there is the Marie Kondo way which will have you toss out the items that do not bring you joy. Then, there is simply getting rid of things that are no longer functional or serve no purpose in your life. You might be surprised by how little you use things. If you're not sure if you will use an item then keep it but write down every time you use it. If the end of the year arrives and you have used it very little to not at all then it is time to let it go. This doesn't just apply to appliances though. You might have extra dish sets, too many pots and pans, and so on.
Your kitchen is one of the most important rooms in your home. This is especially true if you are trying to lead a healthier lifestyle in the upcoming year. These tips will help you clear out the clutter and get organized, so you can make your kitchen work for you. This can be a huge asset, especially as you organize after the holiday rush.