Let's face it, losing weight in today's world is a bit tough. Not only do you have to work against all of the stress you're dealing with, but it often isn't safe enough to head to a gym. If you don't have the luxury of a home gym, then you might feel like it is hopeless to get fit. Luckily, we live in a world that provides us with the magic of video games. Although many games might be counterproductive when it comes to losing weight, there are some that can change the way you feel about exercise. These ten games are not only inexpensive but will leave you having some fun when you can get out of the house.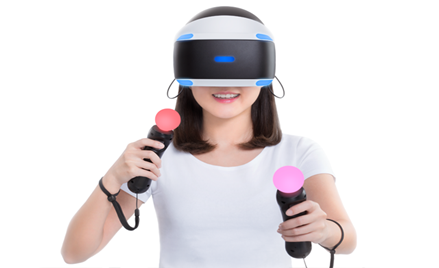 1. Dance Dance Revolution
Dance Dance Revolution (DDR) has been around for an incredibly long time. In fact, you might still be able to find a DDR machine in an arcade. However, most people choose to play DDR when they're at home. This game is currently available on most consoles and allows you to dance strategically with very little equipment. In short, DDR is a dance game that has you move in certain directions in order to get points. These movements help to burn a lot of calories while also helping you to build muscle and improve your dance movements. If you find DDR on an older console, you'll end up paying less for it. However, the price for older editions of the game for the newest gaming consoles won't set you back a lot either.
2. Just Dance
If dancing is your thing then you might also want to check out Just Dance. This game also allows you to dance for points. However, this game is a bit different than DDR. Just dance has you follow along with dancers to help earn points and get your body moving. In this sense, Just Dance will also teach you some of the newest dance moves around. There is a wide assortment of editions of the game available too, so you can choose one that suits your needs. Best of all, with the variety available, you will be able to choose one that suits your budgetary needs as well.
3. Zumba Burn It Up
Take your love of dance to a whole new level when you try out Zumba Burn It Up. This game allows you to combine aerobics and dancing to help you lose weight quickly and efficiently. Zumba Burn It Up allows you to have fun while you're losing too with high energy costs that will make you feel like you're in your favorite Zumba class in person. This game can be a great way to help you feel less alone during the quarantine too, which is perfect for anyone that might be worried about depression. Between the innovative studio time and the physical exercise, your overall health will skyrocket.
4. BoxVR
If you already own a Playstation VR, then you're already set up for a world of fun. However, Playstation VR provides you with a great asset when it comes to keeping fit while you play. BoxVR is just one game to look into here, but it is one of the best options and is one of the more affordable options too. As you can probably tell from the name, in this game you will be boxing. However, you will learn techniques that will help you build more muscles and burn a lot of calories. Since you will be moving your body along with the game, you will be able to learn some self-defense techniques too that might help you if you ever find yourself in a compromising situation. This can help you feel even more confident.
5. Shape Up
If you are still rocking a Kinnect with your older model XBOX, then you might be in luck when it comes to working out for very cheap. The Kinnect made it easy to get some exercise while playing, which is why so many people were a little upset when the Kinnect didn't make it to the newer model. If you still have yours then check out a game called Shape Up. You can purchase if for less than $20 now, which makes it a steal if you're hoping to work out at home. This game offers a lot of fun tasks that will require you to move your body in order to complete them. You will have lots of fun playing while also burning calories and building up muscles in places you didn't know you had them.
6. Niantic apps
When it comes to keeping things simple, yet fun, Niantic has you covered. Although they do not offer a huge selection of games to choose from, the games they do offer will help spark your imagination while inspiring you to get outside. One of Niantic's most popular games is Pokemon Go. This game has inspired millions around the world to get out and play. Of course, they do offer a Wizards United Game for those that prefer the Harry Potter element. In these games, you will be asked to walk around quite a bit, which is where the fitness element comes in. If you do walk plenty and play daily then you probably won't spend a penny on this game.
7. Wii Fit
Although the Wii might be pretty retro at this point, you have a real asset for working out if you have one of these at home. Wii Fit is one of the best ways to enjoy workout routines and games without spending a small fortune. Like the Kinnect from Xbox, the Wii uses sensors to track your movements so you can become your avatar and enjoy every active game on the Wii Fit list. You will find so many fun games to play too that you might workout way longer than you expected to. Before long, you will notice many changes in your body and your mind.
8. Fitness Fantasy
If you love living in a world of fantasy then we have a solution to your exercise dilemma. This app actually places you in an RPG. When you begin the game, you are given a select amount of energy, which is pretty common in most RPG games for the phone or computer. However, when your energy is gone in this game, you have one of two choices. You can wait for it to replenish or you can walk to earn more. This is a great way to get yourself motivated to move as it will mean you will get more gameplay and more time to just enjoy playing as you get your body moving and feel healthier.
9. Zombie Run
If zombies make you weak in the knees then this probably isn't the game for you. However, if they inspire you to get up and move then Zombie Run is going to be a great game for you. This game is an app for your phone and essentially allows you to run, or walk, away from zombies. This is a pretty short and sweet game that you can probably play for years if you want to keep up running or walking routine.
10. Beat Saber
Jedis won't want to miss out on Beat Saber. This game allows you to become a Jedi Knight in a matter of seconds. This game essentially is all about battling with lightsabers. It is a VR game so it might cost you a bit more than some of the other games, but playing it will actually help you feel like you're a Jedi fighting for the greater good. This is a great way to have some fun while losing weight too, which will definitely make it a lot easier for you to fall in love with exercise if you've never really been a fan of it before.
Losing weight and video games can go hand in hand. These ten games will be light on your budget, but will truly help you get where you need to be when it comes to losing weight and getting healthy. This is a great alternative to going to the gym, especially with the pandemic currently happening. You may even be able to get friends to join in on the fun, so you can easily enjoy bonding when you can't see each other in person.