Father's Day is just around the corner, and it's time to show appreciation for the amazing dads in our lives. However, as a budget-conscious housewife, you might be wondering how to find the perfect gift for Dad without breaking the bank. Well, worry no more! We've curated a list of 12 fantastic Father's Day gift ideas for 2023 that will make Dad feel loved while keeping your wallet happy. Let's dive in!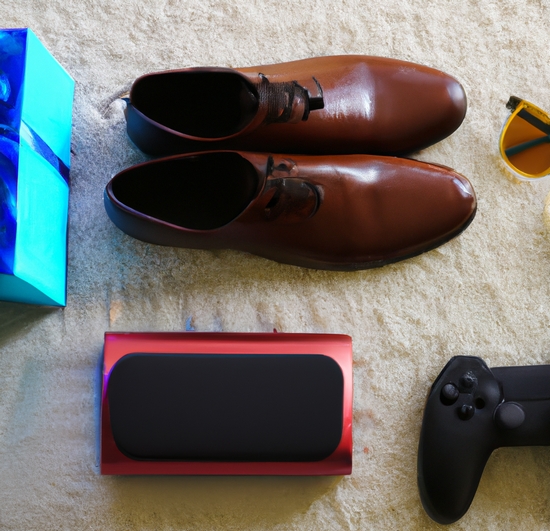 Video Games: Ignite the Inner Gamer
Yes, fathers are still boys at heart who enjoy video games. Consider purchasing a physical video game or a Steam card to give Dad the gift of entertainment. Game Stop is a great place to shop for a wide selection of games that cater to different interests.
Cargo Shorts: Stylish and Practical
Every dad needs a comfortable pair of cargo shorts. Avoid the cheaper options found at Costco and head to a shopping mall instead. Look for durable and well-made shorts that will withstand Dad's adventures while keeping him looking stylish.
Brand Name Polo Shirt: Classic and Versatile
Spoil Dad with a brand-name polo shirt from stores like Macy's or Nordstrom Rack. You can find quality shirts under $50 that will make Dad look sharp. Opt for timeless designs and colors that he can wear on various occasions.
Brand Name Wallet: A Sleek Essential
Upgrade Dad's wallet with a brand-name option like Fossil or Coach. Visit outlet stores to find affordable deals on these high-quality wallets. Dad will appreciate the durability and style of a well-crafted wallet.
Brand Name Sunglasses: Shielding Dad's Eyes in Style
Treat Dad to a pair of deep-discounted brand-name sunglasses from Nordstrom Rack. Not only will they protect his eyes from the sun's rays, but they will also add a touch of sophistication to his outfits. Look for timeless designs that will never go out of style.
Brand Name Shoes: Classic Oxford Shoes
Help Dad put his best foot forward with a pair of classic Oxford shoes. Look for well-known brands that offer both comfort and style. A good pair of shoes can elevate any outfit and leave a lasting impression.
Brand Name Bluetooth Speaker: Music on the Go
If Dad enjoys listening to music or podcasts, a brand-name Bluetooth speaker is a perfect gift. Brands like Sony or JBL offer high-quality speakers within a reasonable price range. Look for one around $100 to get a reliable and portable option.
Professional Binoculars: Exploring the World
For adventurous dads who love the great outdoors, a pair of professional binoculars is an ideal gift. Avoid cheaper options that compromise on quality and instead invest in a pair that will provide a clear vision and durability. Dad will appreciate your thoughtfulness when he uses them during his outdoor escapades.
Wine: Toasting to Dad's Special Day
If Dad enjoys a good glass of wine, surprise him with a highly-rated bottle from Costco. Costco offers a wide selection of quality wines at affordable prices. Choose a wine that suits Dad's taste preferences and celebrate Father's Day with a toast.
Atomic Alarm Clock: Stylish and Functional
Upgrade Dad's alarm clock with an atomic alarm clock that also features phone chargers. Amazon offers a variety of options that combine sleek design with useful features. Dad will appreciate waking up to a stylish and efficient alarm clock.
Sexy Underwear: Spice up Dad's Wardrobe
Surprise Dad with a touch of intimacy by gifting him men's thong underwear, see-through briefs, or a jockstrap. Choose designs that align with his personality and preferences.
Adult Toys for Couples: Enhancing Intimacy and Connection
For open-minded and adventurous couples, consider gifting Dad and Mom adult toys designed for couples. Look for ones that come with an App for added excitement and customization. These toys can bring a new level of intimacy and spice to their relationship, allowing them to explore new boundaries together.
This Father's Day, as a budget-conscious housewife, you can still find the perfect gift to make Dad feel appreciated without overspending. From video games to brand-name clothing, accessories, and unique surprises like adult toys, there are plenty of options that will bring a smile to Dad's face without breaking the bank. Remember to shop strategically, explore discount stores, and take advantage of online deals to find the best prices. The most important thing is to show Dad how much he means to you with a thoughtful and personalized gift that reflects his interests and personality. Happy Father's Day!