Whether you have Irish ancestors or not, St. Patrick's Day is one of the most popular holidays in the United States. So, if you're ready to celebrate the holiday then you might be wondering what you can do to have a little fun with the kids. These ten activities are certain to engage every household, so everyone can have a great time as the holiday arrives. You can mix and match these ten tips to suit your needs, or you can give them all a try to see which you'd like to add to your family's list of St. Patrick's Day traditions.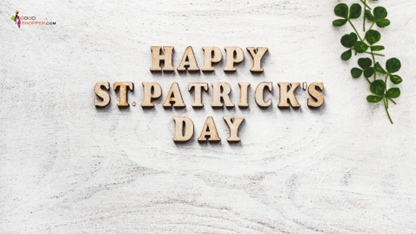 1. Shamrock Cookies
Baking for any holiday is always a win, which is why so many families love sharing the shamrock cookies they make each holiday season. The great thing about shamrock cookies is you can customize them to suit your needs. When it comes to this activity, you'll want to start with the cookie dough. Typically, sugar cookie dough is used, but you can replace this with almost anything that suits your taste profile. You can also add green dye to the cookies to give them the Irish vibe you're going for. Once you choose your dough, you'll need a cookie cutter to shape the cookies. After baking, you can decorate with green frosting, sprinkles, or anything else that you choose. These cookies can be enjoyed at home or given out as gifts.
2. Make a Rainbow
Nothing says St. Patrick's Day quite like looking for that pot of gold at the end of a rainbow. This St. Patrick's Day you might consider spending your day showing children how to make their own rainbows. This can be done in a STEM activity or as a simple craft. There are many ways to approach this to ensure it is age-appropriate, so make sure to check out the ideas available online. You should be able to find something that suits the supplies you already have, so this fun activity won't need to cost you a penny.
3. Treasure Hunt
If your kids love looking for the pot of gold at the end of the rainbow they create, then a treasure hunt is a great activity to plan. There are so many ways you can plan a treasure hunt for your children. One of the easiest ways is to offer a treasure map for them to figure out. However, if you're looking to have even more fun with it then you might consider adding gold dust or rainbow accents to help lead the way. There are lots of fun treasure hunt ideas that work for a variety of ages, so you can make it a great memory for all.
4. Write a Story
One big part of Irish culture is stories, which is why writing a story can be a great way to spend the holiday. Before the family sits down to write, you might share some traditional Irish folklore with everyone. There are lots of kid-friendly options available, which will allow you to find the perfect story for any age group. There are plenty of moral stories to choose from, but there are also plenty of magical stories as well. While you read and write, you can discover a lot about Ireland too, which can make it all the more fun and rewarding.
5. Create a Parade Float
There are so many parades to check out during St. Patrick's Day, which is one way to have a little fun on the holiday. However, if you want to take things to the next level then you might consider having kids build their own float. This doesn't mean they have to build a big float. Rather, they can create a miniature float that they can show off with ease. These can easily be made out of recyclables and craft supplies, so you won't have to spend a lot of money. If multiple floats are made you can show them off in a small parade, or save the floats made each year for a mini parade that reoccurs every holiday. Of course, if you have lots of time and would like to take part in your local parade, then this might be a great large project to take on that will help make incredible memories for the holiday.
6. Green Slime
If sensory toys are a big deal in your home, then green slime is the perfect activity for you. You can purchase green slime in most toy or department stores, so if you're looking to save time then this is the best way to go. However, if you'd like to make your own then this is going to be a simple project. There are lots of tutorials online to help you make your own slime. This will also allow you to choose recipes that suit items you have on hand, or those that will allow you to use ingredients that you feel are safer for your child. If you want to add even more fun to your slime, you can add in metallic clovers, rainbows, leprechauns, and more. These items are easily found at most craft stores.
7. Leprechaun Costume
Dressing up for any holiday is a whole lot of fun. However, if you're looking to enjoy St. Patrick's Day, a leprechaun is the costume to choose from. You can approach a leprechaun in so many different ways, which will help you to choose the option that is more fun for you. There are costumes you can buy, but making one will make the task more fun and will allow you to stay on budget. You can make the costume out of clothing you already have and recycle. For instance, beards can be made from scrap yarn or felt. You can also make a full mask out of paper plates. There are lots of tutorials online, so have some fun with the project.
8. Make Stew
Cooking is a big part of Irish culture, as it is in most cultures. So, getting into the kitchen to cook is a great way to celebrate the occasion together. If you're looking for a cheap meal to make that checks all of the boxes for Irish traditional food, then stew is a perfect choice. This is a hands-off meal as well, so once you get the prep work completed then you can enjoy the rest of your day until mealtime. Most Irish stews contain meat and potatoes, with various vegetables. You can find recipes online to help you out, but the meal is also easy to wing if you have made stews prior to this.
9. Golden Coin Toss
If you're having fun with the pot of gold theme, then a golden coin toss game might be the best way to help get your kids up and moving. This game is very simple to do and is extremely budget-friendly. All you need to play the game is golden coins and a pot. There are so many cauldron-inspired pots on sale in stores like Dollar Tree so you can purchase one under budget. However, you can also use cardboard to cut out a similar design to attach to a bowl or a bucket. Once you have your pot figured out, you can find gold foil-covered chocolate coins in most stores around the holiday, which makes this a super easy thing to add to the game. Once you have the materials you need, simply set a standing point that each player will stand out before tossing. You can keep the game to a point system or allow players to keep the chocolate that they make in the pot.
10. Create Cards
Although it isn't common to send out cards on St. Patrick's Day that doesn't mean you can't make it a new trend. Creating cards is a great way to help the family feel creative while sharing love with the people in their lives. You can create cards made in the shape of a shamrock, or create drawings with themes of the holiday. When the cards are made, it is simple to add common Irish greetings to the inside to help share a bit of Irish culture.
St. Patrick's Day is a great time to have some fun with the family. Although many community activities tend to be based around adults, there are many things you can do with children to make the holiday stand out for them. These ten ideas are a great start, but there are so many other options to help you all have fun on the holiday.