With February almost halfway over, spring break is well on its way. If you haven't planned out your spring break plans yet, then it might be time to start the process. Purchasing flights and booking hotels can get more expensive as the time ticks, so don't leave it for too long. A lot of people struggle with what they want to do with spring break. Many even contemplate leaving the country. If you're on a tight budget then you might want to consider staying in the country, as there are a lot of great places to travel to within the United States. These ten destinations are cheaper than most spring break options and are great for college students or families, so you can plan for your own unique needs.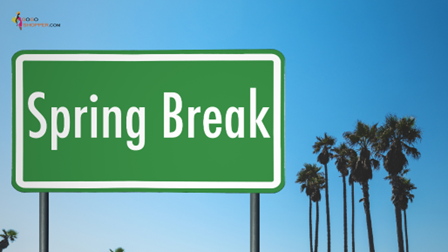 1. New Orleans
New Orleans can be an exciting new world for some people. There are so many things to see and do because this city has a flavor unlike any in the country. The mixture of American, French, and African cultures blends to create a city that is inspiring from the moment you see it. In New Orleans, you'll be able to explore world-renowned food, incredible music, and historical districts that will truly connect you with the past. There are also many tourist activities that are great for the whole family, including boat rides and tours. Best of all, a trip to New Orleans won't leave you hurting because this city is more budget-friendly than most.
2. Washington D.C.
Another city that is perfect for spring break is Washington D.C. The city itself is very large, so you're bound to find something to do there if you look hard enough. However, there are some common activities that attract many people to the city. For starters, the historical elements of the city are one big draw. You can check out monuments, government buildings, and so much more. You can also explore a wide variety of museums while you're in the city. However, one of the best attractions for spring break is the cherry blossoms. The city even has cherry blossom festivals, which can truly add to the fun you have there. With a little research, you should be able to plan some awesome activities. Some activities are even free, which will make spending spring break in D.C. all the more fun.
3. Nashville
If a trip to the beach isn't what you're after then don't fret, because Nashville will help you create a spring break destination that will make lifetime memories. This city has a lot of amazing things to offer, which will help fill up your itinerary quickly. One of the best things about Nashville is its connection to music. You'll find a lot of different music-based activities to help you embrace the city's soul from the moment you arrive. Nashville is also known to have delicious food that you'll want to sample again and again. If you get bored in the city though, it's not a far trip to Graceland and Dollywood which can help stretch your love of music even further.
4. Myrtle Beach
If you don't want to give up the beach aspect of spring break, but you also don't want to deal with large crowds, then Myrtle Beach is the way to go. This beach offers scenic views, plenty of space to play and sun, as well as the local charm that will keep you coming back for more. Best of all, it doesn't get as much traffic as beaches in Florida and California, which makes it a better option for families or anyone hoping to enjoy some peace and quiet. There are plenty of guides that offer some of the best restaurants and activities in the area too, which will help you plan to suit your budget and your unique spring break goals.
5. San Antonio
Another great spot to consider, especially for thrill seekers is San Antonio. This city has a lot of theme parks to choose from which can keep you busy for a full week. Apart from that, you can enjoy the riverwalk, which is relaxing and fun for all ages. There are lots of amazing restaurants and activities in this area as well, which will definitely help you to make more out of your trip. San Antonio also has a lot of historical sites, like The Alamo, that you can check out. There are zoos, aquariums, and museums that also help to keep kids entertained.
6. San Diego
If fun in the sun is what you're after, then San Diego is the place to be. Typically, the weather isn't overbearing during this season and will allow you to fully embrace the beauty of the city. One of the best things about San Diego is there are numerous beaches to consider visiting in the area. This will allow you to experience different settings that offer remarkably different features. Apart from beaches, you'll find that there are amusement parks, museums, parks, and so much more to explore while you're spending time in the city. Best of all, if you book a hotel in one of the surrounding cities, you'll save a lot of money.
7. Yellowstone
Camping can be a great way to embrace your spring break, especially if you prefer not to deal with crowds. Yellowstone offers some of the best scenery around and will allow you to disconnect from the world. Typically, it doesn't cost a fortune to camp or explore what Yellowstone has to offer. So, you will largely need to just supply your tent and supplies. However, you can also rent cabins in the area if you're looking for a more comfortable place to stay. If you prefer to choose a park nearer to you, there are many options around the nation to help you find the perfect spot to enjoy the fresh air over spring break.
8. Wisconsin Dells
Another fantastic place to explore over spring break is the Wisconsin Dells. This area might still have cooler weather to enjoy, so if you're not ready for a heat wave yet then this will be a great place to hang out over your week of break. The Wisconsin Dells offer so many different attractions that you'll want to come back as soon as you can to enjoy more of it. You might want to check out a travel guide before you head to your destination, so you can make the best possible plans for your needs.
9. Austin
When it comes to cities that have a little bit of everything to offer, Austin is the way to go. When you head to Austin you'll discover a vibrant city life that offers a lot of great activities indoors and outdoors. On top of that, there are lots of museums and curiosity shops to check out. Austin is always hosting conventions and other interesting events, so make sure to check in on what is happening when you do choose to go. If you're craving some beach time, you can still enjoy it in Austin as the city is nestled right next to the Gulf of Mexico. You'll also be able to watch the bats fly at night, which is a big tourist attraction.
10. Cincinnati
Ohio is often overlooked as a vacation spot, but Cincinnati is actually an extraordinary place to visit. When you head to the city you'll find that there are so many things to see and do there that you might have to book a second or third stay just to get them all in. This city is on the waterfront so you can soak up some sun by the water. You can also visit museums, sample some interesting cuisines, and enjoy a day of family fun without having to worry about the kids getting bored.
You don't have to spend a small fortune to head to overcrowded beaches this spring break. There are actually plenty of cities to visit that will help you embrace the spring break season while allowing you to save some money. If you want to save even more money, you might choose an area near you, so you skip the airline fare and tuck that money away for a rainy day.