If you're headed off to college for the first time then you may be a little overwhelmed by how much everything costs. Textbooks can be one of the worst expenditures for college students. Books range in the hundreds of dollars in most cases, which can be a huge problem if you're trying to keep your budget low. Luckily, there's quite a few ways to avoid the book crisis for most colleges and courses. These ten tips should help you get through your first semester of college, without forcing you to hand over a good portion of your grant and scholarship money to textbooks.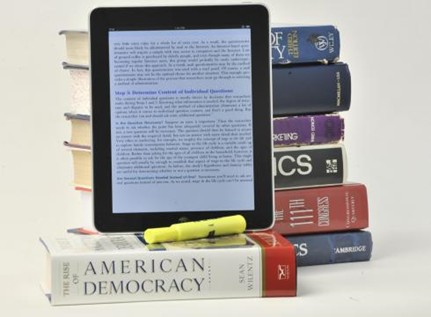 1. Buy Used
When it comes to shopping for text books, you should try to buy your book used as often as you can. Sometimes, professors call for new editions, but more often than not you will find that most don't care if you bring a used book to class. Used textbooks come at a fraction of the cost of the new books too, which is great for your budget. You can shop all over the place for these books too, including online stores like Amazon. As a matter of fact, you can grab some textbooks for just a few dollars online. Many used book stores will pop up right outside of college campuses too, so you shouldn't have to go out of your way to find what you need. Many stores will even help you find the books you need based on your college courses.
2. Rent
Textbooks tend to take up a lot of space, especially when the semester is over and you don't need them anymore. In most cases, you probably won't touch these books again for years, which might make you feel some buyer's remorse over the mandatory items you had to purchase. There is a new way to take care of your book needs without missing out on the money or forcing you to hold onto books you won't be using again. That way is renting. There are many great rental websites to choose from, so look around and make sure the website satisfies your needs with their terms and they have the books you need. You can rent books based on a typical semester or for a year, if you're in a course that progresses longer than most. The prices are incredibly low too and you won't have to deal with fines as long as you treat the books with respect. You may even be able to rent books from your own college campus' bookstore, so ask around to suit your buying needs.
3. Talk To Professor
Sometimes it is actually wiser to hold out on buying your books until you've spent time in the course you are taken. Many professors don't actually require students to have a book on the first day, because it allows them to give specialized instructions as to what you need to purchase for their course. In many cases, the professor will grant permission to buy certain books and exclude others on the list. This can really save you immensely, especially if you won't actually need some of the content that the school required. You can also use this time to ask a professor if you can use an older edition of the textbook. If there haven't been major changes in the content, then many professors won't mind. Older editions tend to cost next to nothing, which is certain to help you out. Some professors will even go the extra mile and pass out content if they have written their own textbook. This will allow you to avoid shopping altogether.
4. Share
Knowing people in your school can be a huge asset when it comes to textbooks, especially if they take the same course as you at a different time. You might want to get together in a club that is based around your major so you can get to know people who will be taking similar courses. If you meet someone you can trust then ask to split the price. Of course, you might want to get the deal in writing so if there are any problems you can solve them with the help of the staff. Sharing a book allows you to cut the price in half and may even allow you to find a study partner that can help you succeed. You will have to plan accordingly with this though, as you will need to share with someone that doesn't have a conflicting schedule so you can pass off the book in a timely manner.
5. Consider Ebooks
Ebooks are one of the up and coming ways to enjoy textbooks at a lower price. Since there is no actual tangible copy, companies can't charge you as much as they would for a physical copy of a book. This can help you rack up a few dollars in savings with each book. Of course, you have to make sure your professor will allow you to use your phone, tablet, laptop or e-reader in class. If this is the case then you're good to go. You can find ebooks on many manufacture's websites as well as typical websites that you can find textbooks books.
6. Use the Library
Believe it or not, but you can get away with not purchasing a book at all. Most libraries tend to have all of the text books that you need in stock. This means you can easily study in the library without actually having to own the book. Of course, this means you might have to actually wait for the textbook you need if someone else is using it. Some schools will even let you scan and print out important pages as long as you can pay for prints. This is a great way to help you study, work on required homework or simply prepare for open book exams. Usually, you can't check out these textbooks so you might find yourself in the library more often than you would have initially planned on.
7. Shop Around
Buying textbooks is just like any other shopping experience though. You should always shop around before you take the dive and make your purchase. A lot of schools tend to push you to shop around at the student store, but this often leads you to spend more money. Take your time and look for the best possible deal. You may talk to your professor to see how much time you have to get your book too. If they're in no rush, then you have plenty of time to buy online or to wait for your grant money to process so you can shop whenever you need to. This is one method that can save you big.
8. Free Textbooks
You might not have thought about it, but there are actually free textbooks out there. This can be enjoyed in a few different methods. For starters, you can get a scholarship that is designed to cover your textbooks alone. This can take a huge burden off of your shoulders. Apart from that, there are even students willing to give away old textbooks that aren't worth a lot of money. You can check on classified websites and bulletin boards for these options. There are even websites that will provide you with free ebooks for some of the books you will need. You might have to do a lot of searching for these, but if you begin this process when you confirm your course load then you should have plenty of time to find what you need.
9. Buy Bundles
A lot of the time, a class will require you to buy an assortment of things. Many textbook stores will find out about these requirements and bundle up the books to help students out. These bundles are usually at a discounted price, which will come in handy. If you're taking a literature course then buying the anthology you will need in a bundle is one of the wisest things you can do, because shopping for each separate book can add a lot to the price tag and can even prevent you from buying the wrong books. One of the best bundle purchases happens to be math, science and language books though. Many of these come with digital material that you will need to complete homework. However, these digital discs can cost a fortune on their own, so make sure your book comes with it.
10. Sell Old Books
When the semester is over, you may not want to hold on to your textbooks. Unless you feel you will need them for reference later on in the year or even in your career, then there's no need to keep them around just to collect dust. So, as soon as you don't need your book anymore, try to sell it. If you bought your book from the school store or even a used book store, it is important that you hold onto your receipts for the books you bought. You can use these to return the books later so you can get a little more money back. Of course, you don't have to have these to sell your books, but you might not get as much back. The sooner you sell your books the better too. Of course, if you're in no hurry then you might want to list them on Amazon or other book selling sites, which will eventually you give you a pay off. You can use the money you receive to help pay for the next batch of books.
Shopping for textbooks can be a huge headache, especially if you're worried about the price tag of your shopping spree. With these ten tips, you should be able to save quite a bit of money on the books you need to succeed. This should allow you to stress less and find more excitement for your upcoming classes.