If you have little ones in your home or in your classroom, then chances are the recent eclipse sparked their interest in outer space. Teaching children about this subject or allowing them to explore outer space in their imaginations, can be rather pricey if you're not careful. There are many retailers that market items to satisfy children's curiosity, but these tend to come at a high price. Luckily, there are some things you can do to help the future astronauts in your life find what they're looking for in the depths of space. These ten ideas will help you customize lesson plans or simply answer your children's questions, so space can become more of a reality to the kids in your life.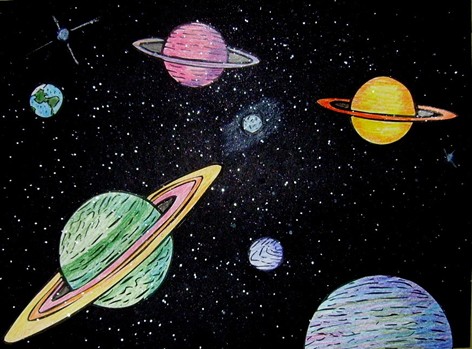 1. Glow in the Dark Stars
When it comes to satisfying a love for outer space, one of the easiest things to do is bring the stars to your child. This can be really simple and cheap too, so you won't have to worry about pouring a small fortune into another passing trend. One of the easiest options is buying a pack of stick on stars. You can find these online or at many local retailer stores for less than a few dollars. The stars are ideal because they stick onto the wall or ceiling using a special putty that is easily removed without causing damage. If you own your home or aren't worried about a more permanent design, then you might want to invest in some glow in the dark paint. With this, you can paint the night's sky on your child's wall or ceiling. You can also do this on canvas to prevent wall damage. Both of these methods will illuminate your child's imagination and might even make them feel more secure at bedtime.
2. Watch a NASA Feed
NASA does a pretty good job of keeping people informed of what projects they're working on. When they have footage of explorations or extraordinary things happening in space then it generally finds a spot on the NASA website for all to see. This is one of the best resources you will find if you really want to know more about space and the progress we are making. The NASA website updates frequently too, so you can even find a little something to check out every day. NASA even offers a children's program which is perfect for young astronomers with a thirst for knowledge. Best of all, this information is all free, so you can enjoy it on the tightest of budgets.
3. Homemade Rocket Ship
One of the best ways for children to learn is for them to use their imagination. Building a rocket ship for them to do so can help inspire them to learn more about outer space and to create more questions that they'll want answered. There are lots of ways to create a rocket ship at home or the classroom. You might even consider following your child's lead in making one to allow them to exercise their creativity. One simple way to make a ship is by using the blanket fort method. Children will transform the blankets into their own personal ship using their imagination. Another great option is to use cardboard boxes to make one. You can decorate the interior and exterior to look just like a shuttle. You can also add real pictures from outer space to help teach children names and principles of some aspects of space.
4. Discuss Solar System
When it comes to learning about space, it might be important to start in our own solar system. This will give children a sense of location and identity in their own world. Discussing the solar system isn't complicated either. You can easily find pictures of the planets in our system as well as information on them and our sun. One way to really give children a sense of the solar system is to recreate it. You can paint it on poster board or use Styrofoam balls and wire to make a 3d model. When you're finished, you hang up your project as décor, which will make your child feel like they are exploring space every day.
5. Recreate the Eclipse
Since the eclipse is probably what spurred your child or students to take an interest in outer space, you may want to concentrate on this amazing topic first. There are lots of great ideas to help kids understand the eclipse better or to actually see it occur. One of the best ways to do this is show pictures and videos of the event taking place, especially if the child didn't see it when it occurred. There are many science projects you can partake in to show greater meaning behind this phenomenon too. There are a lot of great ideas online, so you might want to take inspiration there. You never know, after performing some of the tasks, you might feel like you've become an expert in eclipses.
6. TedTalks
Since we live in the world of information, it is easy to find a ton of information on outer space. One great resource is a popular website called TedTalks. On this website, you can find lots of innovative ideas, including those about space. You can plan a lesson a day this way, or let the child watch the lectures during their screen time. You never know, you may enjoy them as much as your kids do. Some of the lectures might be more for older children though, so you might want to watch before you pass the lesson on to your children. Of course, there is a children's section on the website, so you still might be able to present wonderful lessons your child will absorb with glee.
7. Track the Moon
It is a lot easier to concentrate on things that are closer to us, opposed to those we don't know a lot about. The moon is one of the coolest things to track, because we've actually visited it and it plays such a crucial role in our world. One of the best ways to study the moon is to track it. You can have children go outside and observe the moon each night. Then, have them draw a picture or take a photograph to represent the moon for the day. Children can even recreate the moon each week using an Oreo cookie, which should satisfy snack time too. After doing this for a couple of months, children should be able to see a pattern forming. The more fun you make the experiment, the more your child will get out of it.
8. Stargaze
Without a doubt, one of the best ways to let your child explore outer space is to allow them to observe it with their own eyes. Take a trip out of the city or town you live in, so you can get a better view of the stars at night. This will allow you to look at constellations, stars, planets, galaxies and more. By looking at space, your child will be able to come up with questions you can all research together. If you have a telescope, you may want to consider bringing it along so you can all get a closer look at what's happening. You can also download an app that will identify constellations and more when you point it at the starry sky.
9. Space Crafts
Another fun way to explore outer space is to come up with crafts that can be a lot of fun. You can easily base your crafts around your child's age. For instance, making galactic goo might be fun for younger kids who will feel like they have the universe in their hands. Children that are a little older may have a good time making rocket ships out of toilet paper or paper towel rolls. Other children might enjoy recreating their favorite constellations using pin point art or by painting. There are so many ideas out there that you will have a blast discovering them when you do a little research.
10. Read
Obviously, one of the best ways to explore the universe and beyond is to check out some books. Reading is one of the best ways to discover new information. You might want to take your child on a trip to the library. From there, look up information on one specific topic to see where your search finds you. The library should have boots on the topic, but if they don't you might talk to the librarian to see if they can borrow a book from another library. This will teach your child the power of the library as well as more about the information they are curious about. There are also lots of fictional stories your child might enjoy to help boost their imagination and fun.
Learning about outer space can take your child to new worlds and encourage them to want to learn in school and out. These ten tips should help you support your child's interest in space without forcing you to spend a lot of money on the lessons. Before long, you'll have an astronomer on your hands that will love sharing stories about the universe we live in.