The cold months certainly leave much to be desired when it comes to your home decor. There is nothing like walking into a warm home after spending a day out in the cold. Of course, planning out a warm home is a totally different story. A lot of people will spend a small fortune on decor to make their home feel this way when there really is no reason to do this. These ten little tips will help your home feel warmer than ever without forcing you to spend a small fortune to redesign for the next few months. So, don't leave your home feeling stark and uncomfortable, when you brighten things up in just a few minutes. You may even have your friends a little jealous after implementing some of these tips.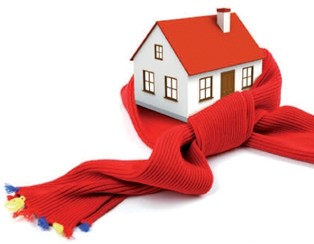 1. Showcase the windows
During the winter months, sunlight is one of the best ways to help you feel warmer and more comfortable in your own home. So, you might want to ditch all of the curtains and blinds that you have blocking out the light. This doesn't mean that you have to put these items up. Instead, consider tying back the curtains and raising the blinds so that the warm sunlight can flood into the house. This will not only look warmer, but will help your home heat up so you don't have to waste as much money on energy costs. If you like to keep your curtains closed, then you might want to make or buy some sheer or light-colored curtains. This will help the light come through with ease, but will also give you the privacy you desire. If you add decor to the top of the window, like a valance or even custom garland, you will also make the windows a focal point which is certain to warm up the space.
2. Warm Colors
One of the easiest ways to make your home feel warm is simply add some >warm colors to the mix. If you're feeling ambitious, then adding a coat of paint to a room can be one of the best ways to have some fun with the home. Of course, you don't have to paint the whole room as an accent wall can go a long way. Luckily, during this time of the year, paint tends to be on sale. So, if you're willing to put in your own elbow grease then this is a good way to warm up the place. An easier way to go about things is to simply add warm accents. For instance, you can cover some of your living room pillows with warm colors to help add comfort to the home. You might even add autumn inspired decor to help warm up the area, especially if the items show off warmer colors.
3. Display Blankets
If you don't want to spend a dime on making your home feel comfortable then one of the best ways to do this is to place blankets around the house. The image of a blanket automatically brings comfort to the home, which will make your guests feel like they are welcome whenever they stop by. Best of all, when you have blankets folded up and draped around the home then you have easy access to them for reading marathons or binge watching TV. One of the best ways to maximize the warmth is to display items like knit blankets and quilts. These can be made at home too, which will add even more savings to your budget.
4. Swap Lightbulbs
One of the major reasons why the home feels stale and uninspiring during the winter months is the lights tend to keep the home feeling dim. Often, homes still use lights that leave the home looking yellow, which can really cut down on the mood. If you change your bulbs to energy efficient bulbs, then you're certain to get a white light that will make you feel as if you're getting natural light from outside. You might also consider getting some UV lights. This can help >combat symptoms of seasonal defective disorder. You might even feel a bit livelier with a UV light going. Unfortunately, these are a bit more expensive than normal bulbs, but if you do need them for a medical reason insurance might cover some of the costs for you.
5. Use Brass
If you have a lot of metal in your home, then switching to brass will give the home a little extra warmth as well as a fun vintage look. Brass is very trendy this year, so you might even find decor items to suit your new favorite inspiration. You can easily buy stains and paints that can turn just about anything into the home into an item that >appears to be brass. Best of all, some of these paints can even be cleared up later so that you can use other decor for the home. Brass is a metal that can be used all year long too, so if you're not dedicated to changing things up every season then this metal will certainly look good for quite some time.
6. Warm Artwork
Another easy way to make the home look a lot warmer is to add some artwork to the mix. This is easy to transition between the seasons too, so you won't lose out on money. You have a lot of options when it comes to this too. For instance, you can actually put up pictures of cozy winter scenes or autumn moments. However, you could also just stick with warm colors if you love abstract images or simple colors. You can usually find these works of art for cheap online, but you might also shop at thrift stores or yard sales to see if there is anything that looks good to you. With the artwork up, your home will look more charming and inviting.
7. Showcase the Fireplace
If you have a fireplace, then you already have one of the best decorations for the cold months. So, if you can, try to bring attention to it. Usually, a roaring fire is one of the best ways to do this, but you can also add some decor to the mantle to give it pizzazz even when it's not in use. There are mantle pieces, garland and other simple designs to consider when it comes to the fireplace. Of course, if you don't have a fireplace then you still have options. For instance, you can buy a digital fireplace that can be used as a TV stand or a shelf for some of your decor. If you're not interested in an expensive purchase, then you can use the fireplace as a screen saver on many smart TVs and computers.
8. Use Flowers
Although flowers aren't necessarily in season, you can still find them all year long. Autumn flowers can really make a difference in the home without forcing you to spend a lot of money. You can find these in local stores or grow them yourself. Adding the fresh flowers will bring life to the room, even as the weather begins to chill. You don't have to keep things fresh to make the room feel comfortable though. Rather, you might try to use fake flowers to create the same effect. Flowers like sunflowers can really help keep the home feeling warm and cozy. You might also look into using flowers that follow a red, yellow, orange or brown theme.
9. Display Books
Being a bookworm can really pay off during the cold months. Books actually make the perfect decor item when the weather is blustery. So, don't be afraid to pull your books out for display. You might even want to bring out the books that have covers that feature warm colors. Of course, hard covers also look amazing when displayed. You can find many of these in thrift stores if you're simply looking for a display item rather than something to read. You might also find some great hard backs to read too though, so shop around until you find what you want. With books around the house, your home will have a charming feel that will make others want to stop by just to bury their nose in a book.
10. Incorporate Wood
If you love the winter look all year long, then you might want to consider bringing more wood styles into the home. More often than not, this will give the home a more southern style or a log cabin look, both of which can be very cozy. Of course, you don't have to do a full makeover to add this style to your home. Instead, you can easily make your own wooden accents or decor items for your home. These items can be whittled, made in a shop or even glued. You can really have a lot of fun with it too. There are plenty of these items on the market too, so you can choose anything that suits your home and personality.
Making your home feel warm during the cold months can really change the way you live your life. These ten tips will bring you lots of joy as you navigate through the cold and find a new way to enjoy comfort in your home. With these ideas, you shouldn't have to spend much to give your home a cozy new makeover.