College is right around the corner, so you might already be thinking of ways to get your sorority noticed. Since it takes a fair amount of money to keep a sorority. going, this can be pivotal if you don't have a lot of people funding your house. Unfortunately, many sororities take drastic measures and spend a lot of money to get their sorority in the spotlight. Luckily, you can get your sorority noticed for next to nothing at all. These ten ideas can help you find new members for your sorority and maybe even a few sponsors to help you get on your way.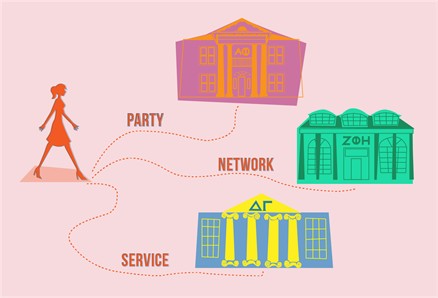 1. Flash Mob
Flash mobs might not be as much of a trend as they were a year or so ago, but you can still make a huge statement with one. So, when school begins, you may want to get your sorority sisters together to plan something big. Make sure to pick a public space that won't get you into trouble, but will allow you to be seen by a lot of different people. You can choose a wide variety of dances, poses and so on to make your flash mob amazing. Make sure to wear sorority shirts or have signs so that everyone will know who you are. This should help people gain interest in your sorority, because you will seem like a lot of fun and well put together. It also should cost you nothing if you plan correctly, which will help you start your frugal year off well.
2. Open Game Nights
Many students look for a way to blow off some steam when they go to college. Not everyone wants to go through the classic college parties and even those that do sometimes want a break. So, it might be a good way to introduce people to your house by hosting open game nights. These nights let anyone on campus join, which allows them to check out your house and members. This could lead to potential pledges that will help bring in a little extra money. You don't have to spend a lot for this event. You can find used games at the thrift store or print out bring cards or other games off the internet. Guests can bring snacks to share or your sorority can bake some treats that will certainly impress.
3. Tutor
Another way to open up the sorority and get noticed is to offer low cost tutoring. You should have a wide range of members that can take on most topics, which will help set you apart. By offering the tutoring at a low cost, you will also make yourself more accessible, which will bring new, potential members to your sorority house. Of course, you can also expand this tutoring to the sorority too. This will help everyone keep their grades as high as possible. With top grades, your sorority will be noticed by the academic staff, which should inspire other people to want to join your house. You may also be able to get grants this way.
4. Host a Fashion Show
If you want to show off a powerful stance, then a fashion show might be your big ticket. You can do this in your house, so you can show off your decorating skills and save some big money. You don't have to go out and buy new clothes to make this happen though. In fact, you can just have the sorority sisters wear their favorite fashionable items. If you have design students in your sorority then this could also come in handy as they could design a whole line for you to show off at the fashion show. If you don't want it to be all about fashion, then have everyone dress up in wacky clothes to show the sorority's wacky side. You can charge outsiders to come in while allowing potential members to enter for free. No matter how you choose to go about your fashion show, you're sure to have fun in the process which is all that matters.
5. Car Wash
A car wash is a great way to keep classic, while earning some money for your sorority. Of course, it is also a great way to get noticed by potential members. Before you begin your car wash, make lots of signs that show off your sorority's name. You might also make it known that you are looking for new members, so people can spread the word. If you want, you can also invite people to participate in your car wash by adding lots of different games and competitions to add more appeal to the work. This car wash will help you in many ways too, so you'll get a boost in funds and a little appeal to boost your sorority's popularity.
6. Hand Out Flyers
There is one tried and true way to get yourself noticed on campus. That is, to hand out flyers. Flyers can be cheaply made in the sorority with simple items like paper and markers. Of course, you can go all out and make up your flyers online and print them out. If you want to make an even bigger stand then have your flyers professionally made and printed. In most cases, it doesn't matter how you make them as long as they are bright and to the point. When you pass out your flyers, make sure to do some in common places on campus. You should also target classes or clubs of students you might want to join your sorority. You should also ask the school for permission to pin them on bulletin boards so you can reach even more people.
7. Take to Social Media
Social media can really get the word out about your sorority. Make a likeable page that students can visit and see what's going on with your sorority. You should make sure to post your mission statement, some of the things your sorority likes to do and a little biography on the leaders of the sorority and the history of the sorority. Use social media to get word out about your special events too. This can help more people drop by your parties, fundraisers and more. You might even get more pledges based on your readily available information. Make sure to post pictures of the fun you have and the achievements you complete too, so everyone will be wowed with your house. To get the word out, make sure to share your page on university pages and clubs for your school. Before you know it, the interest in your sorority should skyrocket.
8. DIY T-shirts
If you like to constantly show off the pride you have in your sorority then you may want to DIY some t-shirts. You can cheaply do this with blank shirts and t-shirt paint, but you can also splurge a little to get iron ons, which will have a more professional vibe. Make sure that your sorority name and symbols can be clearly read, which will allow people to associate the good things you do on campus with your sorority. You might also consider putting your mission statement on the back to help others know what you're all about. Of course, have a little fun with the shirts because this will draw in attention. When your shirts are complete, make sure everyone wears them when you go on sorority outings. You can even make this one of the activities your pledges do during rush week, so you can check out their creative skills.
9. Clean Up the Planet
One of the best ways to boost the reputation of your sorority is to do good for the world around you. Since we are in an environmental crisis, you may want to step up and have your sorority work to clean up the planet this semester. You can even advertise the events you create to do so, which will allow others to join in and help. This may inspire more people to want to be a part of your sorority, especially after having the chance to work with you. Of course, simply doing your part to keep the world clean may make some students look up to your sorority, which will give you an abundance of sorority hopefuls in the future. Doing good by the world won't cost you a small fortune either, which will be great for your sorority house.
10. Smart Rush Periods
The rush period is crucial for sororities, but that doesn't mean you have to spend a whole lot of money to do this. There's actually a lot of cheap ways you can give your pledges a run for their money without spending a lot or even humiliating them. The harsh tactics are usually what wind up costing you a lot of money or wind up forcing pledges to not want to be a part of your sorority house. So, instead of doing embarrassing things, have your pledges get out and fundraise for your house. This will allow you to see how much hard work they will put into the house. You can also have them volunteer in the name of the house, which will help with your reputation. Another option is to have them show off their academics by making them promise to uphold a specific GPA and have them join academic clubs.
Keeping your sorority house in the spotlight isn't as hard as you think it is. There are a lot of great ways to show the university what you're made of. These ten tips should show you a few ways to make a name for your sorority, so you can bring in even more pledges and sponsors.