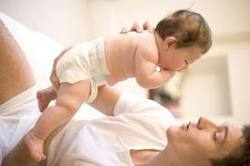 Dads should not be left out of their baby's everyday life. It is important for dads to schedule father-child activities on a regular basis for just dad and the baby. Here are some interesting things fathers can interact with their child and enjoy it. These experiences and interactions will stay in the child's mind for a lifetime, and also build a father-child bond that lasts a lifetime.

Activity 1: Daddy Slide (6-12 mo)
Lean over the wall, hold the baby to your chest and let the baby slide down on your body. Or sit on a sofa, let the baby slide on your leg.
Activity 2: Climb the Wall (6-12 mo)
6 month old baby will start to learn crawling. Lie down sideways, attract the baby climb over your body by rattling a toy on the other side of your body.
Activity 3: Pulling a Ring (3-6 mo)
Give the child a plastic pulling ring. Help the baby to grasp the ring with a full hand, while daddy pulls the ring from the other side.
Activity 4: Daddy Kangaroo (0-6 mo)
Use a baby carrier to hold the baby on your tummy, facing front. Crawl (not jump) on the floor or bed, mimic the sound of a cat or dog, or a kangaroo, whatever that is.
Activity 5: Daddy Boat (0-6 mo)
Lie down on your back, and let the baby lie down on your stomach. Breathe deeply and let the baby feel your tummy move like a boat.
Activity 6: Daddy Bicycle (0-6 mo)
Babies like to kick. Lie down on her back on a pad, hold her legs and pedal her little feet.
Activity 7: Driving a Car (0-12 mo)
Let the baby sit or lie down on a blanket, daddy pulls the blanket slowly in the room.
Activity 8: Hide and seek (6-12 mo)Hide a toy under a baby blanet. Ask the baby to find it out.
Activity 9: Daddy Elevator (3-12 mo)
Put the baby on your shoulder, stand up and down, like an elevator.
Activity 10: Clawling Racing (6-12 mo)
Kneel down and race with the baby. Make sure the carpet is clean enough.