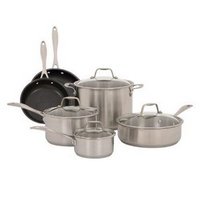 American Kitchen 10-piece Stainless Steel Cookware Set, made from professional grade stainless steel. Set includes 1- and 3-quart saucepans (each with lid); 3-quart saute pan with lid; 6-quart stockpot with lid; 8- and 10-inch nonstick skillets. This nonstick cookware set is one of the highest rated cookware set at Amazon by many happer buyers. You could get it for $169 at Amaon (qualified for free shipping) or Costco. But you need to pay tax at Costco. So the best place to buy is Amazon. Prices at other stores: Wayfair: $199; Bed Bath & Beyond: $199; Sears: $221.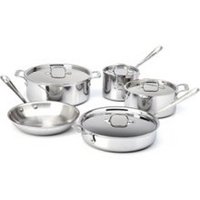 All-Clad Stainless 9-Piece Cookware Set. Set includes 10-Inch Fry pan, 2-quart Sauce pan, 3-quart Saute pan, 3-quart Casserole, 6-quart Stock pot and 4 lids. This is highest quality cookware set I have ever used. They are sold at Williams Sonoma for more than $1000. But buying it online could save you more than 30%. You can find it at Amazon.com, Wayfair, Abt Electronics & Appliance, Chefs Catalog, or Cooking.com all for $659! We have many coupons for Cooking.com and Chefs Catalog, from $10 off, $40 off, to 20% off entire order, but they are not valid All-Clad items. But if you need to buy some other items, these coupons will save you some money.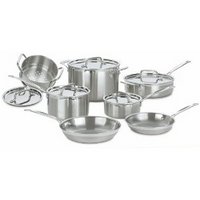 Do you like Cuisinart? I do. They have the best coffee makers and juice makers. Their 12-pc. MultiClad Pro Stainless Cookware Set is also one the best buys. It is only $209 at Amazon. Or get it for $231 at Barnes & Noble, $254 at Newegg, $299 at Best Buy or Home Depot. Set includes 1-1/2- and 3-quart saucepans; 8- and 10-inch skillets; 3-1/2-quart saute pan; 8-quart stockpot; steamer insert. Or you can find it at Cuisinart's official website: CuisinartWebstore.com.