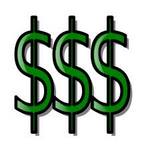 You may wondered sometimes where the money has gone to? You probably didn't buy any expensive clothes or luxury watch, but the money just disappeared before you knew it. If you are using any personal finance software such as Quicken of Money, run a yearly report. You will notice that most of your money has been spent on home mortgage, insurance, utilities, phone bills, cables, electricity, internet, etc. There isn't too much left for you to spend on other stuffs. Well, I want to share some of my tips. There are no secret, but you need to take an action today. You could save hundreds if not thousands of dollars every year.
Tip 1: Start using a personal finance software. I would recommend Quicken or Microsoft Money if you have extra bucks. If not, use Mint.com, an online money management software for free. You could also check out these free softwares. To save money, you have to learn where you have spent the money. Run report monthly, quarterly, and yearly.
Tip 2: Refinance your home mortgage once every few years. I am no expert on mortgage. Consult with your bank, they will be happy to assitant you. There are also many online mortgage lenders. Try to educate yourself before you start. Many information and mortgage calculators are avaialbe online.
Tip 3: Find a new auto insurance every few years. Your current insurance went up year by year, while getting a new policy will get you some extra discounts only for new applicants.
Tip 4: Pay attention to your phone bills. If you are still using a landline telephone, cancel it. Cellphones could be as cheap as landline telephone. Read our article on how to save on cellphone bills. If you prefer to use a fixed -line phone, try VOIP phone service from Lingo.com. It is no difference from the tranditional AT&T, just cheaper and no contract to signup.
Tip 5: Don't throw away your electricity bills. Spend a minute or two every time you received it. Did the unit price go up this month? You could switch to another company. Do the price comparion like you shop for anything else.
Tip 6: Do the same to your utility bills.
Tip 7: Cable TV, Dish Network or DirecTV could cost you more than $100 a month. Do you really need so many channels? Do you really need HD? A Tivo? A DVR recorder? Cancel the packages you don't need. Switch to new company if necessary. Secret: if you tell Dish Network that you want to cancel their services, you will get $10 off your bill immediately.
Tip 8: Do you know how much you spend on your internet? Internet service providers improve their speed every year, but you probably are paying the same money for a slower coonection. When you singup for a new service, you have usually signed a 12-month contract to get a fixed price. But after that your price will go up a little. Try to do a price comparison after the contract expires. If you want to stick to the same company, call them and signup for another 12-month to get lower cost.
Tip 9: Get a new credit card, and consolidate all the others to this one. There are many cash back credit cards without annual fees. There used to have a 2% cash back card, but CapitalOne Cash Rewards card is the best one as of today. It pays 1.5% cash back on all purchases (you will get 1% back every month, the rest 0.5% will give to you at the end of the year). Don't believe those 3% or 5% cash back, read the fine print: they are only valid on certain purchases and may be only valid for one or 3 months.
Tip 10: Don't try to do tax return on your own. get help from H&R Block. Talk to tax professional face to face. They know secrets you don't. The money paying to them are always worth it. Donate non-cash items as much as possible is one of the tips they told me. They are tax-deductable, and keep the receipt for every donation you made.
I am sure everyone of you have some good ideas to share. Please comment on us and share them with others.