Every woman loves jewelry, and among all the jewelries, most women love diamonds the most. Diamond earrings, diamond necklace, or diamond rings, women love them all. If you are going to propose, or celebrate your aniversary, or buy her a gift for this Valentine, diamond is always the best choice. Besides the shopping season in December, Valentine's Day is the best time to buy diamonds and other jewelrys. Let's see which jewelry retailers are offering good deals these days.

1. Macys.com has a coupon for 20% off on almost everything. Use promo code RED to redeem the discount. But this coupon does not apply to jewelrys. There is another 10% off for jewlrys, coupon code: EXTRA. Both coupons will expire soon. Don't forget to check out the clearance items under the jewelry category. There are more than 4000 items are on sale now! The 10% code also works on these clearance items.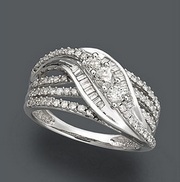 Diamond Ring, 14k White Gold Diamond Three Station Ring (3/4 ct. t.w.) Reg. $1,800.00, Was $1,259.00, Sale $899.00. After 10% off coupon, it is $809.10! Shipping is Free!
2. I do window-shopping at Zales all the time. When I decided to buy, I will go to Zales.com, because it has a $50 off coupon always. And for Valentine's Day, they are offering extra 20% off the clearance items. No coupon code needed for this offer. Just click into the clearance section and add the item to your cart. The discount will be automatically applied in the cart.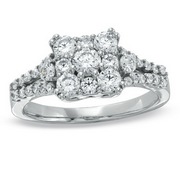 1 CT. T.W. Composite Princess-Cut Diamond Cluster Ring in 10K White Gold, ITEM # 18134395, Orig. $1099.00, Now $769.30. After 20% off coupon, the final price is $615.44.

3. Bluenile.com is my favorite place to shop for diamonds. I can choose a loose diamond by price, shape, carat, cut, color, and clarity. And then choose a setting to finish building my own ring. It has the largest selection of loose diamonds at very competitive prices. And now it is offering a 10% off coupon (code: BLUE12) for the Valentine's Day.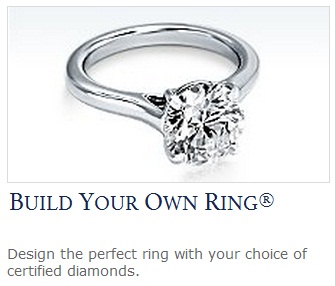 Build your onw ring with diamonds from 0.23ct to 12.35ct, clarity from SI2 to FL, colors from J to D, prices from $222 to $1,354,223!
4. DiamondHarmony.com offer unique designs with affordable prices. Enter coupon code dh50off450 to save $50 if your order is over $450. They have Valentine's Gift Guide on homepage. Check it out if you are not sure what to buy.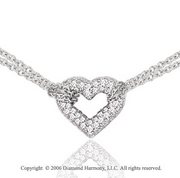 This is the one I like most. 14k White Gold Captive Love 2/3 Carat Diamond Heart Pendant, Retail:$3,095, Our Price: $1,635, a 48% saving.
5. DiamondsInternational.com is offering a 10% off coupon for the entire site, code: Love10. The reason I love this site is because it listed jewelrys by designers, as well as by collecitons.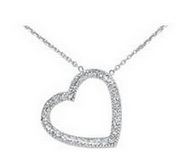 If your budget is tight, check out their Valentine's specials. This Heart 18″ Necklace (Item # 1977115) is ony $265!
6. Stauer.com is also offering a 10% off for this Valentine's Day, code: STR10VAL. The company started as a print catalog business. You can order a catalog through their website if you want to. Stauer offers low price jewelrys, mostly from $100 to $1000, and the designs from copied from famous designers, which dramatically lowered the price.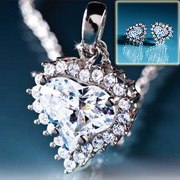 DiamondAura True Heart Necklace & Earrings Set (Item # 18210) is only $99! After 10% off, it is only $89.10!