Almost every Americans shop at Costco, Samsclub or BJ's wholesale club. The reason is simple, good quality and low price, although sometimes you have to buy products in large quantities. But do you know there are more and more online-only wholesale retailers nowadays? For small business owners they are good sources of products. But some of them are good for household use too. You probably don't need buy electronics in bulk, but it is a good idea to buy gifts, toys, baby items, pet supplies, home decorative items, underwear and pajamas in bulk, especially if you have a big family. Today I want to introduce some of the top whole retailers to you.
Smilemakers, part of STAPLES company, started business over 35 years ago. It sells toys, stickers, crafts, pencils and bags for schools and clinics. But now they are open to buyers like you and me at their website smilemakers.com. You can buy stickers or small toys which you used to see at your doctor's office. Or mix the gifts to fill your own goody bags. Smilemakers offers coupons very often, a 10% off coupon and a free shipping coupon are available all the time.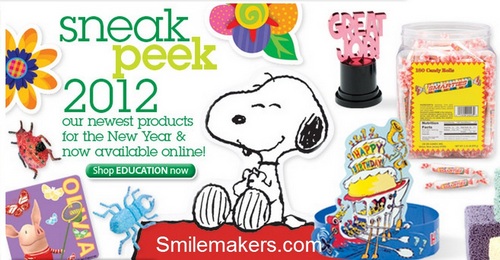 Speaking of goody bags, OrientalTrading.com is the best place to buy. This is another party city, – everything you may found at Party City, you can find is here at lower price. If you have 3 or more kids at home and need to host birthday parties often, their toy assortment is your choice. You don't know what will be in your box, a variety of toys for girls and boys will be randomly filled. Today there are 99 assortments for you to choose from for different needs, such as Sticky Assortment, Mini Fingers Assortment, Glider Assortment… We do not have active Orientaltrading coupons today, but we used to offer $15 off coupon quite often. So you should expect they will come back at any time.
Super Toy Assortment, 50 pcs, $12.00 at OrientalTrading.com. This is my favorite toy assortment for kids 3-5 years old.
Potpourri Gift started as a mail-order catalog business, while more and more buyers have turned to their website Potpourrigift.com to shop online instead of reading the catalog. Potpourri focus on gifts for home, fashion, collectible, pets, jewelry, or just for fun. The company also operates many other catalogs/websites, such as Country Store, Catalog Favorites, North Style, Pyramid Collection, and more. Technically speaking Potpourri Gift is not a wholesale retailer, because you can buy one item if you want. But their prices for gifts are from a few dollars to $20, perfect if you need to buy a large quantity. The company never offer coupons or coupon codes, but we do list some special deals from time to time.
The above websites are for gifts shopping only. There are some wholesale retailers who sells everything at wholesale prices, such as Dollardays.com, AliExpress.com, LightInTheBox.com. Small house hold items at extremely discounted prices are the most popular at Dollardays.com, while AliExpress.com and LightInTheBox.com have more selections on electronics and accessories. See what's hot at Dollardays.com:


17″ Assorted Color Backpacks only $3.75 each;

Silicone Sports Watch $2.50 each;

Swan Boy's Briefs $1.14 each!
DollarDays offer 10% off and free shipping coupon every few days, while a $5 off coupon is valid everyday. AliExpress is China-based wholesale company, and they offer $5 off, $10 off, $20 off, and $30 off coupon from time to time.  LightInTheBox offers $10 and $20 off coupon everyday. Their prices are usually higher than the other two sites. But their dresses, especially wedding dresses are very competitive.