As the summer months approach, high school rising seniors and their parents embark on an exciting and crucial journey—college tours. These tours offer valuable insights into prospective universities and help students make informed decisions about their higher education. However, college tours can also be expensive, especially when considering travel costs and accommodation. To help parents and students save money while still enjoying the college tour experience, we have compiled a list of creative money-saving tips. By implementing these strategies, you can maximize your resources and make the most of your summer college tours.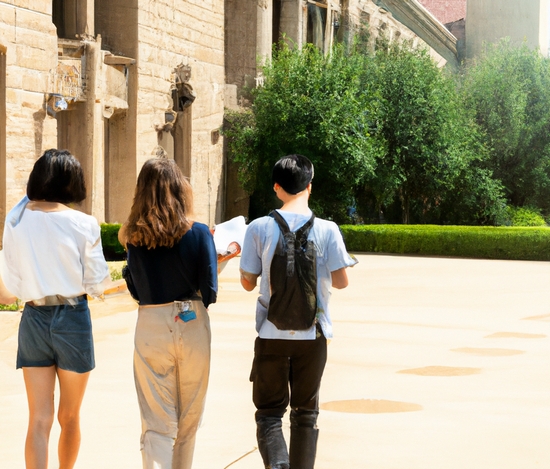 Take Tours During 11th Grade Summer:
Timing is everything when it comes to college tours. While it may be tempting to start early and visit universities during sophomore or freshman year, it is important to remember that a lot can change in a short time. Many students' interests and priorities evolve as they progress through high school. To avoid wasting time and money, consider taking college tours during the summer before your senior year. By this point, you will have a better understanding of your academic and extracurricular preferences, allowing you to make more informed decisions about the universities you want to visit.
Take Tours with Friends:
Traveling in groups can significantly reduce costs and make the college tour experience more enjoyable. Coordinate with your friends who are also interested in visiting the same universities and plan your tours together. By sharing expenses such as transportation and accommodations, you can split the costs and save a substantial amount of money. Additionally, touring colleges with friends adds an element of fun and camaraderie, making the experience even more memorable.
Tour In-State Universities First:
One of the most effective ways to save money on college tours is to start by exploring in-state universities. Not only are these institutions typically closer to your home, minimizing travel expenses, but they often offer lower tuition rates for in-state residents. By touring local colleges and universities first, you can gain valuable insights into the application process and campus life while keeping your budget in check. This approach also allows you to familiarize yourself with nearby options and compare them with out-of-state alternatives.
Plan Your Tour Carefully:
When planning your college tour, consider making it a part of your summer vacation. By strategically combining your tour with a family trip, you can save on travel costs and make the most of your time. Look for universities located in popular vacation destinations or areas of interest. This way, you can explore new places, enjoy local attractions, and still accomplish your goal of visiting potential colleges. Planning your tour during the summer also gives you the opportunity to experience campus life when it is most vibrant.
Do Not Tour Too Many:
While it may be tempting to visit as many universities as possible, it is important to be selective and focus on the ones you are genuinely interested in. Remember that each college tour incurs expenses, including transportation, accommodation, and sometimes even meals. Prioritize the universities that align with your academic goals, campus culture, and overall preferences. By narrowing down your list to a few top choices, you can allocate your time and resources more efficiently, ensuring a more meaningful and cost-effective college tour experience.
Try Cafeteria Food in University:
During your college tours, take advantage of the opportunity to sample the cafeteria food at each university you visit. Most campuses allow prospective students to purchase meals in their dining halls. While it may not seem like a significant cost-saving tip, trying out the cafeteria food can give you a taste of campus life and help you assess the quality and variety of the dining options available. This firsthand experience can be invaluable when considering the overall college experience and deciding which university best suits your needs.
College tours are a crucial step in the college selection process, providing firsthand insights into the campuses, programs, and overall atmosphere of prospective universities. By implementing these money-saving tips, you can make the most of your summer college tours while keeping your expenses under control. Remember to plan strategically, prioritize the universities that align with your interests, and consider traveling with friends to share costs. By approaching college tours thoughtfully and creatively, you can ensure a fulfilling and cost-effective experience that sets the stage for a successful college journey.