If you shop at Walmart, then you've probably fallen into the money hole that includes buying way more than you actually intended on. With this budgeting conundrum, you may constantly be looking for new ways to save money at any Walmart store. Luckily, there are many ways to cut back on how you spend at the store that may not be as obvious as you think. With a few simple tricks, you can actually save big on the items you purchase, even after your shopping trip is finished. So, don't get angry over your budget when you overdo it in the store, because with a little savvy shopping you're on your way to cutting back on spending for good.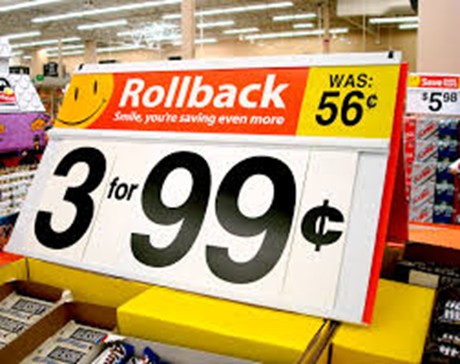 1. Price Match Guarantee
Shopping at Walmart is incredibly convenient. You can find just about everything you need there without having to waste time and gas to check out competitors' prices. Most of the time, Walmart offers the best price anyway; however, you may run into a few occasions when Walmart misses a competitor's sale or simply doesn't have their price the lowest. This can be frustrating when you're on a tight budget, but Walmart does offer you a bit of a safety net. They have a Price Match Guarantee, which allows you to bring your receipt back to the store as well as the advertisement from some competitors. If the price is lower, they'll refund the extra that you paid and you can carry on with your savings. You can even pull up competitor's ads while you're in the store to get the price matching, so you won't have to return later for the refund. Make sure you know which stores are accepted though and keep a look out for scams because some people love to post false information to try to get a one over on the store or unsuspecting customers.
2. Rollbacks
No matter when or where you shop at Walmart, chances are, you're going to run into some Rollbacks. These items tend to be stocked in heavily populated areas, like the entrance of the store, and are often based on items that people will need at the time. For instance, during the Super Bowl you'll finally find some awesome Rollbacks on sodas and chips. You can also find these deals on the ends of aisles, but these items are usually extra stock that the store wants to move to clear out before having to move it to clearance. So, keep an eye out because you may find some cool blankets and other things you may have never thought about buying. Another option is rollbacks in the grocery section. You have to keep an eye for these though as they're not always obvious at first glance. However, you may get lucky and find some great deals on your kids' favorite frozen treats or chips for your next big party.
3. Enjoy the Clearance
Although Rollbacks are a lot of fun and can help save a lot of money, you will really reap some benefits from the clearance items at Walmart. Each store handles the clearance section differently, so you may have to look around to find the deals. Some stores will have a full aisle of clearance items, especially if they have a lot of items they need to get out of the store quickly. However, other stores will keep the clearance items stocked with their regularly priced items. This requires a hawk eye at times, but if you know what you're looking for then you should be able to get the savings you deserve. This can be especially fruitful when it comes to meat, produce and bread. The store constantly marks down these items so that they don't have to throw them out, so make sure you check out the perishables as soon as you begin your shopping experience.
4. Shop Online
Although the physical store and the online store have the same name and logo, you may be surprised to find out they are different stores. This can work out in your favor though as the online store does bring in other retailers so you can find amazing deals on items like furniture that you otherwise wouldn't find in the store. These sales are also buyer protected too, so you won't have to stress about the product not showing up. Apart from that, you can pick it up at your local Walmart if you want to make life a little easier on you. You will find better deals on big ticket items online too, especially when it comes to technology bundles. This can be especially great during the holidays, especially if you want to skip out on all of the crowds. Of course, you can also order your prescriptions online to save you a whole lot of time and you can purchase photo prints as well as other customizable décor that will showcase your family and life.
5. Free Shipping
One of the perks that Walmart offers its customers is free shipping. If you go in a store and can't find an item, then chances are you should be able to find it on the website. However, more often than not, this means shipping costs which won't save you any money. Luckily, Walmart considered this when setting up their online store, so they offer free shipping from the online store to your local store. All you need is an ID card and your confirmation number and you pick up the item at your convenience. Of course, there are deals online that do offer you free shipping, but they often come at a higher price tag. If you find yourself shopping online more and more, and you don't want to pick up the item at the store, then you'll be pleased to know you can actually sign up for a program that offers free shipping on all items. There's a small monthly fee, but it will more than pay for itself if you're a frequent online shopper.
6. Price Catcher
Smart phones can be a huge asset when it comes to saving big on your shopping experience these days. Walmart has its own app, called the Price Catcher that does you a whole lot of favors when you choose to shop at their store. All you have to do is download the app, which won't cost you a penny. Then, every time that you go shopping you simply scan the receipt on your phone and upload it to the app. The app will go through the receipt and registers savings as points, so you can earn money back on the items that you needed to purchase in the first place. It's as easy as that.
7. Shop Early
One of the best things you can do when you're planning a trip to Walmart is to shop early. There's actually a couple of reasons why this comes in handy. First of all, early mornings mean less people to work around. This should allow you to get into the store and get exactly what you need without having to dodge other shoppers or feel the frustration of a crowd. This should also save you money because if you shop directly from your list and go from one item to the next, you won't end up splurging on things you don't need. Apart from that, early morning shopping will give you the best clearance deals. All of the produce, meat and other mark downs happen in the morning during quality checks. This could score you awesome deals on items that would normally cost a small fortune, like steaks.
8. Coupons
If you love to coupon, then you already know that Walmart is the store to shop at. The store itself offers many coupons in their ads, so you can always begin saving there. They also have many products stocked that have coupons on them, which will help you save even as you shop. Although these coupons will help you save a lot, the store is open to coupons from many sources too. You can easily print out items that you find online or show them to the cashier from your phone. Make sure the coupon is real before you use it though, or you may find yourself having to wait some time as a manager looks into the coupon. In most cases, they will try to give you the deal, but sometimes coupons found online that seem to be too good to be true simply aren't acceptable.
9. Know Seasons
When it comes to shopping around, the best thing you can do is know when to shop for specific items. For instance, if you want the best deals on technology then you probably already know that Black Friday is the best time to shop. You can also grab these items around the time of the Super Bowl. If you love clearance items, then late January is the time to shop with Walmart. Their fiscal year ends in February, which means they want to clear out a lot of their items before they have to take inventory. This brings some major savings to you, especially on toys and clothes that sell during the holiday. July is another great time for clearance items, as well as purchasing pool tools before the store needs to clear up space for their school supplies. Knowing when to shop is the best way to avoid spending too much when you don't have to though, which is sure to help your budget.
10. Grocery Pick Up
A lot of people tend to spend way too much money when they actually go into the grocery store because there are so many items to choose from that are too enticing. Luckily, there's a service that can help you avoid shopping this way, which can help you keep money in your pocket. However, online grocery shopping is only available in some stores now, so you may not be able to take advantage of it yet. However, you should keep an eye on it and ask your local Walmart manager about plans in the service just to show that there is interest. Even though online grocery shopping might not be available, many stores will allow you to call in a shopping order to make things easier. This is especially handy for the disabled or those who may be sick and don't want to spread germs while shopping. All you have to do is let customer service know that you called in an order and they will gladly bring out your items for you after you have paid.
Shopping at Walmart can be less stressful than you think, especially when you figure out ways to stop spending more than you want in the store. These ten tips should help you find the savings you want and need, without forcing you to cut back on the necessities your household can't live without.