Prom is coming up faster than you can plan for, which can be a problem when it comes to budgeting for the expensive event. For many teens, prom is the highlight of the year and they want to spare no expense for their happiness. However, sometimes corners have to be cut in order to make the dream prom night come true. One area where you can do this without transforming the evening is with the prom dress. There are ten simple ways you can make the dream dress a reality, without pouring hundreds of dollars into the dress. So, take a deep breath, because these ten tips will help you cut one of the major expenses from your child's prom experience.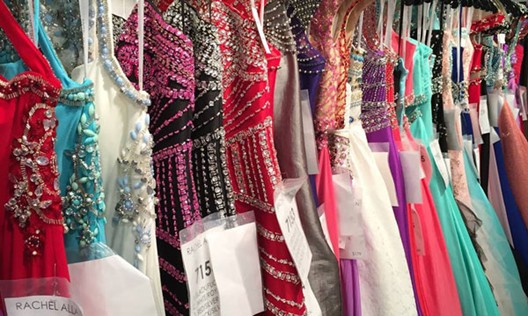 1. DIY
Prom dresses are known to be glamorous, but that doesn't mean that they're incredibly difficult to make. If you're looking to save some money then making your own prom dress can be one of the best ways to do so. You should start on your sewing adventure in the clearance fabric section. You may find amazing fabrics that will make your future prom queen steal the show. You could also wait until there is a good sale or coupon to do your shopping. You should be able to find patterns, tulle, and other fabrics that will make your child happy. The best thing about making the dress with your own two hands is you also get to do the measurements and adjustments whenever you need them. Thus, you won't have to worry about the dress not fitting. Another perk of having a handmade dress is no one else will have one like yours, which will give you an edge on prom court. You don't have to go the traditional route either. In fact, many students are making prom dresses out of duct tape. You can even enter to win a scholarship by doing this, which will save you lots of money in the long run.
2. Go Versatile
When picking out a prom dress, you should always keep its versatility in mind. More often than not, children will choose a dress that they only plan to wear once. This can be a problem if you're on a budget and you want to stretch the money further. Instead of choosing a dress that will only work for prom, keep looking around. You should try to find one that will work for other dances, special occasions, dates or even church. You should also pick one that will last for years, so keep maturity in mind. You should watch the length of the dress as well as the décor in order to make it available for use in future years.
3. Refurbish
Apart from making your own dress, you can put your creative skills to work by refurbishing an old dress to suit your new prom needs. This is great if you have a lot of spares around the house from an older sibling or a different formal event. The dress can be stripped down if you need to make a lot of adjustments, or it can be added to in order to create a whole new look. You don't have to have incredible sewing skills in order to do this. In fact, if your student is feeling adventurous then it may be a job for her to try on her own. You may need to buy new fabrics or appliques, but that should still keep the price low.
4. Thrift Shopping
If you are looking for a dress on the cheap then you should always consider second hand stores. Thrift stores are one of the best options when it comes down to it because they usually have a great selection of dresses to choose from. Obviously, you can alter the dress once you pick out the perfect one. You can also consider yard sales, flea markets and consignment shops too. Make sure you try on the dress too ensure you like the way it looks and fits, even if you plan on making alterations. This method of shopping will get you out of the store for under $50 and it will allow you to look like a million bucks on the dance floor.
5. Dress Swap
Another great option for your prom dress is to take it from another student. If you have a strong community then you might want to start up a dress swap. In fact, many schools already do a swap, so you might want to ask if this is happening in your area. If not, then it doesn't take much to organize one in your school or a community area. Basically, dress swaps will allow you to swap out your old dress with another student. This will give you both new dresses to wear to the prom. You may even make a few new friends out of the experience. Better yet, no one will remember that someone else wore the same dress as you, especially since you will look fabulous in your new dress. Some schools will simply have you turn in your old dress in exchange for a voucher. Then, you can search through the other dresses to find one that you look and that fits you.
6. Rent
Believe it or not, but you can actually rent a dress for prom. This is perfect if you're short on time and money. There are many rental services to choose from, but you should always try to find one that is trustworthy and suits your needs. You might want to look in your own community for a rental service first. This will allow you to try on the dress and see how you feel about it before taking the plunge. If there's nothing nearby then have no fear. There are lots of online shops that ship quickly and usually pay for return shipping. Make sure you look at reviews for these companies though and check out the size chart before you put in your rental order. This service will allow you to feel confident at the dance while standing out with your unique style.
7. Shop Ahead
One of the best things you can do for your child's prom attire is to shop ahead of schedule. It is too late to do so for this year, but if you have a student planning on prom next year then you should begin shopping just after this season's prom is over. This will give you a chance to choose a dress at clearance prices, which can save you hundreds of dollars. Even if you don't start shopping then, you should shop early enough in the year to beat the prom crowds. This is when prom supplies begin to go up because they are in higher demand. Securing a dress will come in handy anyway as it will ensure your child will be set to go to prom so you will have less saving to do when the time comes.
8. Clearance
Most stores will have a clearance section throughout the year, but there will usually be more dresses added to the mix when prom season comes up. These dresses usually come from last year's prom fashions, so you won't be too out of fashion if you choose to shop from this section. Many clearance dresses also have small flaws, so they can be sold for full price. This can work out in your favor because most of the flaws are so tiny that they are very easy to miss unless someone is trying to find something wrong. If the flaw is easy to spot then you can easily try to hide it using accessories.
9. Shop Online
In this day and age, you have a lot of shopping options especially when it comes to prom. Local boutiques can be pricey, so if you can't find anything you love for a price that is affordable, you might turn to online shopping. Here, you will be able to check out a long list of stores that specialize in prom clothing. Not to mention, you can find prices that aren't as frightening to your budget. The only problem with shopping online is you might not get the correct size. There are many guides to help you buy clothing online, so make sure you follow some guidance. If you're still unsure, then make sure you choose a company that offers free returns and shop early enough to exchange the dress if need be.
10. Think out of the box
When it comes to shopping for a prom dress, you don't have to confine yourself to one specific box. In fact, there's many areas in which you can shop for the special dress. For instance, you can easily find a stylish dress in other departments to wear. If you see a simple dress that blows you away in your regular department then you can away with wearing it to prom without a problem. You can also check out the clearance section in bridal stores as you may find a bridesmaid dress that suits you. You don't have to wear a dress just because a store advertises it as a prom dress. In fact, you can even skip the dress part altogether if you want by combining a skirt and top for an irresistible look.
Prom can be stressful when you try to plan out your favorite looks on a budget. However, you can really cut costs when it comes to the dress. So, don't let the stress of the season get to you yet, because you may find this prom will cost you less than you could have ever imagined.