Memorial Day is heading your way, which is a good time to spend quality time with your family while thinking of those who died for your country. Another great thing that Memorial Day brings is a ton of sales that can help you save big time before you head out for your summer vacation. Not all sales are created equal though. Some of the major sales happening on the holiday will hardly save you anything; whereas, some of the sales will be too hard to pass up. Here are ten of the items you should be shopping for this Memorial Day if you really want to get your money's worth.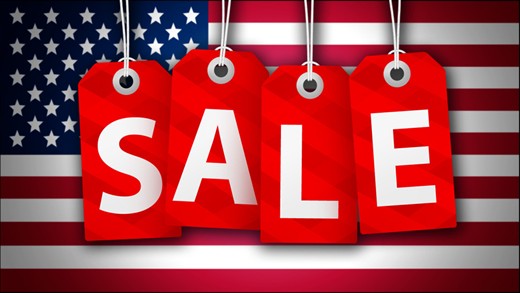 1. Mattresses
If you need a new mattress then Memorial Day is the time to get it. This is actually the best time to get more for your money when it comes to mattress sales. There's really no rhyme or reason as to why this is, just mattress stores tend to host their biggest sales during this time of the year. If you shop locally then you will probably find some major discounts and may even be able to haggle your way to an even lower price. This is especially the case when it comes to smaller businesses. If you're really lucky then you will work out free delivery and removal of your old mattress. The internet will also be filled with great sales to check out too. You might even be able to save up to a thousand dollars on some of the best mattresses in the industry.
2. Appliances
Summer time means a lot of weddings and graduations, so appliances for the home are in high demand. Due to this, there are also many new items hitting the market, which can save you a bundle on some of the older items that are still in the store. You may even find a sale for the newer items too, so keep your eyes peeled if you have high hopes for getting something top of the line. The appliances range from small kitchen appliances to bigger items like washers and dryers, so there will be something for everyone. With any luck, you'll be able to find a few gifts as well as something special to improve on your own home.
3. Spring Clothing
Since Memorial Day kicks off the beginning of many summer activities, including the heat, chances are you will be able to find some pretty awesome deals on Spring clothing lines. This will give you the chance to update your wardrobe, so you can stay trendy. It will also allow you to stock up on clothes for next season too, especially when it comes to kids' school clothing. Of course, a lot of the Spring line can be worn throughout the summer months too. You might have to hem pants into shorts, but most of the items will stay cool even as the warm month of May turns into the scorching month of August. If you shop carefully, you may even find cool styles that the kids can wear back to school next semester.
4. Grills
Memorial Day tends to be the first big day for cooking outdoors. So, it is no surprise that you will run across a lot of grill deals on Memorial Day. Of course, these deals come a little too late if you plan on hosting a party, but if you don't then you may want to shop one of these sales so you will be set for the summer. It doesn't matter if you're looking for propane or a charcoal grill as both will be on sale come Memorial Day. If you're lucky you might be able to find a few deals on accessories that will help you get more out of your grill. For instance, you might find a rotisserie that will help you make delicious meats even when grilling season is over. Another cool accessory that has been popular is the pizza grill, which will help cut back on your take out prices.
5. Hotels
A lot of people tend to take a three day weekend on Memorial Day, but booking rooms for this time can be pricey. If you wait until the last minute then you might actually get a fantastic deal on a room. Usually hotels will slash the cost of a room for this day. This is so they can fill up their hotel when customers will be traveling the most. You may also be able to book a hotel room for a cheaper price at a later date. This can really come in handy for your vacation, but make sure you get to shopping as soon as you can on the holiday before all of the great deals are gone. You might even call up the hotel of your choice to see if they can offer you even more holiday savings. You may be surprised as to how much you can save simply by asking.
6. Car Rentals
With a three day weekend to look forward to, you may want to check into renting a car to enjoy some time away. Usually, you can get a good deal on the entire Memorial Day weekend, which might actually inspire you to travel even more. Like hotel rooms, you should be able to find a deal on later rentals too. You simply have to shop as quickly as possible to ensure you get your deal booked at the reduced price. Make sure you check out all of the rental companies in the area you are traveling too though as you might be surprised how hard rental companies compete on this day. If you prefer one company to another then you may even consider calling up your preferred company to inform them what the competitor is offering you. If you're lucky you may walk away with the same deal or an even better one.
7. Furniture
Memorial Day means business when it comes to furniture sales too. It doesn't matter if you're looking for an indoor or outdoor option as they will all be on sale on this frugal holiday. Now, might be the right time to upgrade your toddler to a twin size bed, thanks to the great sales on mattresses and bed frames. Of course, if your home is all set for indoor furniture, you might start planning to deck out the exterior for all of the barbecues and get-togethers you plan on having during the summer months. Everything from tables to lounge chairs should be on sale to make decorating your home feel like a whole lot of fun.
8. Technology
If you just can't wait until Black Friday to get a new TV then Memorial Day is going to be the time to pick out a new device. Often, you can find sales that come close to TV sales on Black Friday, so you won't lose out on too much money if you choose not to wait. Of course, you shouldn't go overboard when shopping just because of the prices. Make sure you purchase a TV that can be used in your home and won't leave your budget hurting. Since kids are heading off to college in a few months, now is a great time to grab a laptop too. From gaming laptops to those strictly designed for word processing, you should be able to find a reduced price that will suit your needs. Even some gaming consoles and tech toys like drones will be on sale during the Memorial Day weekend.
9. Tires
Since summer is almost here, you may be planning on hitting the road to have a little fun. You may want to consider checking out some of the tire sales that Memorial Day has to offer if this is the case. Usually you can find a great price on a wide variety of items to help keep your car in working order as you travel the country or simply commute to work. Of course, the key here is to know just what you're looking for. Since summer is headed your way, summer tires may be the right option for your vehicle. However, there will also be great deals on all season tires if you prefer those. No matter what you pick, you'll be thankful for the Memorial Day savings.
10. Outdoor Play
Memorial Day kicks off a season of fun, so you may want to check out some of the sales you will find on toys. Everything from pool accessories to sports gear should have a pretty decent sale going on to help you prepare for the long months when your child isn't in school. You may also want to look in the actual toy section to see if there are any items that will keep your child busy outdoors. There are a lot of great options this year, which will suit many age groups and keep your child's body and mind active while they take a break from learning.
Memorial Day sales are well worth the wait. However, some of the sales simply don't make the cut. If you're looking to enjoy a nice shopping trip this holiday then you may want to seek out these ten items to get more for your money. The savings are sure to excite you and get you ready for the summer months ahead of you.