It's almost time for Mardi Gras again, which means you may have to jump through some hoops to share this holiday with the kids. Although many Mardi Gras activity are based around adult entertainment, you may be surprised as to how much fun you can have with the kids during this period of celebration. Although you may not end up in the middle of the action, you're sure to have the time of your life while teaching your kids a bit more about this iconic holiday. The best thing is, these tips won't leave you scrambling to fix your budget as they are mostly cheap and easy to create at home from items you already have around the house. So, this Mardi Gras, don't get stuck skipping the fun, instead invite your kids in on the action and enjoy their response.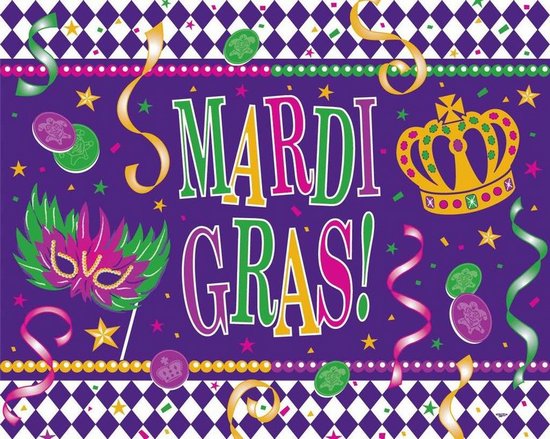 1. French Breakfast
One of the more iconic aspects of New Orleans is the world-famous Café Du Monde, which many people love to hit up when they're in the area, especially during this time of celebration. You may find it fun to recreate this environment for the kids. You can easily whip up café au lait at home with very little effort to teach children about this iconic French drink. Of course, you don't have to make it with caffeinated coffee, you can use decaf or even hot chocolate for the same appearance. Another classic to add to the table is fresh beignets. You will be surprised as to how easy these are to make, especially if you enlist the kids to help out with all of the mixing. You could try out other French foods during the celebration too, like crepes. There's enough breakfast ideas to last throughout the entire Mardi Gras experience if you want to turn the week into a cultural lesson.
2. Beaded Necklaces
Mardi Gras beads are hands down one of the most iconic aspects of the celebration, so have a little fun by making your own. These are great party favors if you do end up having a party to celebrate and they can save you a lot of money. You can make your Mardi Gras beads out of a wide variety of options that you probably have lying around the house already. For instance, if you have macaroni, or larger noodles then pull them out. These can be colored with markers and put on strings to make cool beads that will help young children work on their motor functions. Another great option is to use old magazines that may be collecting space in the home. Have the kids pull out colorful pages and then roll small strands into cute little beads. This also works with construction paper if you don't subscribe to magazines. When the kids finish rolling up the paper, each strand can be glued and strung to your favorite form of string. Finally, if you have old party jewelry or beads around the house then you can use the items for a more authentic look.
3. DIY Masks
One of the more fun elements of Mardi Gras is getting to wear a unique mask that shows off a new side of your personality, or at least your personality for the event. People love to pick out elegant, frightening or even funny masks to use too. However, these can be pretty expensive to buy in the market, even if you shop out of season. One way to celebrate the occasion is to have the kids sit down and make their own masks. This gives them an extra special touch that can help them have more fun and show their personality and creativity. You can approach the masks in many ways too. For instance, you can cut out shapes from paper and cardboard and then color in the detailing or use a print out to sort out the details. If you'd like to take your task a little further, then consider making them out of paper mache. If you really want to transform it into an art project you can make them out of a ceramics kit that can usually be purchased fairly cheaply at a hobby store when a coupon is used.
4. Pick up French Words
Mardi Gras can be a great time to learn a few lessons in the French language. There will already be a wide assortment of French words for the kids to see each day of the celebration so try to use this to your advantage. You can make flash cards out of the words you see and use the internet to translate meanings. Of course, if you'd like to take the learning experience a bit further then you can find online lessons for absolutely nothing. These lessons will offer print-outs and other supplies to help make the language a touch easier. Pronunciation guides will also be available which will really come in handy. Apart from that, you can find apps and games online to make learning the language fun. Your family may even fall in love with the language and keep learning it well after the celebration is over.
5. Teach Ballroom Dancing
Masquerades and balls are a big part of the Mardi Gras experience. Although you might not think your kids will enjoy ballroom dancing you could be surprised as to how quickly they can pick it up. Most communities will have ballroom dancing lessons at a decent price, but if you don't want to sink the money into a temporary hobby then you can find numerous tutorial videos online that will help you figure out the ropes. Once you have a basis for the activity down then the kids can take out their masks and dress up while having a blast dancing. Learning ballroom dancing early on could also help later in life when they need to know how to slow dance for school formals and so one. You can also make the activity feel fun, so they don't resent it when they're older.
6. Go to a Parade
Even if you don't live anywhere near New Orleans, you may find that most communities will do something to celebrate Mardi Gras. It may not be a huge deal, but you should at least find a small parade in your neck of the woods or a community close by. Of course, if there is absolutely nothing in your area then you can always tune into celebrations from around the world online. Many streaming services will offer live broadcasts of the parade and more, so the family can see how the holiday is spent in many different locations. You can also have the kids come up with their own holiday parade after viewing some of the exciting examples online.
7. Cook
Nothing says a celebration quite like getting in the kitchen and making up something delicious to celebrate. There's a wide assortment of dishes that go hand in hand with the holiday, so you shouldn't have a hard time finding the perfect meal ideas for your household. One such idea is jambalaya which is a New Orleans staple. This dish can be pricey due to the sea food that is in many of the recipes, but you can always substitute with chicken or vegetables to suit your needs, tastes and budget. A King's cake is also a lot of fun to bake and may be more to the kids liking, particularly when it comes to decorating. Mardi Gras also has routes in Italy too, particularly Fat Tuesday, so you might want to consider some Italian dishes to add to the menu. Before you know it, you'll have tried out a lot of great items that may even become a regular on your kitchen table.
8. Find Kid Friendly Events
Mardi Gras tends to be centered around adults in most cases, but there are many areas where you can find children's activities to help keep the kids entertained. For instance, if you were to plan a trip to New Orleans during Mardi Gras then you would probably be surprised to see how many activities are actually family based. Of course, there are some areas of the city which should probably be avoided if you don't want children exposed to certain behaviors or extremely large crowds. Otherwise, there is plenty to do in this city and many others that will give your child the Mardi Gras experience. You may want to look on your own city's website to see what is happening during this celebration so you can plan accordingly.
9. Experience Music
If you'd like to keep things simple, but you still want to celebrate then consider walking the kids through the holiday by sharing some amazing cultural music. You can trace the holiday back to the beginning by throwing in some classical music and then move your way into the iconic New Orleans jazz. This is a great way to help children appreciate songs and to understand some of the cultural elements of the holiday that may not be as obvious through other means. There are plenty of holiday classics available too though, which can help get everyone in the mood to celebrate. You should be able to stream all of this music and more on streaming services. If you're lucky, you may even run into a service that has special playlists just in time for the big celebration.
10. Mardi Gras Lessons
Many people never learn the origins of Mardi Gras, which is something you can remedy with your children. So, you might want to take the time to explain how the holiday relates to different cultures as well as how it kicks off the beginning of Easter so they can have a better understanding of what the holiday is all about. You can find lots of resources online that can help you to approach this holiday for different age groups too, which will come in handy. You should even be able to find color sheets or work sheets to help you out with your task. Once your kids get the hang of the holiday meaning then go over how it is celebrated throughout the world. Everyone will get a kick out of the celebrations and it will broaden kids' horizons while helping them become eager to learn about other cultures.
Mardi Gras can be a great time to have some fun with your kids without spending a small fortune. This celebration is both a great time to learn about the world around you and to cut loose a little. These ten celebration ideas should help make this holiday kid-friendly and enjoyable for the whole family, so you won't ever have to skip over Mardi Gras again.