The month of March is dedicated to the fascinating and empowering history of women. With special occasions like International Women's Day, you may find it hard not to feel the need to celebrate throughout the month of March. Luckily, there's lots of great ways to do so which won't cost you a small fortune. With the budget out of the way, you may find that this month is a great time to help your whole family understand the powerful role women have played throughout history and in today's world. So, let your feminine pride show this March and enjoy celebrating with these ten tips.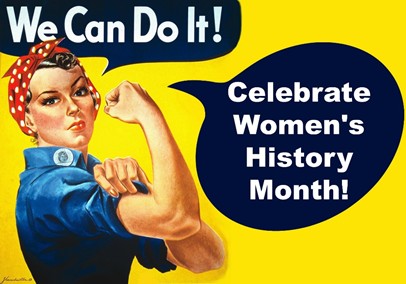 1. Visit a Women's Monument
March history month is a great time to familiarize yourself with monuments dedicated to women. If you live near one, then it might be time to head to the monument to check out and celebrate the girl power of past. This is a great way to show children the great things achieved by women as well as showing them how to give the recognition people deserve no matter their gender. Of course, there aren't many women's monuments in the U.S.A., so you may not be able to physically travel to one. However, you can easily find monuments online that will give you a 360 degree tour. You can also look up powerful women and write your local government requesting a special monument. It may be a hard task, but if you're successful it will definitely give you a sense of pride.
2. Visit a Nursing Home
Not all women who accomplish great things become famous. In order to truly celebrate the history of women, you may want to head to a nursing home in your community. Here, you will get to meet the women who made history even if their name wasn't added to a text book. These women will have taken part in wars, fought social stigmas, raised families, worked hard on their passions and so much more. The best thing about this way of celebrating is you will also help make the day of someone who may be feeling lonely. You might even consider writing down or recording the stories you hear while there. You could even put them all in a special book to donate to the nursing home so the patients can read through their stories with pride.
3. Listen to Speeches
In this day and age, we have access to so much media that it proves to be a great resource when celebrations like Women's History Month rolls around. This month, you may want to take some time to go back and listen to some of the speeches that have helped define women, their role in society and their rights. You can go back pretty far in time to hear women talk about race, gender and sexuality equality, so choose a topic that you may not understand fully or one that you'd simply love to hear. Since this year hosted a huge March on D.C. for women's rights, you will have easy access to these speeches too. You never know what you may learn while listening, so open up your mind and enjoy. You may also feel moved to write your own speech, or have the children write one too. With inspiration like this, women from all races, creeds and social backgrounds can find strength to progress and push forward in the future.
4. Research
Women's History Month exists because more often than not only a few womens' names rise to the top of the mind when we think about history. This month may be the perfect time to get to know some of the other women who made big changes in our history. You can look from a social, science or political perspective to suit your own interests. You may even consider drawing names out of a hat to see who you should research. No matter how you make the decision, remember to keep an open mind while you look into your new historical figure's past. This is a great assignment for children too and will help them discover more women so they can find inspiration to make changes for their own futures. Of course, you can also stick with an old favorite, but make sure to share stories about her with the people in your life.
5. Take a Course
If you're not sure where to even begin celebrating Women's History Month, then you might want to sign yourself up for a course on the matter. Your local community college or university should have quite a selection of courses, including women's literature or an introduction to women's history. Both of these courses will open your eyes to new topics and help you celebrate the women who have made your life a bit easier. You can also look online for free courses to help you out too. There's numerous websites dedicated to bringing college courses to the general public, so browse for a topic that suits you. Even some Ivy League schools will offer their list of courses so you can get the best quality education around. You won't get graded on your work for these courses, but the lessons will be well worth your time and energy.
6. Teach Others
One way to celebrate Women's History Month without even touching your bank account is to share your own knowledge. This is especially important when it comes to the younger generation. If you know a lot about a particular person then share that story with your children, grandchildren, nieces and nephews. It doesn't have to be about a famous person either. Talk about family and friends who have served in the military, worked as nurses and doctors, protested and marched. No matter what the story is, if it involves a woman's strength then let it out to the world. You can even do this by posting on social media. The sky is the limit here, so become a teacher this month and let others know how important women are.
7. Celebrate a Strong Woman
There are women around the world that bring inspiration to others on a daily basis. Many of these women are unseen or unheard of, but that shouldn't stop you from celebrating them this month. If you want a frugal option for this then you can easily choose a woman, or several, in your life and write them a letter explaining how they inspire you. If you're okay with spending a little money then invite a woman out for dinner. You can talk about her past, present and future as well as the ideas that helped her get there. You'll feel amazing afterwards and will have contributed to learning more about such a rich history, even if it won't be found in the text books.
8. Donate or Volunteer
This month, there's lots of charities that can be helped in the name of all women who have worked for our present rights. If you want to do something special then find a charity that is based solely around women. There's a lot out there ranging from women's rights in other countries to helping homeless women in our own. You can even find education based charities or charities designed to help women escape from abusive homes. The charity is totally up to you. If you have money to spare then this is a great time to donate; however, if you're trying to stay on a budget then you might want to volunteer to help them. Most charities are always looking for a few extra hands, so call around to see what you can do.
9. Trace Ancestry
One important thing you can do for Women's History Month is to actually learn more about your own history. One way to help make the details of your family's role in the rights of women is to begin learning about the women who came before you. You can use popular sites like 23andMe or Ancestry.com, or you can even hire an investigator. Of course, asking family members to help out with information may be the cheapest way to get your answers. You may find that the women in your bloodline led incredible lives that will blow you away. As you learn about them, you may want to pick up a craft or hobby that they used to love too. It doesn't matter how many generations you go back, as learning about even your grandmother will help pass the story of your lineage down to the next generation and on.
10. Step Out of Your Comfort Zone
Women's History Month doesn't have to be all about learning about history though. It can also be about making history in your own special way. For instance, you may want to try something out that you've always wanted to. May it be bungee jumping or choosing to shoot for your dream career. You may also want to try creating something. From painting to crochet, your options are endless here too. As long as you're stepping out of your comfort zone, you'll certainly make history in the minds of your children and the people you hold near and dear to you.
This March you'll certainly feel empowered by all of the women in your life and even yourself. These ten tips should help you find amazing ways to celebrate the month while helping ensure the future is on a better path. With any luck, March will become a new favorite time to celebrate your own beauty and the beauty of the women who came before you and those who will follow you.