The Fourth of July is on its way, which means lots of fireworks, cookouts and fun. One aspect of this amazing holiday can really cost you an arm and a leg though. That is, fireworks. Not to mention, if you have pets, small children or anyone with post-traumatic stress disorder then you may not want to use these items to celebrate anyway. Luckily, there's lots of other things you can do to enjoy the holiday for a whole lot less. These ten methods tend to be quieter, safer and a whole lot easier on your budget. So, don't ditch the holiday because of your budget or safety concerns, as there is still a lot of fun to be had.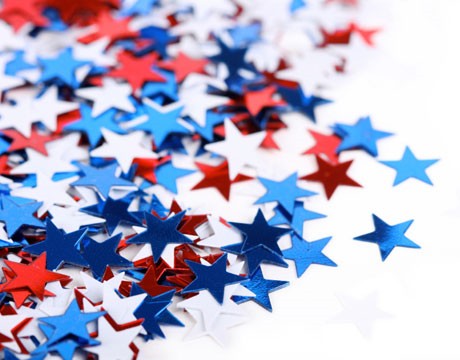 1. Glowsticks
If it is the bright lights that your family craves to see on the holiday then glowsticks are the perfect answer to your celebration problems. You can buy glowsticks in bulk packages, which will allow you to have lots of fun with them on the 4th. You can even purchase them in patriotic colors to make the holiday even more fun. These glowsticks can be taken outside to enjoy during a barbecue, or you can enjoy them inside in the cool airconditioned air. There's a lot you can do with glowsticks too. From dancing to playing games, children of all ages will love this quiet alternative to fireworks.
2. DIY Poppers
Poppers are another fun way to make the holiday festive. Of course, you may want to cut out this option if you need to avoid loud noises during the holidays. There are many ways to make poppers for the holiday though, so browse around online for a couple to try out this season. One popular way involves a recycled bottle, paper and other easy to find supplies at home. However, if you want to ditch the actual popping option then all you need is a used toilet roll, paper and some rice or beans. Cover one end of the toilet roll with paper using a rubber band or lots of tape. Then fill this side with the rice or beans. When you're finished cover the other side the same way that you did the first. Kids can then decorate these to look like firecrackers. These poppers are safe, fun, crafty and a touch musical.
3. Jarred Fireworks
If your kids love science then you won't want to miss out on this fun way of celebrating the 4th of July. All you need for this task is an old mason jar, baby oil, food coloring and water. Pour equal parts water and baby oil into the jar and shake it up. Then add a drop of food coloring to the jar. You can do this over and over until there are an assortment of colors going on. Another option that is a little less scientific also requires a mason jar. For this task, you will need battery operated lights, which can probably find in your holiday storage. You will also need colorful tissue paper, glue and water. Before you begin, add glue to water in a shallow dish. Then use this mixture to paste the tissue paper onto the jar. You can choose to make little holes in the paper for the light to shine through, or leave it as is. When everything has dried, place the lights in the jar and switch them on. As they blink it will look just like fireworks.
4. Bubbles
When it comes to smaller kids, who will probably be sound asleep before dark, one of your best bets is to pull out the bubbles as an alternative. Little children love watching, chasing and blowing bubbles, which will help them make the special occasion even better. You can even make your bubbles colorful to suit the patriotic spirit. If you don't want to spend money on bubbles then you can easily make up your own with dish soap, water and food coloring. You might want to consider getting a bubble machine or even making giant wands for your kids to use. This can be quickly made with wire and other objects readily found around the house. You may even want to come up with a few games for the bubble fans in your life.
5. Balloons
Another cheap option that makes just about every child happy is balloons. You can easily find these in red, white and blue during the summer months, so you won't have to worry about shopping around for them. Bulk balloons won't cost you a fortune either, especially if you shop at a department store. You can do a whole lot with your balloons. Simply enough, many children will just be satisfied letting their balloons loose, or even just wearing them on their wrist. If you want to go a little further though, try filling your balloon with confetti, paint or sparkles. Kids can then pop these balloons on a giant piece of paper to make lovely fireworks that they can hang up in their room all year long. If you want to spend a little extra then consider getting mini LED lights. These are very cheap online and come in a variety of colors. Simply slip the light in the balloon before you blow it up and you're ready to go. These will look great in the night sky or even in your child's bedroom during bedtime.
6. Use Projector
If you don't want to live without fireworks, but you know they're too pricey or not allowed in your area then you might want to consider using your projector. You can easily find firework shows online to project onto the side of the house. This can be specially cool because you can choose shows from around the world. You can even play patriotic music to go along with the shows you choose to play. If you really want to make your celebration big then invite the neighbors over for some fun. You can have everyone bring drinks and food to add to the occasion. This is a perfect party idea for kids that will keep the magic of the holiday alive.
7. Confetti
Confetti can be one of the best alternatives to fireworks if you don't want to deal with the noise. The best thing about confetti is you can make your own at home with very cheap supplies. All you need is to take colored, recycled paper and cut it up into small pieces. You can add glitter or other sparkles if you so desire. Kids can simply grab handfuls of this and throw it into the air, or you can get more technical. If you want to make a confetti launcher then all you need is a used toilet roll and a balloon. Place the balloon on one edge of the toilet roll and then fill it with confetti. Kids can pull back the balloon and release to see a fun and colorful show. You can also make a quick sling shot for the same effect.
8. Chalk Fight
Many cultures love to host a chalk fight or chalk run to celebrate the spring solstice. You can easily take this idea and transform it into a fun way to enjoy the 4th of July. Luckily, it is one of the cheapest and easiest things you can do to celebrate too. You can buy premade chalk just for this activity, but if you want to save some money then you might want to consider making your own. There's lots of tips online for this, but essentially you just grind up chalk into a powder. You may even want to make red, white and blue chalk just to make things even more fun. There's lots you can do with this activity too, so check online to see how other people have had chalk wars in order to get a few fun and interesting ideas.
9. Celebrate with Movies
With the heat reaching such high temperatures in July, you may want to choose activities that allow you to keep cool indoors. One of the best ways to do this is to put on some movies that show the meaning of or celebration of Independence Day. You may be surprised as to how many options you have available to you in this genre. There are even a variety of kids' movies to choose from, so the whole family can bond together. Of course, you may need to head to the library to find some of the more children oriented movies though. This can be a great bonding trip though, that may even allow you to find some literature on the topic to share. Your favorite streaming service will probably even have a section of these movies to rent or watch when the time comes, so you won't have to do a whole lot of work.
10. Community Show
If fireworks are simply out of the budget this year, you don't have to miss out entirely. Most communities have a firework show that allows the public to enjoy without costing a dime. This can be a great option, especially if you love to celebrate with a group of people. This is also a perfect option if fireworks aren't allowed in your region as these events often have activities and food to help you celebrate. Of course, you can always set up chairs in the yard or sit on the roof to enjoy the fireworks your neighborhood lets off.
The 4th of July can be a lot of fun, but if you can't use fireworks you may be lost as to what activity to do in their place. These ten tips should help you celebrate without having to buy a single firework. You may even find options that you prefer to the classic ways of celebrating.