Toys aren't cheap, especially toys for little ones. They may cry for a new toy, but throw it away the next day. I used to get many second hand toys from my friends and neighbors. But after I moved to a new town, I have found a way to create new toys everyday, and best part is thet they are absolutely free! Let's do the math: I used to buy at least one toy every month, which is usually from $10 to $30. That is about $20×12=$240 every year!
Flour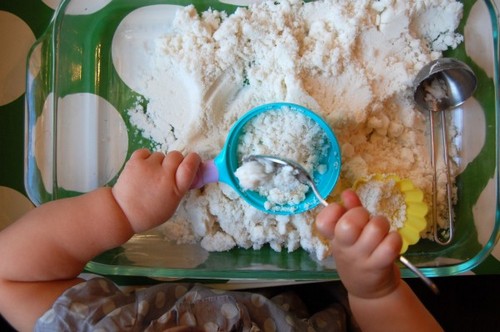 If you don't mind getting into a mess, this is the best game for every kid. Mix it water and play as playdough – Make a ball or noodles as making a doll is too hard for them. You probably don't need to make anything. The mixing part is already fun enough – toddlers can play it for hours.
Scotch Tape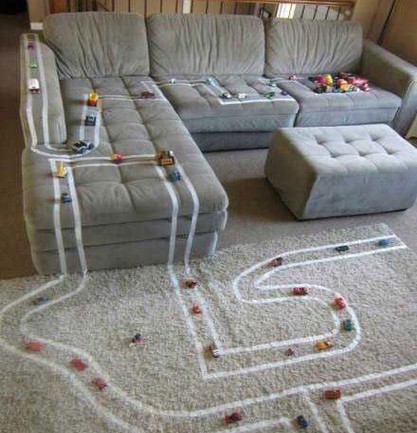 Build a race track with scotch tape. My older son told me this is best game he played with his dad! They had played it for few years and every time is a new track or even new cars. I have video that they were playing two tomatoes tracing each other – one of my best family video ever.
Ice
The fun game in summer. Hold one and feel the cold. Count 1, 2, 3. Watch them melting. I bet you can be more creative than me.
Rocks
Line up the rocks as soldiers. Draw a circle and throw rocks into it.
Paper
Tearing, folding, cutting and pasting all could be fun. Cut a magazine cover into pieces and make it a puzzle. Cut it into shapes and teach kid to learn shapes. There could be thousands of activities with papers.
Water Bottles
Roll the water bottles. Drum the water bottles. Fill them with water. Match the lids. Stack them into a tower…
Used Baby Clothes
If you have some used baby clothes left, they are fun to dress your dolls. Or use them to make your own doll!