It is finally time to welcome autumn to the year, which means lots of cozy nights and plenty of celebrations. The autumn equinox is September 22, so if you're not sure what to do to celebrate the season, then these ten ideas are for you. Luckily, these tips won't cost you a handful, so you can put back money for the upcoming spending season. With any luck, you will have a blast celebrating such a beautiful time, which will allow you to truly feel the magic of the season. Whether you're celebrating the pagan holiday, or you just enjoy Mother Nature's charm, these ten ideas will help you recover after such a hot summer.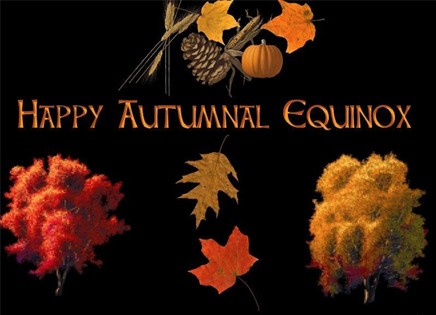 1. Clean
Just like in the spring, it is a great idea to give your home a good cleaning at the beginning of autumn. Cleaning will help give you a chance to prep for the long winter weather, when you might not be able to do as much. You should go through your clothing, your garage, and anything else that might be not donated or tossed out before it is too difficult to do so. Donating winter clothes in the autumn can be crucial for those in need too, as it will give people time to pick up donations or purchase them from charity shops. Cleaning the home will also allow you to give the home a good scrub down before you have relatives in and out of the home for the holiday season. Of course, it is also great for making sure anything that needs maintenance can be handled before the snow sets in. This can save you a lot of money and stress, while making the cold months a lot easier to handle.
2. Visit a Farm
One of the best things about the autumn months is there are a lot of farms that open up to the public. Some farms do charge a small fee, while others only charge if you end up picking produce from their farm. A lot of the time farms will create a lot of fun activities to help lure people to their farm. For starters, you may be able to enjoy a corn maze, hay ride or even bouncy toys for the kids, when you visit one of these farms. Of course, a lot of the appeal is the produce you can gather. Autumn is the perfect time for pumpkins and apples, which is usually the most popular attractions. However, you can also find wide varieties of squash and many berries. You might even have the chance to get your picture taken in the pumpkin patch or orchards, which create great greeting cards.
3. Preserve Food
There are a lot of great foods about to become scarce, so you might want to stock up on them. Any summer fruits and vegetables that you can't live without, but don't want to pay the high price for should be bought in bulk. Once you have them, cut them up and freeze them. You can even precook them to make them a breeze to add to dinner on a busy day. You may also want to start grabbing autumn produce while it is cheap. You can begin to can these items to help them last all year long. It could even work out in your favor to start creating jams for holiday gifts, or preserving pie filling so you can bake your favorite items in no time at all. Pickling is also a lot of fun during this season, especially since you can still get asparagus, cucumbers and green beans at a cheap price.
4. Create Decor
With autumn comes a lot of holidays that will soon be barreling their way through your scheduling. This makes the autumn equinox the perfect time to hunker down and work on some decor for the home. You might want to start with autumn decor, as you can pick out leaves and other natural items cheaply to do so. There are also many crafts that you can do with pumpkins and other gourds. If you already have enough autumn decor to work with, then it is never too early to start on Halloween items. You can easily find crafting supplies for cheap to help make your home the scariest in the neighborhood. Apart from that, you can easily begin to work on Thanksgiving decor, particularly when it comes to a centerpiece for your table and other items used to make guests feel comfortable. If autumn decor isn't your thing then use a rainy day to start on winter holiday decor. This can even give you time to get a jump start on holiday gifts.
5. Sign Up for Activities
Autumn is usually a time when most families have a lot of activities going on. With school back in session, it is easy to fall back into the swing of a busy schedule. So, sit down with the whole family and see what activities you will be doing during the season. There are many sports beginning during this period, particularly football, cheerleading and hockey. However, most schools will also offer other sports to give students more of a variety. Band, music lessons, art clubs and other academic clubs are also very popular. Some people would prefer to pour more work into their hobbies during this time period, so you might want to check out activities for these items. Other than that, there is always a lot of volunteer programs to sign up for in the autumn. Soup kitchens can always use a helping hand, but there are also programs like Habitat for Humanity that are working hard during this season to get people in homes before winter arrives. You can even keep things simple by signing up to run a Halloween costume drive for underprivileged kids. No matter what you choose, have fun with it.
6. Visit a Festival
One of the best things about autumn is the numerous festivals that pop up. There's plenty dedicated to apples, corn and more. Of course, there are even festivals that are just for fun. You can catch live music at these as well as plenty of rides, games and seasonal foods. You may even find a maze to help enjoy yourself. Usually, these festivals don't cost a lot of money and are family friendly so you can let every member of your family find something to keep them entertained. These festivals can even be holiday specific. For instance, you might find a spooky Halloween festival to suit the mood. Keep your eyes peeled for local announcements as this can help you plan accordingly.
7. Planting
A lot of people tend to associate planting with the spring and summer months, but autumn is also a great month to plant a wide variety of things. Autumn produce is in abundance during this time, so you may take pleasure in planting gourds, carrots, cabbage, broccoli and so much more. This will help you create your family's menu based on the healthy and delicious foods you grow in the garden. Of course, you don't have to plant for autumn alone. If you place bulbs or seedlings for trees in the ground down, you will certainly have a surprise in the spring without having to do a lot of work.
8. Fashion Show
It's a given, when the weather cools down, it's time to try on all of the clothes we've put away for the season. Usually, this chore isn't a family favorite, but you can turn the tedious task into something fun. A fashion show is a great way to do this. Have everyone try on clothing from last year and show off what fits in a fun way. They don't have to keep the show classic either. As a matter of fact, you can introduce a silly segment or a sophisticated walk to the mix. This will help everyone enjoy looking at their old clothes. It will also give kids a chance to check out all of the new hand-me-downs they will receive.
9. Redecorate
It is human nature to want to create a comfortable home that reflects what is happening around us. So, it might be time to pack away the beach friendly decor and bring out some warmer items. This can easily be accomplished without forcing you to spend a fortune though. For instance, you can frame pictures of beautiful fallen leaves to help create a rustic and creative vibe in the home. You might also consider swapping out living room pillows, dish towels and other items to reflect a warmer design. There's plenty of ways to warm up your home, so browse around for ideas that strike your fancy and make your budget sing with happiness.
10. Enjoy the Kitchen
With autumn comes cooler temperatures, which often means using the heater to warm things up. You can cut down on your bill by spending more time in the kitchen though. For starters, you might consider baking a few new things. The delicious food will warm the heart of your family while the oven will warm up your home. You might also consider some delicious and heartier meals that may have been passed down from generation to generation. Of course, you can always channel that Pinterest list you've been building too. Autumn is the time for many holidays, so you may consider making holiday treats such as candy or caramel apples to liven up the taste buds of your family.
Autumn can be a great time to find celebrations everywhere you look. With the upcoming autumn equinox coming, you may want to look for one of these ten ways to help invite in the autumn season and say goodbye to summer. These tips will keep your budget secure, while allowing you and your loved ones to have some much-needed fun.