Wedding season is on its way, which means you may be scrambling to find a venue if you're planning on tying the knot any time soon. The wedding venue can be one of the most expensive aspects of a wedding, which is why it's always good to try to cut costs as much as you can. Not to mention, you may find that booking a venue can be a bit of a challenge, especially if you're not working with a lot of time. There are a few options for those who procrastinated or simply want to get married sooner rather than later. With a few budgeting tricks, you'll find that you can have a dream wedding in a fabulous venue without spending a large fortune.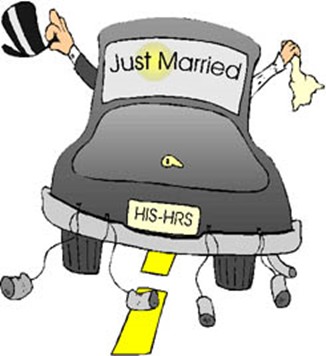 1. Backyard
If you're looking for a really cheap venue idea, then nothing will save you money quite like hosting the big event in your backyard. Of course, this does bring a few obstacles like noise levels, capacity and the weather, but when it comes to saving some money this is certainly the way to go. The best thing about backyard weddings is it allows you to have the freedom you want to create the perfect style for you. You can add in just about any theme and can customize the service to suit your own individual values and needs. You can also transform your wedding into a reception with just a little bit of work, which will save you even more money. You don't have to stick to your own backyard either. Don't be afraid to ask parents, other family or friends to use their yard if you think it would help create the perfect atmosphere.
2. Small Chapel
Not everyone fantasizes about getting married in a huge cathedral or church. In fact, there are many people who are drawn to the charm of a small chapel when they think about saying their vows. When it comes down to it, choosing a small chapel over other venues may be one of the wisest choices you'll make about your wedding. These locations generally won't charge as much to perform the service, which will save you quite a bit of money in the long run. Smaller chapels also have less space, which means you may not have enough room to invite a lot of people. This can help cut down on the reception food prices, which is just an added bonus to the mix. Plus, many of these chapels will bundle the price of the pastor with the rental of the space so you won't have to worry about any other bills popping up. You also won't have to buy as many decorations, which is sure to make your budget go a whole lot further.
3. Public Park
If you live in an area with a park with lots of space, then you may want to consider hosting your wedding there. This will still give you the lovely outdoor setting that a backyard would, but you'll have more space to invite more people to your big day. Usually, you can host an event at a public park without having to spend a small fortune on permits. Some parks may not even require you to have one, which will save you a whole lot of money. However, this also means that you may have to set up early in order to avoid someone else taking your space at the park. Of course, make sure you follow all of the rules of the park while using it and clean up afterwards in order to avoid fines and to help keep the park a safe and clean place for everyone.
4. Lake/Beach House
You might think that renting a place by the water might cost you a fortune, but when you tally up how much it actually does cost and how much it can save you'll be pleasantly surprised. Lake and beach homes tend to be a bit on the cozy side, especially if they're rentals aimed towards adults on vacation. Despite the price, you'll be happy to know this rental can work for triple duty. Since the scenery is beautiful, you can use the location as a great place to have your wedding. It's also perfect for wedding photos, which will give you more options when it comes to hiring a photographer too. Once the wedding is over, you can host a beautiful reception at the lake or beach house, which helps prevent you from reserving space in another location. Then, when the day is over, you can use the rental for your honeymoon location thanks to the romantic setting.
5. Las Vegas
When it comes to keeping things frugal, but still having a whole lot of fun, Las Vegas is probably one of the best answers to your wedding venue search. Las Vegas pretty much has hotel deals year round, so you can avoid spending a fortune on your honeymoon room from the start. In fact, if you call up the hotel and let them know you're on your honeymoon then you may receive even more discounts. When it comes to the wedding itself, you can choose from a wide variety of wedding chapels. These chapels often have themes too, so you can really let your personality shine when it comes to how you get married. With the wedding and honeymoon room taken care of cheaply, all you'll need to figure out is where you want to host your reception if you do have guests come to your wedding.
6. Farm
Rustic weddings are a huge trend these days, which makes it smart to try to book your wedding on a farm. Many people don't know where to begin when it comes to planning a southern or rustic inspired wedding. One of the best things you can do is call around and ask if any farms rent out their property. You might be surprised as to how many do so to bring in a little extra income. Farms are one of the best places to set up for a wedding too. If there is a barn, then you already have the perfect background for the main event and it can be opened up to reveal the reception after the big event. The rustic design of the barn will also make the perfect look for all of your wedding photos. Generally, these themes are pretty cheap when it comes to decorative items too. In fact, by choosing this you can enjoy DIY decorations, which will help cut even more money off of your wedding bill.
7. Your Church
If getting married in a church is an important thing for you, you may want to skip out on booking a church that is larger though. If you, or your family, are a member of a church then you should be able to book the church and preacher without a problem. Most small churches don't charge a whole lot either, so you shouldn't have to put down a lot of money in order to book the church for your wedding. Being a part of this community will also help out in more ways than just a discount on the venue. In fact, your church should be able to provide both you and your future spouse with helpful advice and gifts. Some may even help you with pre-marriage counseling before you tie the knot. Many churches now even have a kitchen and dining area so you'll be ready for the reception. Not to metion, it's always refreshing to have a pastor you know marry you.
8. At Sea
Looking for unique ways to get married might be a bit on the hard side, especially when your'e just sticking to land. However, you may want to consider spending time at sea to start your wedding off on the right foot. One of the best ideas is to have your wedding while on a cruise. This will allow you to avoid the huge guests list as most people won't be able to overcrowd things as you say your vows and enjoy your special day. Most cruise lines will allow you to plan out these weddings with a small deposit. You can also get married at places like Niagra Falls on a whim. These locations tend to have captains that are ordained and willing to make your vacation special. Of course, you should call ahead to make sure there is an ordained captain as not all captains are ordained like rumors might suggest. By doing this you're taking care of your honeymoon too, so you won't have to deal with double the bill when you get home.
9. Community Center
Most cities and towns have plenty of community centers in the area, which often prove to be a great place to tie the knot. Not only are the centers large enough to host lots of guests, they're also considerably cheaper than many other venues around town. You usually only have to put down a small deposit to rent a community center room for a little while. Most of these rooms are quite empty as well, which will give you a chance to show off plenty of decorations. Of course, you will have to make sure to get the permits you need for music, beverages and more before you can successfully host your wedding and reception in the community center. You should be able to find all of the information you need for these items when you go to book the space though, which will make your wedding planning a whole lot easier.
10. Court House
The idea of eloping for many people is quite romantic and in today's world it is easier than ever. Most court houses are the perfect place to elope, especially if you're on a tight budget. Of course, choosing to get married at the courthouse doesn't mean that you can't have an audience. Most courthouses now offer a small chapel where people can witness your vows. The best thing is, the price tag won't put you over the edge as you will only be paying for your marriage license, certificate and a small fee for the service. Some court houses will even allow you to choose between a variety of services, so you can still get the religious experience or a simple exchanging of the rings.
Getting married should be a great experience, so worrying about the expensive price of a venue shouldn't have to be so high on your list of wedding stress. These ten venue ideas should help you save some money while helping you to create your dream wedding.