You might think that in 2017 there wouldn't be a problem with literacy in the world or even your country. The reality is, there are way too many people that are illiterate despite the advances we've made in society. September 8 is World Literacy Day, which is the perfect time for you to make a stand to help make the world a more literate place. You don't have to throw a lot of money into this though. There are actually many things you can do to lend a helping hand to help make illiteracy a thing of the past. If you're not sure where to start, these ten ideas should point you in the right direction.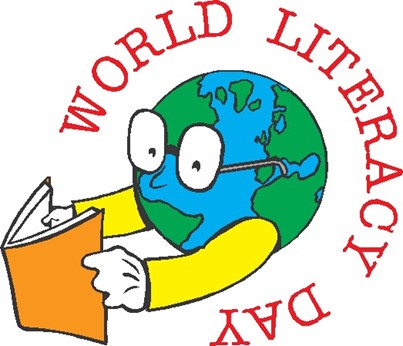 1. Read
It may not seem like much, but reading for yourself can help make a huge difference in the world. Today, not many people read, which has led to reduced funding in critical areas. Going to the store and buying a book or even checking one out at the library can help many people find the resources they need to learn to read or improve their literacy levels. Reading in public can also do a world of good. Since few people read now, it can spark the interest of someone that may not know how to read. Try to read in public whenever you can, especially if you're commuting on public transit. If someone asks you questions about your book then feel free to answer. You never know who you will be giving inspiration to.
2. Read to Your Children
Children are the future, which is why introducing books into their lives at a young age is critical to their development. Beginning as early as 6 months, children should be read to on a daily basis. This helps them connect books with love and happiness. It also helps babies make connections with words that can help them later on in life. Showing children that books are beneficial are critical to helping them learn to read and continue reading into adulthood. This allows the next generation to take one giant leap against illiteracy before they can even walk. As your child grows, constantly encourage reading and provide incentives to make it a daily part of life.
3. Volunteer at Schools
A lot of schools simply don't have the funding to dedicate to helping children fall in love with reading. Even still, some students fall behind in reading lessons which leaves them struggling in school for years to come. One of the best things you can do to help remedy this problem is volunteer your time. Younger children always benefit from being read too, which can help them learn to read faster. It will also give their teacher a short break to get together better assignments to improve their literacy levels. You may also ask to read at daycares, which often don't concentrate on a strong learning environment. If you have the resources, you may even ask to help in special needs classes where children are often sent when they have trouble reading. Your help can change the way a child learns, so you can stop illiteracy before it becomes a problem. Don't just aim for volunteering in primary school though. Many middle and high schools also need the assistance.
4. Donate Books
If you have books lying around the house that haven't been touched for years, then it may be time to do some spring cleaning. You may want to make an annual date to clean off your shelves when Literacy Day rolls around. This is one of the best ways you can help combat illiteracy, while keeping your home clutter free. There are many things you can do with your books. For starters, you might want to see if your local library will accept them as donations. This can be used as a tax write off and will help your library spend less of their small budget on new books. If you have a lot of children's books, you may see if a local school will take them in. If you can't find a place to donate them, then you may want to give them to a charitable thrift store. This will allow people to buy your books for an incredibly low price, while the money they spend goes directly to a charity.
5. Provide Supplies to Schools
Part of the problem with illiteracy has to do with many schools not having the funding to help students properly. When you combine this with low income families not being able to provide school supplies, you create a recipe for disaster. So, if you can, try to donate some school supplies to these schools. You can easily look up schools that may be in need. If you're still not certain, call up the school and ask if they take school supply donations. Most won't deny your charity as even some of the best schools need help in the supply department. There are lots of cheap items you can donate too, if you're not wanting to spend a lot of money. For instance, paper costs mere cents, so donating $10 to $20 worth could make a huge difference to some students. You might also consider donating pens and pencils, so all children will have proper writing utensils.
6. Find a Volunteer Program
Believe it or not, but there's a lot of programs locally, nationally and worldwide that help fight illiteracy. This offers a lot of opportunities to anyone willing to help out. On a local level, you may work with adults or children that are having trouble with reading and writing. National programs might require you to help out in schools, homeless shelters and adult programs. Both of these programs are great for anyone looking to help out after work and on the weekends. If you want to travel the world while working with people then you may want to check out a worldwide charity. You can be sent all over the world to help children and adults from all nationalities. Make sure to research before joining any program though, especially if the program is sending you abroad.
7. Donate to Charity
One of the easiest things to do to help end illiteracy is to donate to a charity. This won't just help fight illiteracy in your backyard, but will span your assistance throughout the world. Like all charitable donations, you will be able to write it off on your taxes. Of course, you should be incredibly careful with which charities you give money too. Some charities only give a small percentage of the money they receive to help with the cause. The rest of their money goes to paying CEOs and other employees extraordinarily high salaries. There are a few charities that are worthwhile though, so as long as you do a little research, your money should be in good hands.
8. Tutor
If you have a lot of spare time, then you might want to consider taking on a side job. There are many programs that hire tutors to help children and adults learn to read and write. If you can pass simple qualifications, you may find yourself helping those in need on your off hours. There are even online programs that offer this service, so you won't even have to leave the home in order to tutor others. Of course, you don't have to go through a program to tutor. You can easily offer your services in the community for pay or for free. If you need extra resources to help with your tutoring then you should be able to access a wide variety online for next to nothing. You might find that this is one of the most personal ways to see your hard work making a difference in your community.
9. Help Out Your Library
Unfortunately, the nation's libraries are hanging on by a thread in today's consumerism world. This is where literacy takes a major hit as for generations the library was the place to go to enjoy reading and even improve on your reading skills. So, if you want to make a difference try to lend a helping hand to your library. You can start by asking if they're looking for volunteers, this can help cut back on their budget. You might be asked to put away books, clean up or even help people find what they're looking for. If volunteering isn't your cup of tea then simply promote your library whenever you can. Whether it's just the basic services the library offers or an event that they have coming up, telling others will help bring funds to the library and may even keep it open.
10. Get the Word Out
World Literacy Day is almost here. So, if you want to help and don't have a lot of time or money to do so, then simply spread the word about it. You can tell family and friends and ask them to share the message too. You can even just share a post about it on social media, which others can then share on their social media networks. As more people learn about this holiday, more people will want to help out. This can stop illiteracy in its tracks which will help millions of people live a better quality of life.
World Literacy Day is not only a time to celebrate your ability to read and write, but it is also a day to come up with solutions to help those who do not have this luxury. If people all came together to work on this critical issue, we could all find a way to help those who are illiterate.