This is a guest post by our friends, Anna, a mother of three kids, who needs to shop for clothing every month, if not every week. She suggested 5 places you should avoid buying kids clothing from. – Editor.
1. Walmart
Walmart is a great place to shop for grocery and low cost merchandise. But when it comes to clothing, no good. You might think that it is ok to buy kids clothing at Walmart, because you don't need them to last for years. But the truth is that they will probably last a month or two. See the following leggings I bought for my girl a month ago. It is cheap, – only $7 for a pack of two. But I have found tiny holes here and there already after a few washes. If you are comfortable to buy clothing while you are shopping grocery, try Target. Target has the similar low price policy as Walmart, or may be a few bucks more expensive, but they have better quality.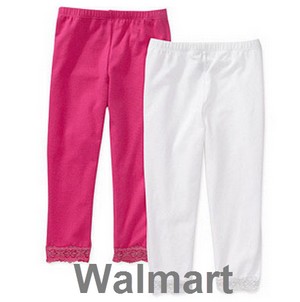 2. Children's Place
I don't know how they have survived all thse years. Their product qualities are barely accetable. The worst part is their designs. Fire all the designers if the CEO from Children's Place somehow read my post! I can't show you the pieces I bought from Children's Place,  because they were trashed long time ago. At the first glance, many pink tops at Children's Place look adorable, but you will feel completely differently after wearing it. They just look cheap. Look at the following girls tops I clipped from their website. It proves that their designers are as lame as before. Try Gap, if you may. From the past years, I can definitely tell that their designs are improving. Gap Kids usually hires big name designers in high-fashion circles.
3. Gymboree
I was attracted to Gymboree by their Gymbucks, – for every $50 spent, I can get $25 Gymbucks good for next purchase. Sounds a good deal? But be aware, many items are not qualified to receive Gymbucks, such as socks and other accessories. The Gymboree store I went to is always a mess. It is very hard to find any thing I needed. Try Pumpkin Patch instead. They have got some cute and unique designs.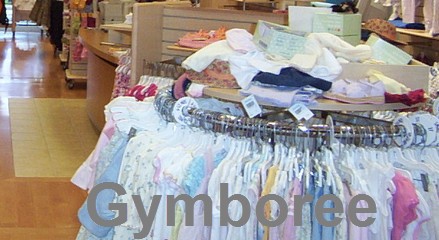 4. Amazon
Lots of people are just used to buy everything from Amazon, including me. But it is not a good idea to shop for cloting at Amazon after a few failure attempts. First of all, you can't trust the source of the clothing. Amazon is a Internet company, they don't make clothes. And they don't have their own buyers or designers to pick the clothes for you. All they worried is the profits they can make. Recently Amazon teamed up with many fashion design companies and started Amazon Clothing Store. Now you can shop for brands like BCBG, Ann Klein, etc. But other than these big names, don't shop clothing at Amazon, especially not from Amazon's Marketplace, – goods sold by smaller sellers, not Amazon. If you like to shop online for clothes, try Nordstrom.com. Recently they started to offer free shipping and free return. No minimum purchase required. They offer high quality clothing at reasonable prices. And you can return the items to the local stores if you like.
5. Kohls
I have terrible experience with Kohl's. Last time I went to Kohl's was a few years back. I bought a few shorts for my son in the clearance section. Each was from $5 to $10. I thought I got a great deal. After I got home I found there is a hole on the front pocket. When I tried to returned it the next day, I was refused. Their customer service told me it is a final sale, no return. I insisted it is quality issue and I should get my money back. Then I was told it was on sale because there is a minor issue, otherwise it won't be so cheap. How I wanted to throw the short on her face and walk away. It ended up in the trash can in front of the customer service. Kohl's is still a good place to buy low cost clothing. But please ask the sales if the sale is final before checking out. Try JC Penney if you want to get the similar deals.